There are a ton of incredible day trips from Porto that you can take if you are visiting Portugal's second city. Porto is an incredible destination in itself and is well deserved for a 3-4 day itinerary of its own. 
Porto sits in the northern part of Portugal, on the banks of the Douro river and 175 miles north of the capital of Lisbon. This part of the country is grossly underrated and is characterised by its rocky landscapes, gorgeous vineyards, rolling green hills, and quant, traditional towns. 
There are a plethora of wonderful places that you can reach on a Porto day trip in just a couple of hours. This region has something for everyone.
That is – whether you are looking to spend a day wine tasting and sampling the local port, embarking on hiking adventures, or going in search of cute Portuguese towns.
This article has been written by a British Travel Writer that was based in Porto in 2020. I have explored Northern Portugal extensively and done all of the Porto day trips on this list firsthand. 
(In the purpose of blog research of course. It's a tough job but someone has to do it…)
Best Day Trips from Porto in 2023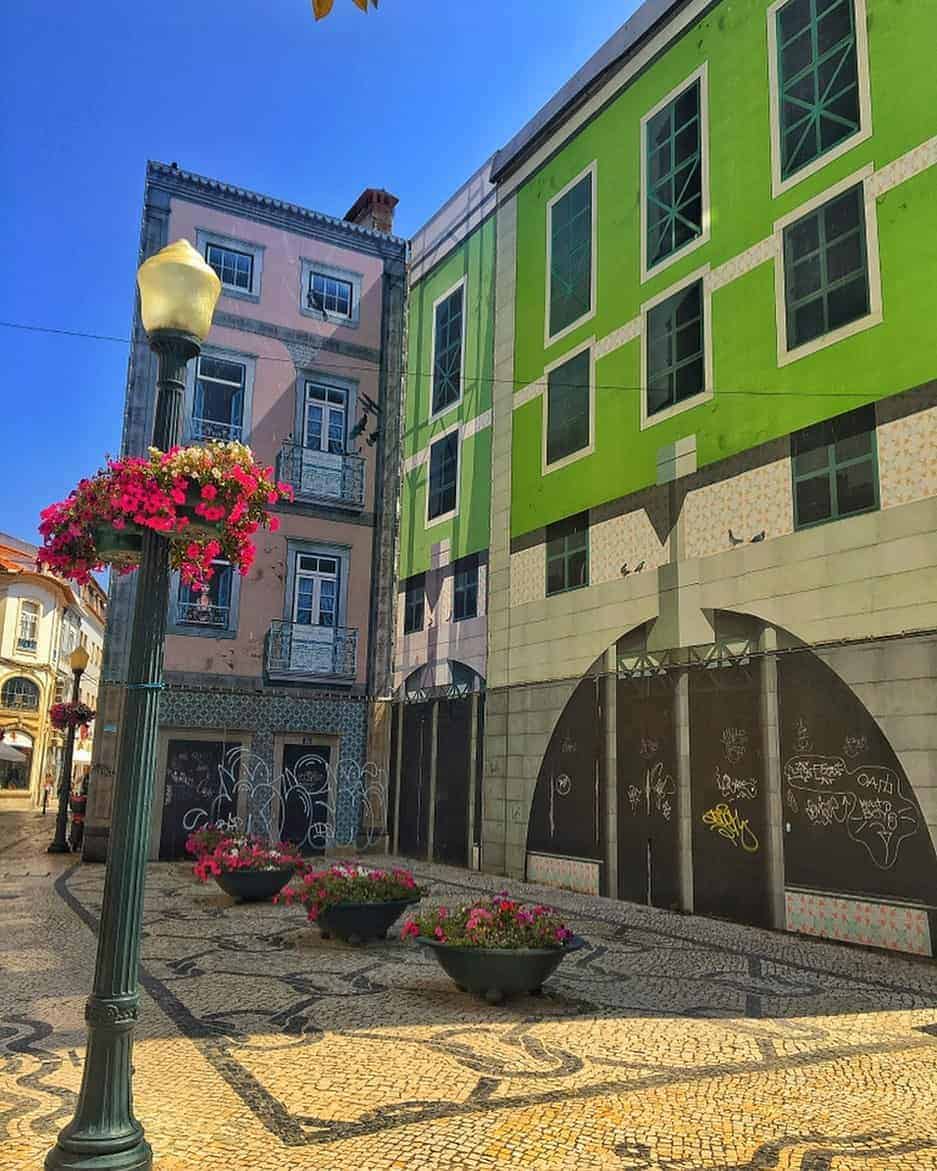 A handful of the best day trips from Porto are detailed below. Portugal is a small country which is great because wherever you choose to travel, you won't have to endure super long journey times.
Many of the villages, wineries, and natural wonders detailed here can be reached in just an hour or two. Other destinations, like Lisbon, are a little further afield and are best enjoyed with an overnight stay. 
(You could go from Porto to Lisbon back in one day if your schedule is tight and you don't mind long, busy days).
Public transport in the country is pretty good, although obviously renting a car in Portugal can give you a lot more freedom and flexibility. For each Porto day trip, you can find information on how to get there independently, as well as details on reputable guided tours that are available. 
Participating in a tour can take a lot of the stress out of managing the logistics of your trip. Someone will pick you up directly from your hotel/accommodation in Porto.
Being accompanied by a local means that you will receive much more information and insight into the places that you visit. You will likely stumble across neighbourhoods, bars, and attractions that you wouldn't have otherwise found independently.
Better yet? You have a Porto expert on hand to ask for recommendations on the best places to eat, drink, and hang out during your time in the country.
Braga
Braga is the oldest city in Portugal. It has a history dating back over 2,000 years and there are sunbleached ruins and historic structures at every turn. 
The Roman city of Bracara Augusta once stood here. Various different civilisations have ruled over Braga throughout the centuries and each has left its mark on the local culture, gastronomy, and architecture.
Here, you will find imposing gothic churches that sit beside opulent baroque buildings and a labyrinth-like network of narrow cobbled streets that twist and turn to reveal grand piazzas. You could spend hours getting lost in the quaint backstreets of Braga. 
Don't miss the Bom Jesus do Monte. This hilltop Catholic church is the city's most well-known tourist site.
It is renowned for its higgledy-piggledy baroque staircase that leads you up 577 steps. Traditionally, pilgrims would ascend these stairs on their knees.
Fortunately, the ascent is gradual so getting up to the church isn't a challenge for most travellers. The views over Braga from the church at the top of the hill are unparalleled.
The Sé de Braga (aka the Braga cathedral) is also worth adding to your radar. The cathedral dates back to 1089 and was the very first cathedral to be built in the country.
It was built several decades before Portugal even existed as a nation!
Getting to Braga
Trains from Porto to Braga depart at regular intervals from both São Bento and Campanhã stations. The journey takes just over an hour and a return ticket costs €7. 
Recommended Braga tours
A selection of reputable Braga tours from Porto is detailed below. Book your ticket online in advance to avoid disappointment!
Guimarães
Beautiful Guimarães is a perfect example of a traditional Portuguese city. This is often referred to as being the "birthplace of Portugal".
The very first King of Portugal (Afonso Henriques) was born here. 
The castles and fortresses of Guimarães make the city appear almost frozen in time. From the 10th-century Guimarães castle ramparts, you can enjoy wonderful panoramas of the city below.
Guimarães is small, so you really only need to dedicate half a day to this trip. 
Although, you could easily while away an afternoon sipping coffee and eating freshly baked pastel de nata pastries by the Padrão do Salado in the main square.
Many local tour companies run excursions that take you to both Braga and Guimarães in one day.
Getting to Guimarães on a Porto day trip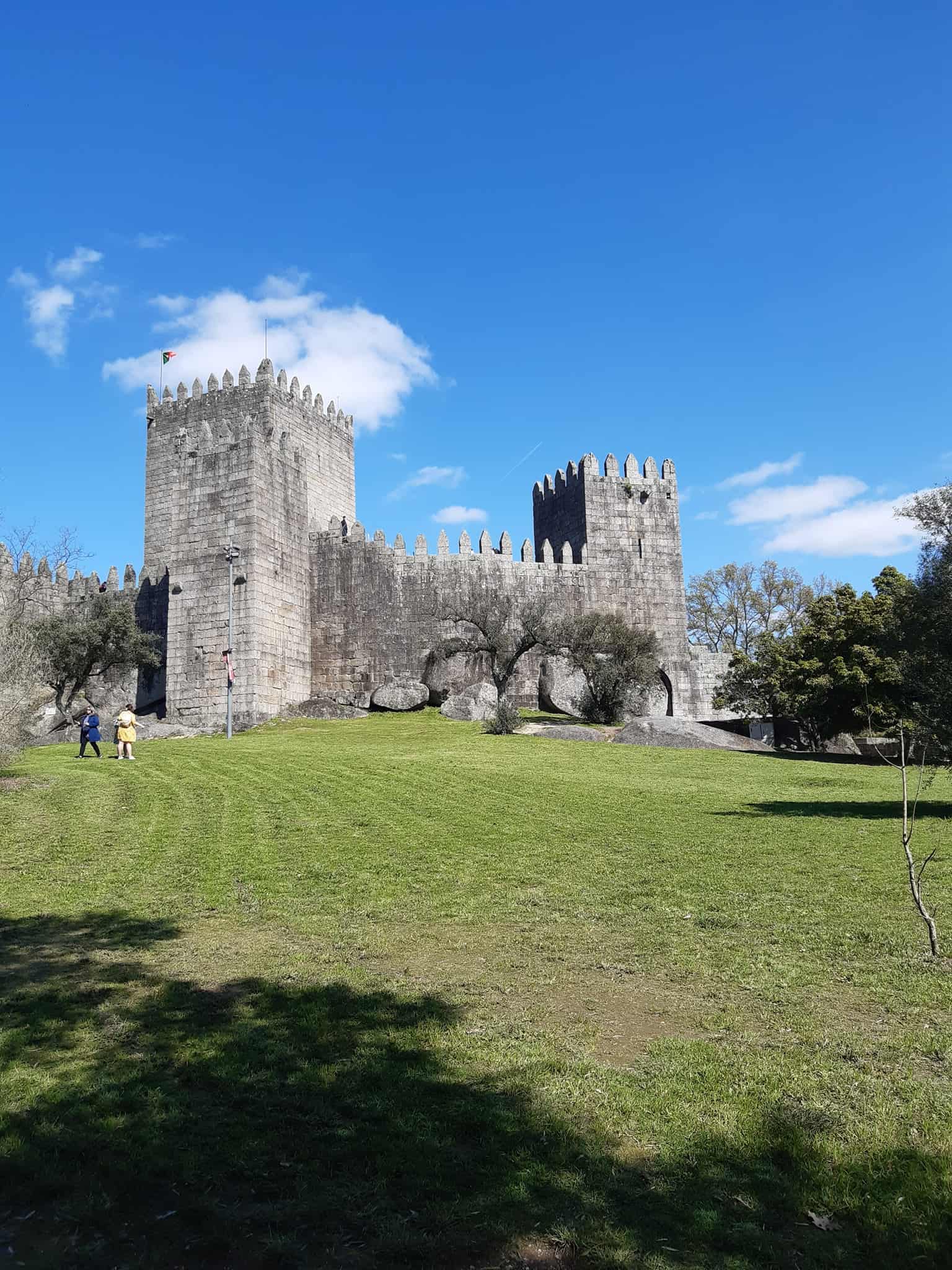 Trains run regularly from Porto to Guimarães. You can board the train at São Bento, Campanhã, and Rio Tinto stations. The journey takes just over an hour and a return ticket costs €7.  
Braga and Guimarães are relatively close to each other (25km distance). An hourly bus makes the journey each day. It takes approximately 20 minutes to get from Braga to Guimarães. 
Recommended Guimarães tours
A selection of reputable Guimarães tours is detailed below. Get them while they're hot!
Vila Nova de Gaia
Vila Nova de Gaia sits across the Douro River from downtown Porto. This is the hub of the port wine scene and you will find a plethora of wine cellars here offering tastings and tours.
The Port Wineries of Gaia
Grahams, Ramos Pintos, and Sandeman are some of the most reputable wineries in the region. You can call ahead and book a tour and tasting directly with the winery.
Doing so provides a unique glimpse into the history and production of port wine, and how this drink has come to be the city's most beloved beverage. 
Additional Gaia Attractions
Port wine aside, charming Gaia has plenty to offer. You can reach Gaia by crossing the Pont Luis I bridge.
Dozens of quaint, ramshackle stores and restaurants line the waterfront promenade of the Cais de Gaia. You can join a well-heeled crowd and sample Porto food delicacies in Gaia restaurants like X and Y.
As you dine, you can enjoy wonderful views over the Douro and the Porto skyline. This is especially beautiful at sunset.
You can also stop by the Beira-Rio market (Av. de Ramos Pinto 148, 4400-261 Vila Nova de Gaia). This fabulous covered market sits right beside the river and is filled with gourmet street food vendors serving up cuisines from across the globe.
Whether you are searching for healthy, plant-based eats or authentic Asian cuisine, you will find it here. Gaia is also home to some of the best street art in the Porto area.
If you like graffiti and street art murals, make a beeline for the "Half Rabbit" (R. Guilherme Gomes Fernandes 42). This famous creation depicts a rabbit protruding from the side of a building.
It was created by Portuguese Artist Bordallo II. It is made up of recycled materials and scrap metal pieces collected from around the city.
Recommended Gaia Tours
Afurada fishing village 
Strolling west along the Cais de Gaia brings you to Afurada fishing village. This is a charming seafront settlement that has remained largely undiscovered by tourists, despite being just a short walk away from downtown Porto.
Afurada Highlights
Afurada is a fishing village so it should come as no surprise that there are a wealth of restaurants here serving seafood delicacies. You will often see people grilling fish out in the open on the streets here.
Cod, shad, sea bass, and other fresh catches are grilled beneath the sun and sold to passers-by. 
To gain a glimpse of local life, visit the Interpretive Center of Afurada (R. António dos Santos 10). This is a small museum that pays homage to Alfurada's cultural heritage and discusses the various crafts of people that have resided in this little village.
You can also consider renting a bicycle here and cycling to the Capela do Senhor da Pedra – a mysterious church with Pagan roots. The church is quite unlike any other, as it has been built atop craggy rocks on a local beach.
Lisbon
The Portuguese capital of Lisbon is a highlight of any Portugal itinerary. The journey from Porto to Lisbon takes approximately 2.5 hours by train.
Ideally, you would have the flexibility in your schedule to be able to stay overnight. However, you can still get a feel for Lisbon, its personality, and its highlights in just a day or two.
Be sure to take the time to hike to the hilltop Castelo de São Jorge for breathtaking panoramic views of the city. The views are particularly spectacular at sunset as the skies are illuminated with hues of red and orange.
With limited time in the Portuguese capital, you should prioritise visiting Saint George Castle, meandering through the backstreets of Alfama, and taking a ride on the Santa Justa lift.
Recommended Lisbon Tours
Aveiro
Aveiro is an idyllic seaside town that is often referred to as the "Venice of Portugal". The town is situated alongside the lagoon of Ria de Aveiro.
Colourful narrowboats called moliceiros are the local version of a Venetian gondola. For €5, you can board one and sail through the network of water canals.
Aveiro Highlights
Many beautiful Art Nouveau-style buildings are scattered throughout Aveiro and are well worth exploring. However, the sight that steals the show for most visitors to Aveiro is the stripey fisherman's houses.
These colourful buildings line the river in the nearby beach town of Costa Nova do Prado.
Ovs moles ("soft eggs") are a famous regional dessert in Aveiro. They are made from egg yolk and sugar and shaped to look like clams. Head to Oficina do Doce Oficina do Doce (R. João Mendonça 23) or Confeitaria Peixinho (R. de Coimbra 9) to try the best in town. 
Getting to Aveiro from Porto
Aveiro makes a great day trip from Porto. Trains depart hourly from Porto's São Bento station and the journey takes around an hour and fifteen minutes.
A single ticket from Porto to Aveiro costs €3.55. Meanwhile, a return ticket costs €7.10.
Recommended Aveiro Tours
Exploring Aveiro with a local guide is the best way to learn more about the history of the area. Some of the best Avero tours that you can do as a Porto day trip are detailed below.
Wine tasting in the Douro Valley 
Going wine tasting in the Douro valley is one of the most popular day trips from Porto. This is Portugal's premier wine region, and the area is particularly renowned for its sweet red port wine production. 
The landscapes in the Douro Valley are breathtaking. Here, terraced vineyards and rolling green hills extend out as far as the eye can see.
The Douro Valley has been producing wines for more than 2,000 years. It is one of the oldest wine regions in the world!
Arguably, it is also one of the most beautiful!
Douro Valley Tours
A popular way to do a Douro Valley day trip is to do so on a wine-tasting tour like this one. These tours combine a visit to the picturesque villages of the Douro Valley (Pinhão, Peso da Régua, etc), with tasting and tours at several wineries. 
Douro Valley tours include pickup and dropoff in Porto and a traditional Portuguese lunch. So, you don't have to worry about driving or taking transport after a few glasses of wine. 
Getting to the Douro Valley by rental car 
If you have a designated driver, you can consider renting a car in Porto and driving to the Douro Valley. The scenic drive takes between 60 and 90 minutes.
Driving gives you the flexibility to stop at some of the Douro Valley towns that are not well-serviced by public transport. For instance, the various viewpoints over the Douro river, and the villages of Lamego and Peso da Régua are impossible to reach without a car.
Several reputable car rental companies operate in Porto – including Sixt, Avis, and TurisCar. You can also opt to stay overnight at Pinhão or Peso da Régua if you wish to break up your journey.
Discover Cars is a great platform that you can use to search for rental cars. It enables you to compare the prices and vehicles between a ton of different providers so that you can secure the best deal. 
Getting to the Douro Valley by train 
You can take the train from Porto to Pinhão in order to explore the Douro Valley. Trains depart at regular intervals throughout the day, and the journey takes approximately 2 hours and 15 minutes.
Considering the journey time, it may be preferable to stay overnight in Pinhão or Peso da Régua. If you choose to do so, you will not be short of accommodation options.
Recommended Douro Valley and Pinhão area tours
Matosinhos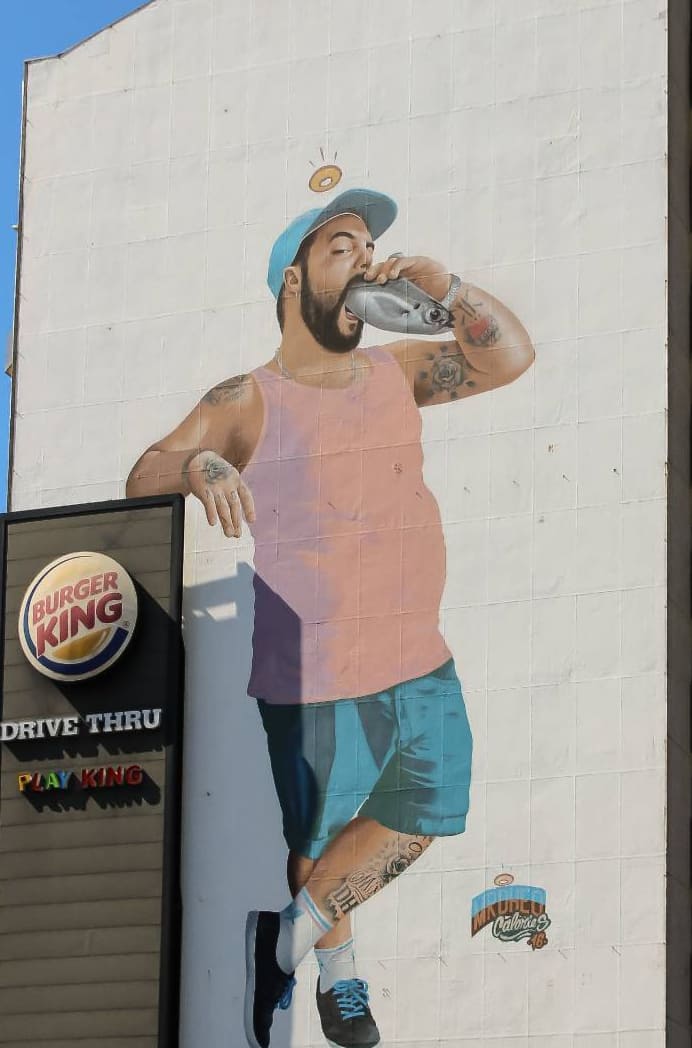 Matosinhos is a bustling port town that sits just north of Porto. The two settlements blend into each other so seamlessly that it is hard to tell where Porto ends and Matosinhos begins!
Many Porto locals venture to Matosinhos to eat fresh seafood at one of its many fish restaurants. The fish grilled and served here are caught locally each day.
Matosinhos eateries offer some of the best quality for miles around. Yet, even if you don't consider yourself a seafood aficionado, Matosinhos is worth visiting.
The Matosinhos beach (Praia de Matosinhos) offers clear waters, sandy shores, and respite from the heat and humidity during the summer months. The oddly named "cheese castle" (Castelo do Queijo) was awarded its title on account of the piece of rock that the castle is perched on which resembles a piece of cheese!
Getting to Matosinhos
It is easy to reach Matosinhos via bus or subway from downtown Porto. Matosinhos is just 10km away from the city centre, and the journey takes approximately 25 minutes.
You can board the purple line metro at Trindade station and ride the train until Matosinhos. Alternatively, take the bus from outside Estação de São Bento.
The journey takes approximately the same amount of time whichever option you choose. 
Coimbra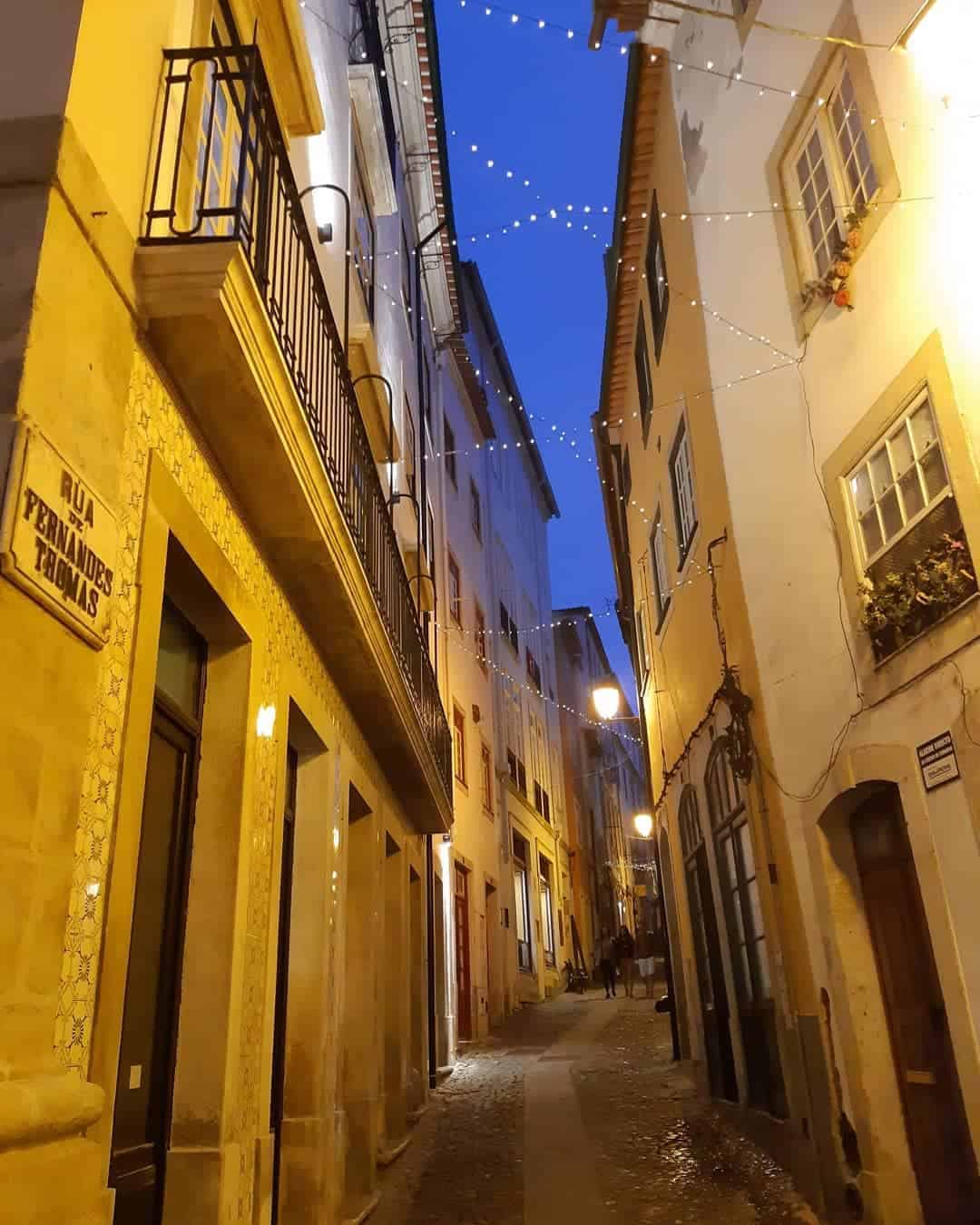 Coimbra is a riverfront city in central Portugal. The pastel-coloured houses of the city cascade down the hilltops beside the Rio Mondego creating one of the most beautiful settlements in central Portugal.
Coimbra Highlights
The ramshackle buildings of Coimbra's historic center are perched on hilly streets and dark, cobbled alleyways. There are few things more pleasant than eating al fresco style outside of a traditional Portuguese restaurant in Coimbra.
Here you can dine to the backing sound of fado singers and guitarra – the Portuguese guitar. 
The University in Coimbra is the oldest in Portugal and one of the oldest in Europe. It is a UNESCO world heritage site and was inscribed as such in 2013.
Coimbra was Portugal's medieval capital for more than 100 years. So it should come as no surprise that there are a plethora of historic sites here.
Modern Coimbra is one of Portugal's most important student towns. Today, the city sits at an interesting juxtaposition of ancient tradition meets contemporary living. 
Besides the infamous university, there are a few Coimbra attractions that you should look out for. Admire rare fauna and fauna from across the world at the Coimbra botanical gardens, and check out the Coimbra cathedral (Sé Velha) and the Santa Clara-a-Nova Monastery.
Getting to Coimbra
Trains from Porto to Coimbra depart at regular intervals throughout the day from both São Bento and Campanhã stations. The journey takes approximately one hour, and tickets cost €8. 
Recommended Coimbra Tours
Santiago (Spain)
The Santiago de Compostela is one of the most important pilgrimage sites in Europe. The cathedral, consecrated in 1211 is said to be where the remains of the Apostle Santiago lie.
Every year, thousands of devotees follow the footpaths of the Camino walking trail on their way to Catholic mass at Santiago. 
One of the Camino trails starts in Porto. The "Portuguese way" of the Camino de Santiago takes approximately two weeks to complete.
If you don't want to hike, or don't have the time available to dedicate to doing so, it is possible to visit the beautiful pilgrim city of Santiago de Compostela on a day trip from Porto. Many tour companies service this route.
Santiago de Compostela tours 
Various tour companies offer day trips to Santiago de Compostela. This may be the easiest way of reaching the pilgrimage site if you don't have your own transport.
Getting to Santiago de Compostela independently
Buses from Porto to Santiago only run every four hours. The journey from Porto to Santiago de Compostela via bus takes four hours and ten minutes.
Tickets cost €15 – €18 each way.
If you wish to take the train from Porto, you can board the train at São Bento and change at Vigo Guixar and Vigo Urzaiz. The train journey takes approximately four and a half hours.
If you wish to stay overnight in Santiago, there are plenty of hotels in the area.
Beaches of Northern Portugal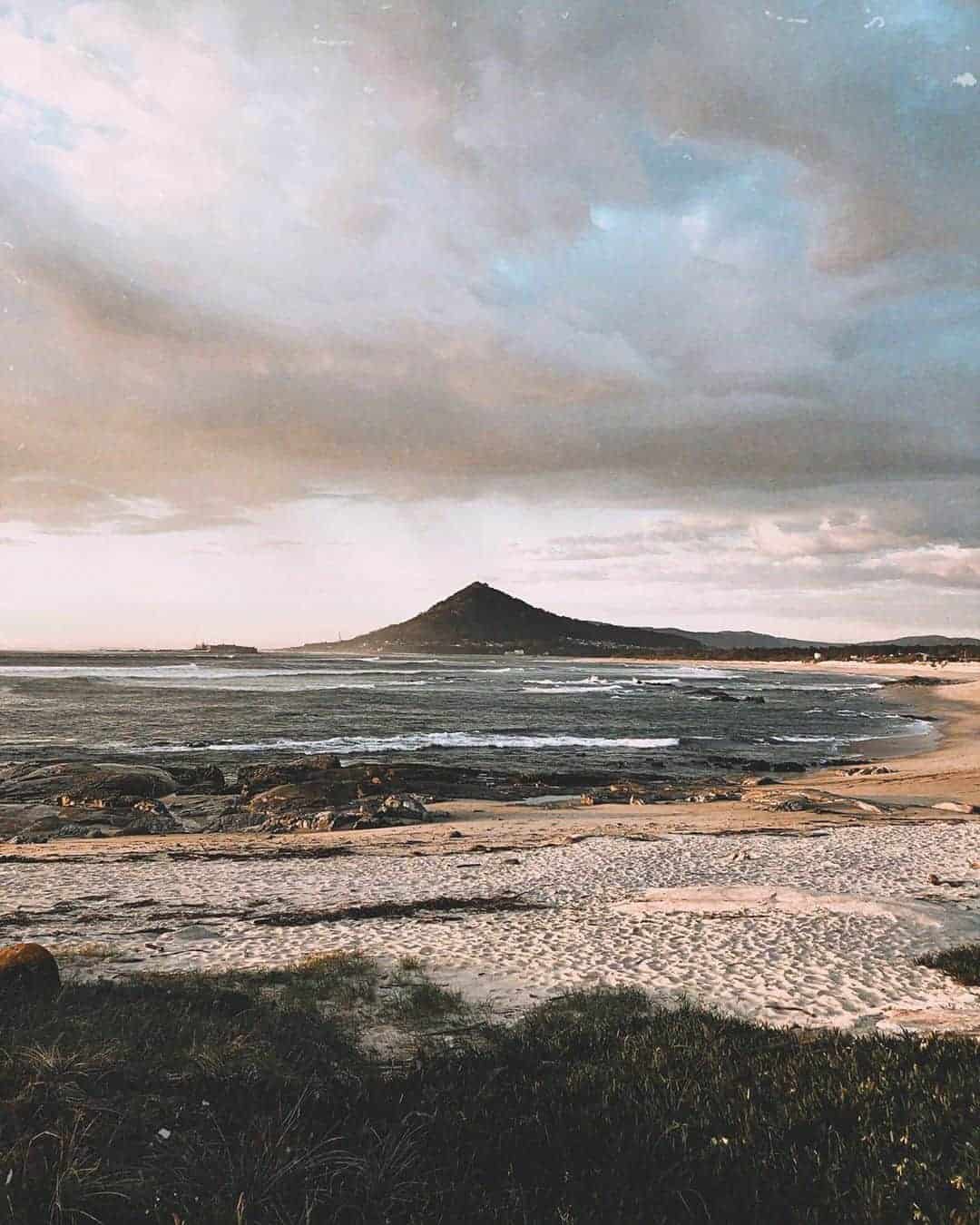 The Algarve in southern Portugal may be known for boasting some of the best white sand beaches in Europe. However, the northern part of the country has pristine coastlines all of its own.
In the summer months, you will be spoilt for choice when it comes to beautiful beaches to visit on a Porto day trip.
The best beaches close to Porto
Northern Portugal has something for everyone. You will find your idea of beach paradise whether you prefer secluded coves and isolated spots away from the tourists, or serviced beaches with all the amenities.
If you want magnificent scenery, head to Praia de Moledo. This beach sits at the mouth of the Minho River, just a stone's throw away from the Spanish border.
A small pine forest runs parallel to the shoreline. Mount Santa Tecla offers a dramatic backdrop up ahead.
If it's a serviced beach with all of the amenities that you are looking for, add Gaia's Praia do Senhor da Pedro beach to your radar. This beach on the Atlantic coast offers sunbed rentals, ice cream stores, and cafes. It is a perfect choice for families. 
Getting to the beaches of Northern Portugal 
There are countless beaches in Northern Portugal, all at varying distances from Porto. The Praia do Senhor da Pedro beach can be reached by boarding a train from Porto to Miramar.
There are also numerous beaches close to Gaia and Matosinhos that can be reached by public transport. Beaches a little farther afield and close to the Spanish border require your own transport.
Vinho Verde wine region 
The Douro Valley may well be the most well-known wine region in Northern Portugal but it certainly isn't the only one. Vinho Verde is a Portuguese wine region awarded its name on account of the lush greenery that encompasses the vineyards.
Reds, whites, and rose wines are produced in the Vinho Verde region, and the beverages tend to be sweet and sparkling. If you find yourself travelling through the Minho region of Portugal, a bottle of Vinho Verde wine is a popular addition to the dinner table. 
Vinho Verde vineyards
There are countless reputable wineries in the Vinho Verde region. Quinta de Soalheiro is a beloved local vineyard that sits close to the Spanish border.
The vineyard was a pioneer in creating the Alvarinho wine in Melgaço.
Quinta do Ameal Wine & Tourism Terroir is another popular nearby spot. It also boasts a hotel where you can break up your day trip from Porto by staying overnight.
Getting to the Vinho Verde Wine Region
It can be tricky to access the Vinho Verde wine region on a Porto day trip unless you have your own transport. Not to mention, even if you do have your own transport, you cannot drive back after the tastings unless you have a designated driver.
Recommended Vinho Verde wine tours
Vinho Verde wine-tasting tours take the stress out of organising a visit here yourself. Most offer collection and drop-off from Porto.
They take you to several family-owned vineyards in the region and the price includes tastings of local wines and food delicacies. A lot of vineyards and wineries have on-site hotels if you want to stay overnight.
Peneda-Gerês National Park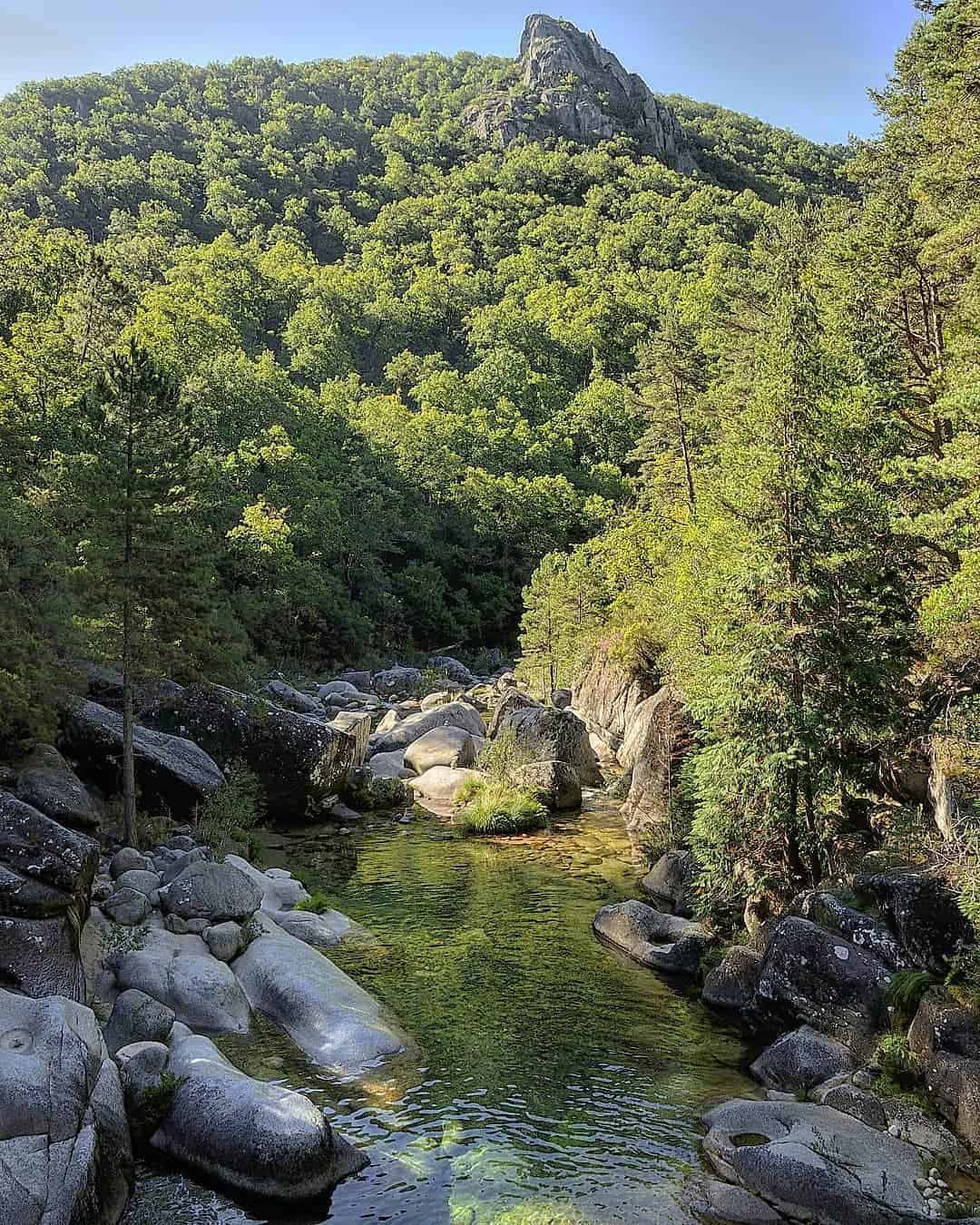 The Parque Nacional da Peneda-Gerê is a perfect place to visit if you enjoy walking. Here you can escape the hustle and bustle of a major city for a few days and get back to nature.
Numerous hiking trails lead through the woodlands here.
The Villages and Hiking Trails of Peneda Gerês
The routes of the Peneda Gerês are well-marked and lead past jaw-dropping scenery, beautiful flower gardens, archaeological ruins, and quaint villages. This park extends across a pretty large area.
So, you really need to map out what you want to see and do, and which routes you want to follow in advance, before setting out.
Nature aside, one of the biggest draws of visiting this region of Portugal is the charming granite villages here which are seemingly frozen in time. Many of the villages that encompass the Peneda Gerês National Park date back to the 12th century.
They have changed very little since they were constructed. Peneda and Castro Laboreiro are nice places to stop for lunch
Getting to Peneda-Gerês National Park
It is tricky to get to the Peneda-Gerês National Park if you do not have your own car. You can take a bus/train from Porto to Braga, and then a bus from Braga to Gerês.
However, the entire journey takes approximately 3.5 hours. 
If you have your own transport, you can drive from Porto. The route will take approximately an hour and a half.
Recommended Peneda-Gerês Tours
Fátima pilgrimage site 
The Sanctuary of Our Lady of Fátima is the largest pilgrimage site in Portugal. According to local tales, the Virgin Mary appeared as an apparition to three local shepherd children.
Mary predicted several future events – including the Spanish plague, and the end of the First World War. Since then, thousands of pilgrims from across the globe have flocked to the site.
Fátima sits in central Portugal. It is approximately 50 minutes away from Coimbra and two hours away from Porto respectively, making it an easy day trip from Porto.
Don't miss the Church of the Apparitions. This is a small chapel constructed on the exact spot where Mary appeared to the shepherds. 
Getting to Fátima
An hourly bus departs from Porto to Fátima. Redo Espressos and CitiExpress are two companies that operate along this route.
The route takes 2 hours, and tickets cost approximately €11 per person.  
Bridge walk 
Several bridges run across the Douro between Porto and Vila Nova de Gaia. The Ponte da Arrábida is one of the city's many bridges. Its construction was completed in 1963. 
If it is adrenaline and adventure that you seek on your Porto day trip, you can consider doing a bridge walk.
During the walk, you can also climb over the top of the bridge. At the highest point, this bridge positions you 65 meters above the city of Porto.
From up here, you are at the perfect place to capture photos of city panoramas. Although, arguably the adventure is not for the faint of heart!
Viseu
Viseu is a charming city in central Portugal that has been nominated as the "best place to live in Portugal" for several consecutive years. Despite this accolade, the city remains relatively off the beaten path.

Very few international tourists venture here. So, Viseu is a great place to visit if you want to explore Portugal outside of the main tourist sites. 
Viseu Highlights
The city has a long history that dates all the way back to the Iron Age. Viseu was conquered by the Romans and the Moors, and it survived several attempted raids from the Spanish.
You can easily dedicate an entire day to exploring the churches and historical sites of Viseu. Don't miss the beautiful 12th-century Viseus Cathedral and the 1916 Grão Vasco National Museum which showcases the works of various Portuguese artists.
Getting to Viseu
It is easy to get to Viseu on a day trip from Porto. Rede Expressos operate a direct bus that runs every four hours.
The journey takes approximately an hour and fifteen minutes, and tickets cost approximately €10 per person.
Ponte de Lima
The Ponte de Lima is the oldest chartered town in Portugal. Today, it is widely regarded as being one of the prettiest towns in the country.
The town sits on the banks of the River Lima. Its long history is easily visible in the hodgepodge of various architectural types and ancient structures here.
Ponte de Lima offers a charming blend of fragrant flower gardens, crowded plazas, ancient houses, and breathtaking natural scenery. It is worth staying overnight in Ponte de Lima if you have time. If not, it can be done as a day trip from Porto. 
Getting to Ponte de Lima
Direct buses run between Porto and Ponte de Lima four times per day. The journey takes approximately 90 minutes, and tickets cost €9 per person. 
Day Trips from Porto FAQS
Do you have any further questions about taking day trips from Porto or planning your trip to Porto in general? the answers to some frequently asked questions are detailed below. hopefully, you'll find the information that you're looking for there. if not, please do not hesitate to reach out to me. 
What to see outside of Porto?
There is plenty to see outside of Porto. Historic and culturally-rich cities like Braga and Guimarães can be reached in less than an hour's train ride.
The Douro Valley is a short drive away and is a perfect destination for wine lovers. A little further afield, you have the Douro Valley, Aveiro, and Coimbra. 
Can you do a day trip from Porto to Lisbon?
You can definitely do a day trip from Porto to Lisbon if you are really pushed for time. But keep in mind that the train ride between the two cities takes 3.5 hours each way.
So it will be a really tiring and jam-packed day. If your schedule allows it, it is much better to spend at least one night in the Portuguese capital before returning to Porto. 
Is there a train from Porto to Braga?
Yes, there is a direct train that runs from Porto to Braga (and vice versa). This is a popular day trip destination and commuter route and so, more than 20 trains run between the two cities every single day! 
The journey time varies depending on the specific type of train that you are travelling on. If you take the Alfa Pendular high-speed train, you can get from Porto to Braga in just 37 minutes.
The train reaches speeds of up to 220 kph (140 mph)!
Is the train from Porto to Lisbon scenic?
The train journey from Porto to Lisbon (and vice versa) is extremely beautiful. It runs through the centre of Portugal and passes the gorgeous Douro river and the little towns of Aveiro and Coimbra before terminating in Lisbon.
Part of the fun of travelling between the two cities can be found in simply packing a flask of coffee or some snacks and reveling in the view. 
Can you take a boat from Porto to Douro Valley?
You can opt to travel from Porto to the Douro Valley by car or by boat. Traveling by road is the fastest and most common choice.
However, traveling by boat is perhaps more fun and scenic! There are a number of tour companies that will pick you up in Porto and transport you along the river to the Douro valley.
This takes a lot of the stress out of managing the logistics of your trip. It also means that you can drink as much as you like at the Douro Valley wineries without having to worry about someone being a designated driver!
How much is the train from Porto to Algarve?
You can expect to pay around €39 one way on the train from Porto to the Algarve. The exact price varies depending on the specific time you are travelling and the service you travel on. 
Final thoughts on the best Porto day trips
Do you have any further questions about planning day trips from Porto, or visiting the Northern city of Porto in general? I spent two months based here in 2020 and I got to know the area pretty well during that time.
If you have any questions or concerns, please don't hesitate to reach out.
Safe travels, obrigada! Melissa xo 
---