There are plenty of day trips from Istanbul to suit every interest and travel style. Beautiful Turkey has everything from pristine nature and hiking trails to idyllic beach towns.
Many of these places are largely underrated and relatively unknown on an international scale. You will not be short of options if you want to venture further afield during your trip.
Many day trips from Istanbul can be done in just a few hours. Turkey does not have a well-established railway but buses here are excellent so getting from A to B is relatively easy.
Day Trips from Istanbul:
Go it Alone or Guided Tour?
It is easy to organise all of these day trips from Istanbul independently. Generally speaking, planning the trips by yourself and using public transport is the cheaper option.
There may be instances where you prefer to use a guide though. An organised tour can take some of the stress out of planning as many companies offer direct pickups from your hotel.
Expert local guides can also provide a little more context and information on the places you visit. For each of the day trips from Istanbul discussed here, you have the details on how to reach the place independently, and a selection of recommended tours. You can then choose the most suitable option for you.
21 Wonderful Day Trips From Istanbul:
Where to Go
Şile and Ağva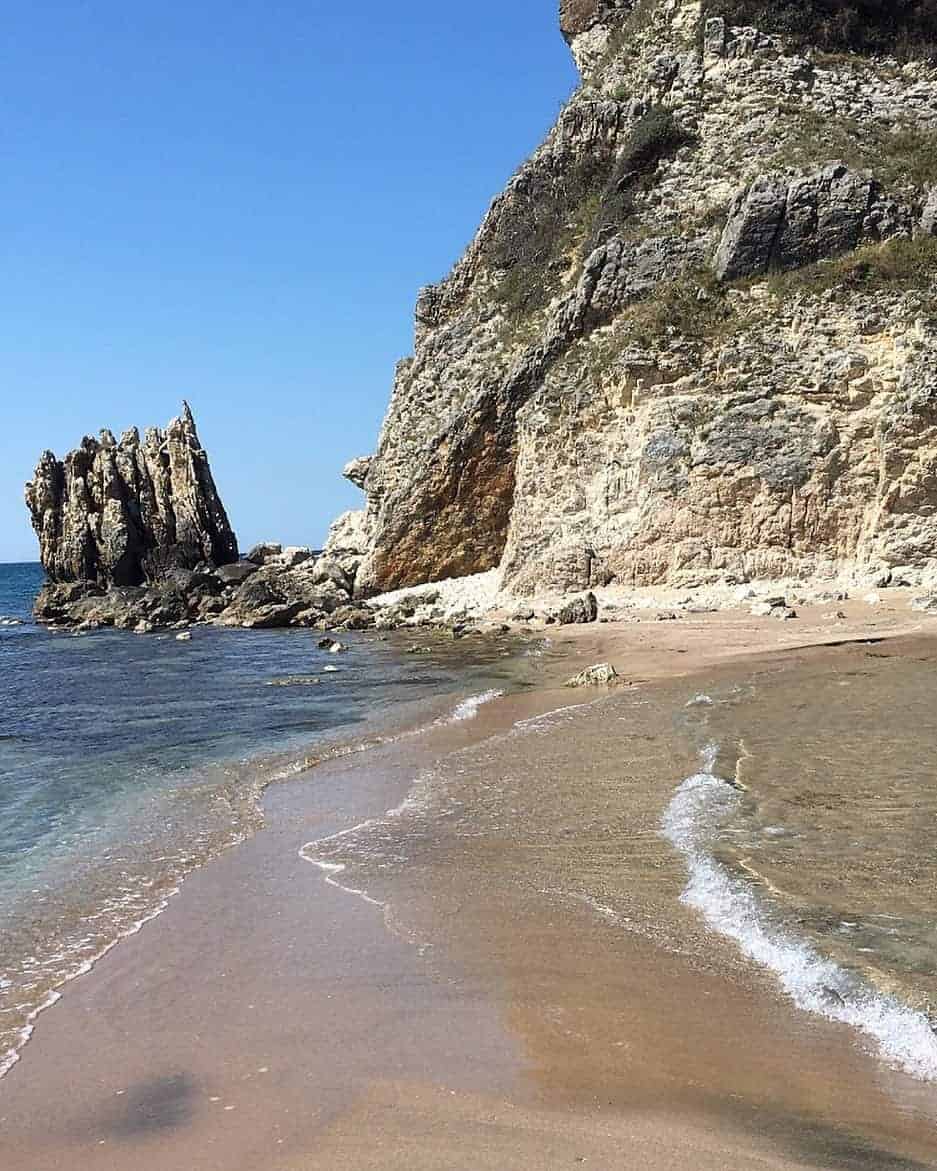 Şile is an idyllic fishing village perched on the Black Sea coast just 58km away from Istanbul. The village is a popular getaway destination among locals who venture out of Istanbul to swim in Şile's cerulean waters and relax on its secluded beaches.
Take a walk to the Şile port (Limani) and enjoy a pleasant stroll by the seafront. Many of the fishing boats docked here have been converted into eccentric restaurants and serve up some of the freshest seafood in the region.
Look out for the Şile Feneri (lighthouse), and the Şile Kalesi (castle). The former was built during the Ottoman Empire and is the second-largest lighthouse in Europe.
Want to venture further off the beaten path? Head to the nearby beach town of Ağva.
Getting to Şile and Ağva
You can take a bus from Harem in Istanbul to Sile via Üsküdar. The journey takes around an hour.
Yalova Thermal Springs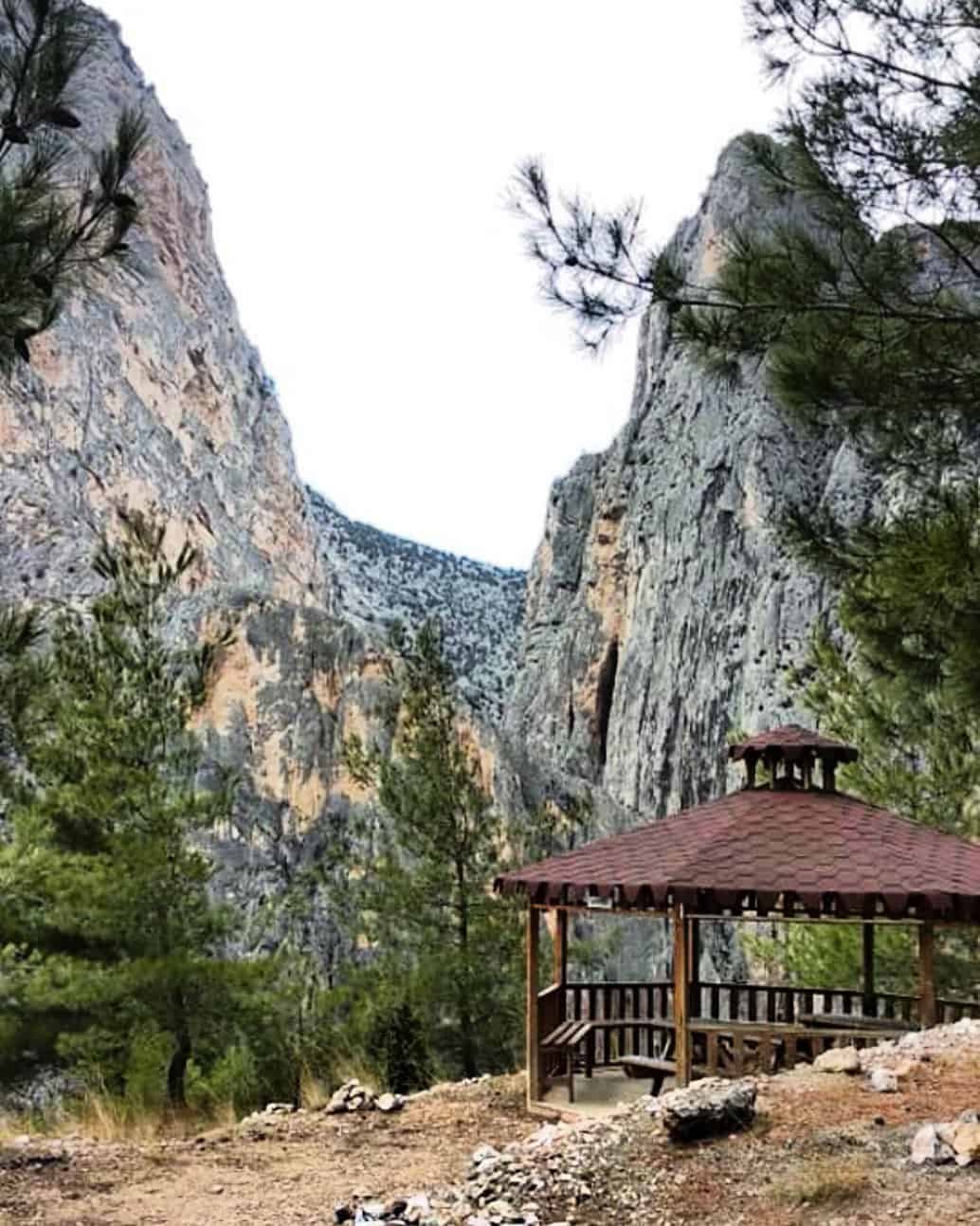 The various hammams and traditional Turkish bathhouses in Istanbul are a nice place to indulge. If you want to take your R&R one step further though, you can take a day trip out to the Yalova thermal springs.
The marble baths here were built by Byzantine Emperors thousands of years ago. The decadent spa facility is nestled in the woodlands with grounds fit for a King. The waters here contain thermo mineral waters said to cure ailments, aches, and pains. 
Getting to Yalova
Direct buses run hourly between Istanbul Otogar and Yalova. The journey takes an hour and fifteen minutes.
Termal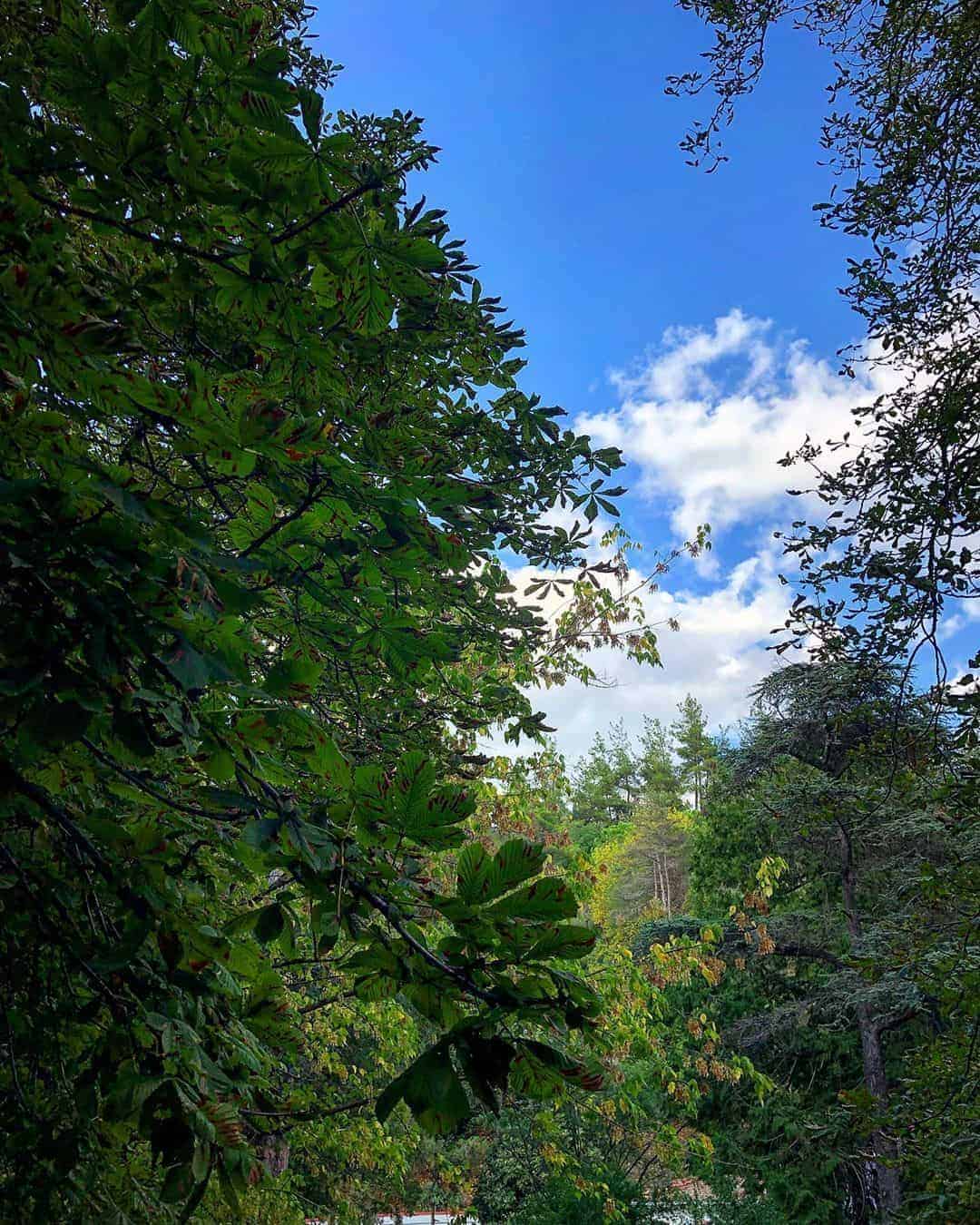 The town of Termal awaits in the Yalova province of Turkey. Termal itself may seem to be "just another" Turkish town.
However, it is the nature around it that is the main draw to this place. You can use the town as a base to hike to the nearby Sudusen waterfall and Harmankaya Nature Park. 
The Yalova Ataturk mansion belonged to Turkey's beloved Ataturk who would use this house as a base when he visited the nearby thermal baths. Today it has been converted into a museum detailing the history of his life.
A trip to Termal can be combined with a visit to the nearby Yalova baths. If you want to visit the area at a more relaxed pace, you may also want to consider staying overnight in a charming local lodge or guesthouse.
Getting to Termal
There is no direct bus from Istanbul to Termal. You need to take a bus from Istanbul Otogar to Yalova, and from there take a cab to Termal.
Kilyos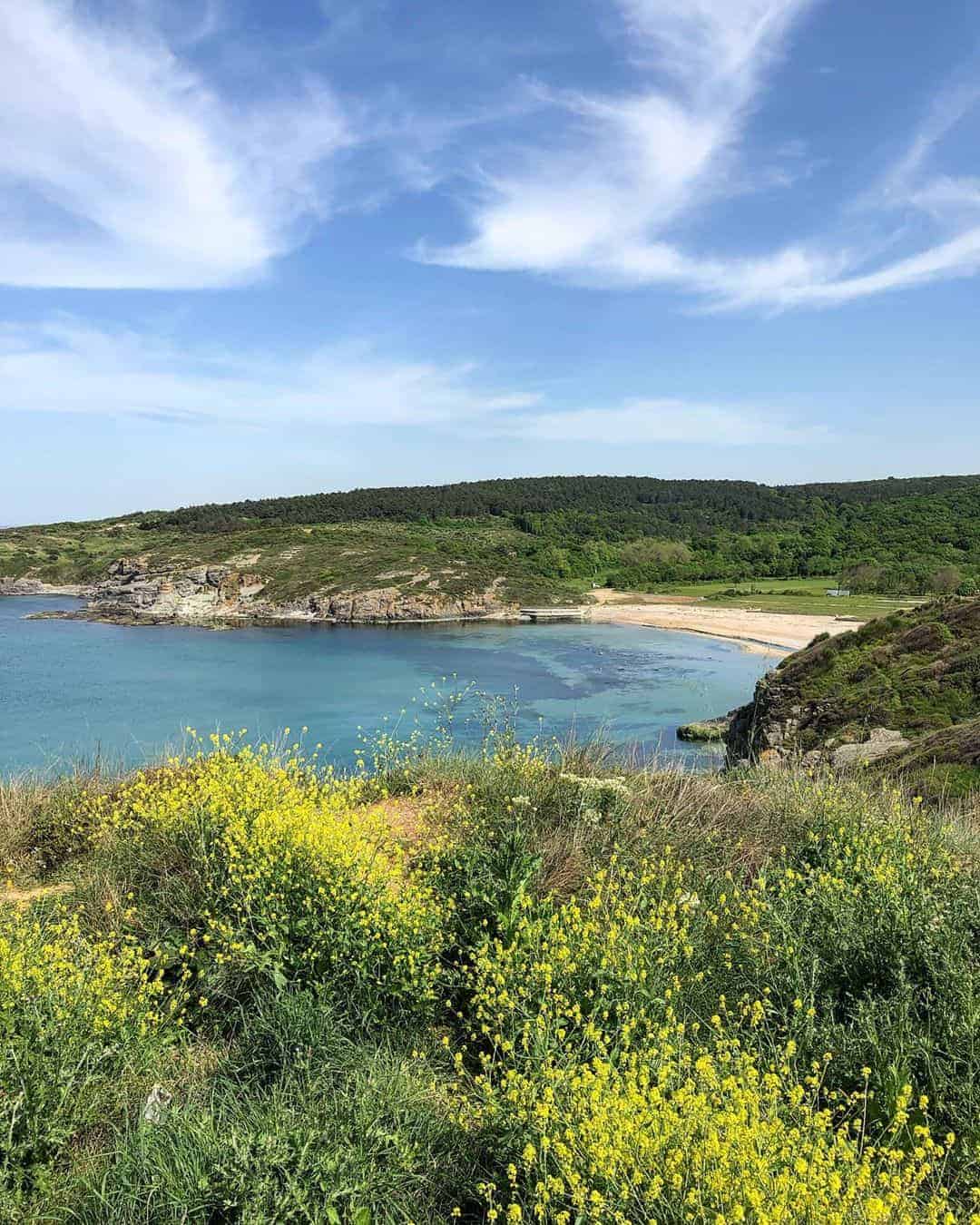 Kilyos is a lovely seaside town in the Sariyer district of greater Istanbul. If you find that you want to escape the hustle and bustle of the city and get away to a more laid-back beach town for a day or two then Kilyos is the perfect place to do just that. 
The beaches and coves of Kilyos provide all the amenities needed for a slice of rest and relaxation. The area is also popular for windsurfing, kiteboarding, and waterskiing. 
Many of the restaurants in Kilyos specialise in meze platters. These are small dishes of a variety of different foods.
In some ways, you could compare them to Spanish tapas. The idea of meze is that you order lots of small plates to share with your travel companions. Think fresh olives, marinated meats, local cheeses, and homemade bread, etc.
Getting to Kilyos
Lovely Kilyos is less than 40km away from Istanbul. Making this journey by public transport is easy enough.
You can take a bus or a ferry boat from Istanbul to Sarıyer. From Sariyer, take bus 151 to Kilyos.
Cappadocia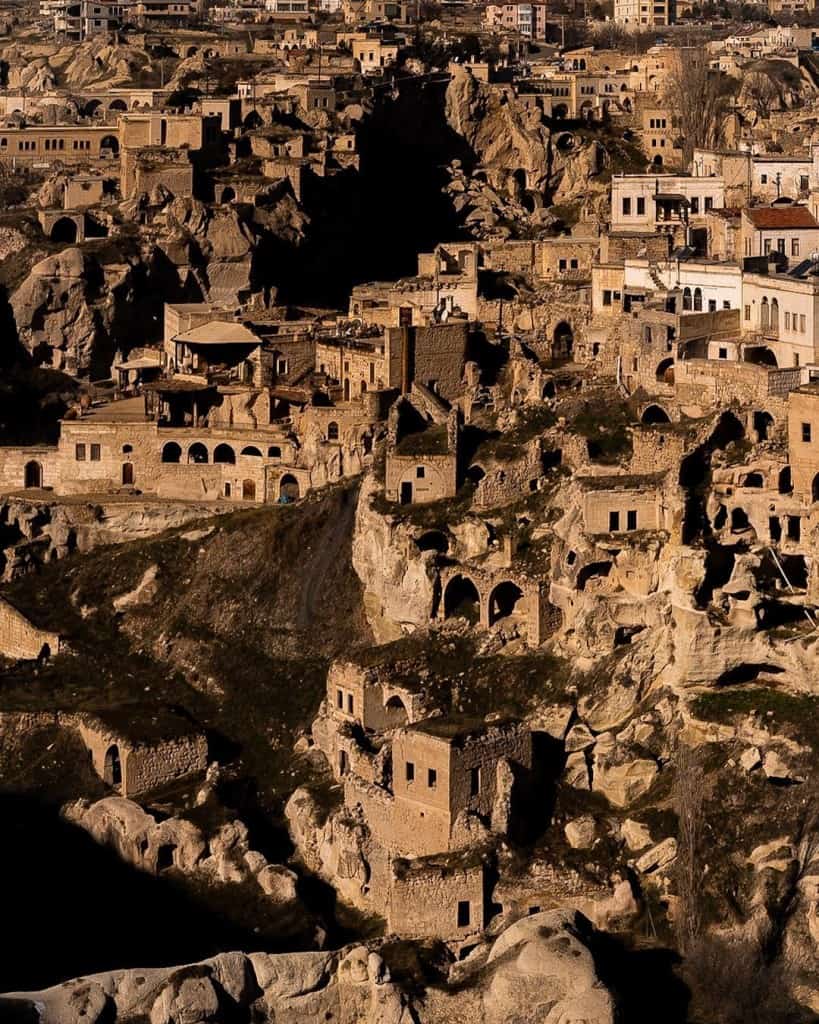 The ethereal landscapes of Cappadocia look like something from another planet. The vast plains filled with fairy chimneys and rock houses are just waiting to be explored.
One of the most memorable experiences that you can have in Turkey is taking to the skies in Cappadocia in a hot air balloon and watching the sunrise over the horizon. Balloons aside, Cappadocia has so much to offer.
You could easily spend an entire weekend here hiking, visiting traditional villages, and venturing into mysterious underground cities. It is advisable to book your hot air balloon ride online in advance to avoid disappointment.
Getting to Cappadocia from Istanbul
The easiest way to get to Cappadocia from Istanbul is to fly. Pegasus and Turkish Airlines both run frequent domestic routes between the two cities. It takes an hour to reach Cappadocia by plane compared to more than eleven hours by bus.
Notable Cappadocia Tours
The Princes Islands
The Princes Islands are a special place – especially if you are someone that enjoys immersing themselves in nature. The islands form a stunning archipelago that floats in the sea of Marmara.
They are approximately an hour away from Istanbul. Cars are prohibited on the Princes Islands so people get around on foot, bicycle, or by horse.
Venturing here feels like travelling back in time. The narrow winding streets of the islands' villages are filled with beautifully ornate Victorian houses and engulfed by pine forests.
It's understandable why so many Istanbulites travel out here to get away from it all. This is a popular day trip from Istanbul during the summer months but in the winter, these islands are virtually void of tourists.
Buyukada
Buyukada is the largest of the Princes Islands. There are a few grand old houses, stores, and coffee shops near the port.
However, most of the island consists of woodlands and scenic hiking trails leading through peaceful farms and trees. Don't miss the hike up to the Greek Orthodox Monastery, or a stop by the creepy abandoned orphanage that awaits in the middle of the forest.
Heybeliada Island
Heybeliada Island is another of the Princes Islands well worth a visit if you have the opportunity to take day trips from Istanbul. It has a more homely feel than Buyukada and its coastlines are filled with beautiful beaches.
Getting to the Princes Islands
Boats depart to the Princes Islands every day from Kabataş port. You can take an IDO fast boat, or a ferry operated by Şehir Hatları.
Ferries to Buyukada and the other Princes islands run more frequently than the fast boats. The journey takes approximately 100 minutes. Try to board one of the earliest ferries to make the most of your time on the islands.
Suggested Princes Island Tours
Belgrad Ormani
Belgrad Ormani translates to "Belgrade forest". This is a beautiful place to get back to nature without venturing too far from Istanbul.
This secluded forest spans over 5000 acres and features dozens of wonderul hiking trails. They lead travellers through scenic woodlands, past streams, dams, and the crumbling remnants of historic sites and ruins from the Ottoman empire.
Getting to Belgrad Ormani
It is a little tricky to get to Belgrad Ormani unless you have access to a car. It takes around 35 minutes to drive to the forest from Istanbul.
The easiest public transport route to Belgrad Ormani is to take the metro to Darussafaka. From there, take a taxi for the remainder of the journey.
A cab from Darussafaka to Belgrad Ormani should cost no more than $5-$7. Be prepared to haggle though, as cab drivers are notorious for trying to overcharge tourists if they think you don't know the going rates. 
Konya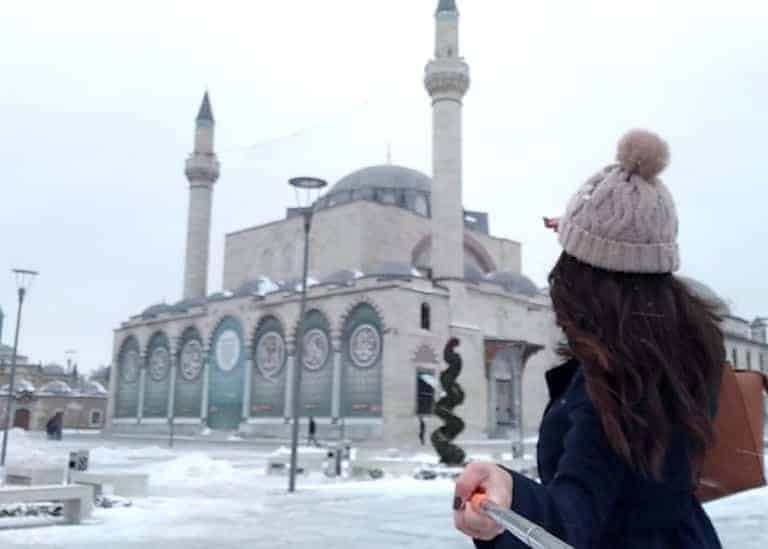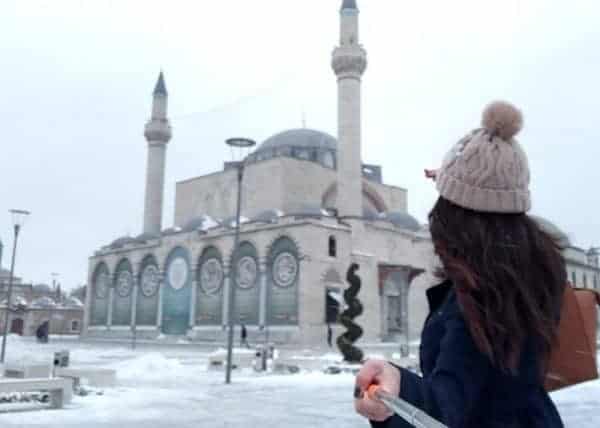 Konya is a conservative city in the heart of central Turkey. At first glance, Konya may look like a place of strict religious practice, tightly affixed headscarves, and somewhere that has little to offer tourists.
Scratch beneath the surface and you find one of the most wonderful, off-the-beaten-path Turkish cities. The markets and souks of Istanbul may feel a little artificial and touristy.
However, in beautiful Konya, you can spend hours getting lost among the winding streets of marketplaces where the locals actually shop for their fresh produce and supplies. Drink a cup of hot salep and order up a traditional Konya lamb kebab with onions at one of the many local eateries.
Konya is renowned for its ties with Mevlana – also known as the poet Rumi and the founder of Sufism. The original whirling dervishes come from Konya.
It is possible to watch a free whirling dervish dance performance every Saturday behind the Mevlana Museum. If you want to discover the city with a local, you can consider taking a guided Konya city tour.
Getting to Konya
Konya is more than 600 miles away from Istanbul. It is better to stay overnight if your schedule permits.
It takes an hour to reach Konya by domestic flight. Night buses are also a popular option. Buses depart from Istanbul Otogari three times a day. The journey takes ten hours.
Troy
The Turkish town of Troy is famed as supposedly being the spot where Greek soldiers hid inside a wooden Trojan horse and were able to sneak into the city for a surprise ambush. The story is featured in Homer's epic Iliad.
Nobody is certain as to whether the story holds any truth or not. Regardless, Troy makes a fascinating day trip from Istanbul nonetheless.
The settlements at Troy date back over 5000 years and this land has passed hands through various different civilisations over the centuries. The city has deep roots in magic and Greek mythology and the crumbling ancient walls of the town and the temple of Athena are interesting to explore.
Getting to Troy
The easiest way to get to Troy from Istanbul is to take the bus to Canakkale. The journey takes approximately six hours from Istanbul.
From Canakkale, take a dolmus (minibus) to Troy. The dolmus takes 45 minutes. 
Recommended Troy Tours
Take a Bosphorus Cruise
A Bosphorus cruise is a nice way to see a lot of Istanbul and its surroundings, especially if you have a limited amount of time to spend in Turkey. You can take a half-day or a full day Bosphorus cruise tour
A full-day Bosphorous tour takes travellers all the way out to the Black Sea. The atmosphere on the night tours is especially charming. You can watch on as the sun sets behind the Istanbul skyline and the city streets are illuminated with hundreds of twinkling lights.
Suggested Bosphorus Tours
Bosphorus tours are one of the most popular things to do in Istanbul. There are countless operators that provide regular tours along the river. Some recommended Bosphorus tours are detailed below.
The Battlefields of Gallipoli
The Gallipoli – Dardanelles battlefields are now a protected national park in Turkey. Today, the site is covered with wildflowers and majestic pine forests.
However, more than 100 years ago, it was the site of a bloody and ferocious World War I battle for control of the Dardanelles. Gallipoli is one of the best day trips from Istanbul if you have a strong interest in history.
The battlefields cover a region of more than 35km and boast numerous hiking trails within this peninsula. The Çanakkale Epic Presentation Center contains a number of historical exhibitions and tells the story of what happened at Gallipoli. 
Getting to Gallipoli
There is no direct route from Istanbul to Gallipoli. This day trip is easier if you have access to a car, or if you can combine a trip to Gallipoli with nearby Troy and Canakkale.
To reach Gallipoli by public transport, you can take a bus from Istanbul Otogar to Gelibolu. This part of the journey takes around six hours. From Geliboli, take a cab to Gallipoli for the remaining thirty minutes of the journey.
Recommended Gallipoli Tours
Izmir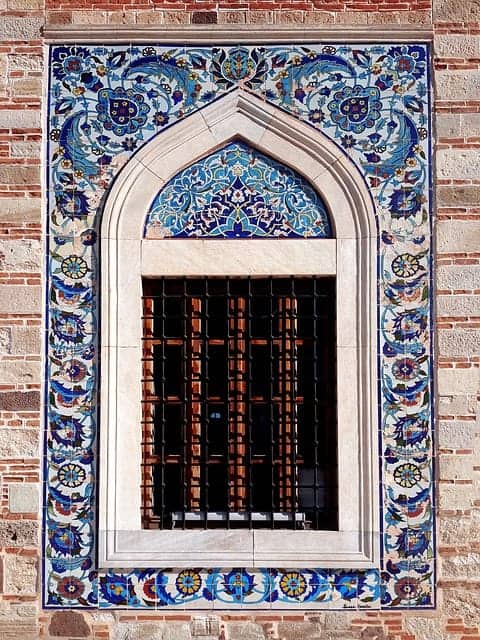 It is hard not to fall in love with the coastal city of Izmir. The city is an underrated gem.
Izmir is also home to several historic and Roman ruins, including the ancient agora nestled in the city centre. Its historic centre boasts stunning views out to the Aegean Sea, and an intricate network of winding passageways and serpentine souks that hide eclectic tea rooms and quirky boutique stores.
Izmir's location means that it is a little further afield. In terms of day trips from Istanbul, it is better to organise an internal flight and stay in Izmir overnight.
Getting to Izmir
Domestic flights run regularly between Istanbul and Izmir. The journey takes an hour.
There are also direct buses that run every thirty minutes from Istanbul Otogar to Izmir. Travelling to Izmir by bus takes approximately eight hours. Your best option is to stay overnight in Izmir and combine this excursion with a trip to Ephesus.
Edirne
Erdine has plenty to offer travellers willing to venture a little off the beaten path. This ancient city was once the capital of the Ottoman Empire.
It is home to numerous fortresses, ornate mosques that date back centuries, and several other historic sites. Erdine's beautiful Selimiye Mosque was constructed in the 1500s and is well worth a visit.
It has all the grandeur and elegance of Istanbul's blue mosque but without the crowds. Erdine also houses an excellently preserved old town ("Kaleiçi").
Here you will find gorgeous grand 18th, 19th, and 20th-century houses. Many of these have been lovingly restored and renovated as traditional restaurants and quirky antique and vintage stores.
Getting to Erdine
The best way to get to Erdine by public transport is to take the bus. Buses depart from Istanbul Otogari every two hours and the journey takes around five hours.
Çanakkale
Çanakkale is a charming little seaside town in the Marmara region of Turkey. The town is often seen purely as being the last stopping point on the way to Troy but the reality is that Çanakkale is far more than that.
Çanakkale feels like a quainter, more compact version of Istanbul. The large student population that resides here means that Çanakkale is home to dozens of quirky coffee shops, bars, and restaurants.
All of these gorgeous places overlook the waters of the Dardanelles, making for a perfect scenic lunch spot. Pose for photos in front of the replica trojan horse in the centre of town and enjoy getting lost among the winding narrow streets filled with tea rooms and spice shops.
Getting to Canakkale
Buses for Canakkale depart hourly from Istanbul. The journey takes approximately six hours each way.
Bursa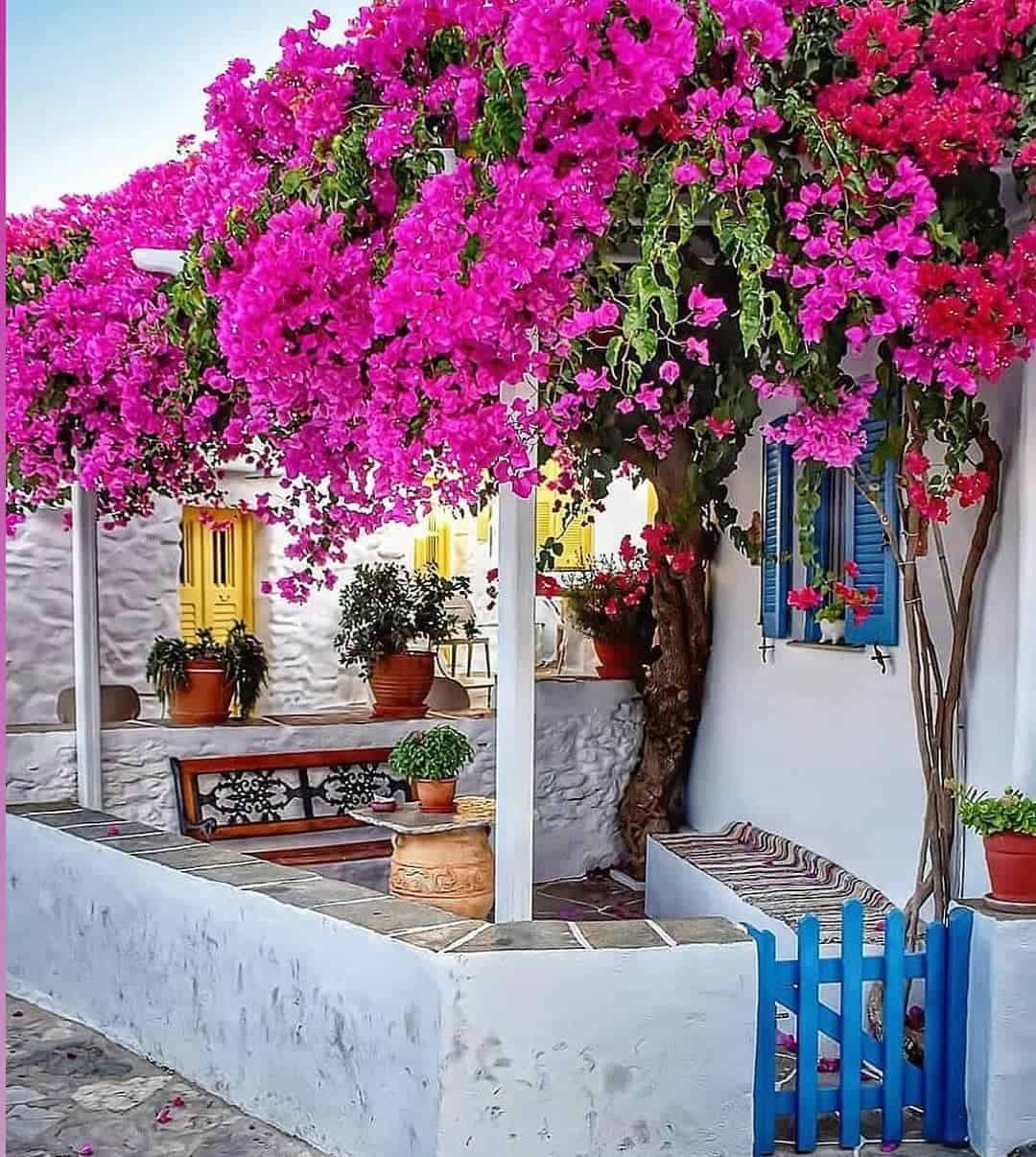 The largest concentration of temples and religious sites in Turkey is in Bursa. Ferries and high-speed catamarans lead across the water from Istanbul's Ortakoy port to Bursa several times per day.
This makes Bursa one of the easiest day trips from Istanbul to enjoy. It is often referred to as Yeşil Bursa or "Green Bursa" on account of its natural beauty and the dramatic backdrop against the Olympus mountains.
Getting to Bursa
Ferries from Istanbul to Bursa depart three times a day. It takes approximately 90 minutes to cross the Sea of Marmara to Bursa.
You will arrive in Güzelyalı. From here, you can hop onboard the yellow city Bus 1-GY to continue your onward journey in Bursa. You can also take the train to the city centre from the Bursaray Emek station. 
Recommended Bursa Tours
Kilitbahir Fortress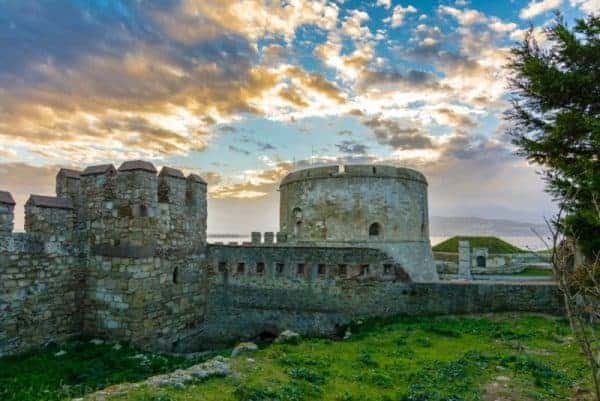 The gigantic, incredibly well preserved Kilitbahir Fortress lies on the opposite side of the Dardanelles to Çanakkale. The fortress was built by Sultan Mehmet in 1463 as part of a huge defensive project to defend the waters leading towards Istanbul.
The Çanakkale fortress on the opposite side of the water was built at the same time. Taking a tour of the Kilitbahir Fortress provides interesting insight on how the site played such a crucial defensive role in Turkish history.
Climb up to the fortress ramparts just before the sun sets. From up here, you can enjoy incredible panoramic views over the strait of the Dardanelles.
It should be noted that the town of  Kilitbahir itself does not offer an awful lot besides the fortress. Many just admire its grandeur from a boat on the Dardanelles as they take day trips from Istanbul to Çanakkale and Troy.
However, Kilitbahir is home to a large port. So, if you are already visiting Çanakkale, you can take a short trip across the water to see the fortress if their schedule permits.
Anadolu Kavağı
Anadolu Kavağı is a quaint little fishing village that is situated at the narrowest point of the Bosphorus. Its location means that it is technically still within the city limits of Istanbul.
However, the contrast in the atmosphere here is phenomenal. Filled with wooden houses and 700-year-old trees, Anadolu Kavağı's narrow streets and passageways transport visitors back in time
There are two historic castles located here that are well worth visiting. Namely, Yoros Castle, and Genoa Castle.
A winding passageway through the wooded scenery leads visitors up Yusa hill and towards Gizli Bahçe. This is "the secret garden" and the highest point in the city. From here you can enjoy breathtaking panoramas out across the Black Sea.
Getting to Anadolu Kavagi
Anadolu Kavağı's location makes it perfect for day trips from Istanbul. The village can be reached overland by public transport.
However, arguably the most scenic way to get there is by taking a boat down the Bosphorus from Kadıköy port.
Pamukkale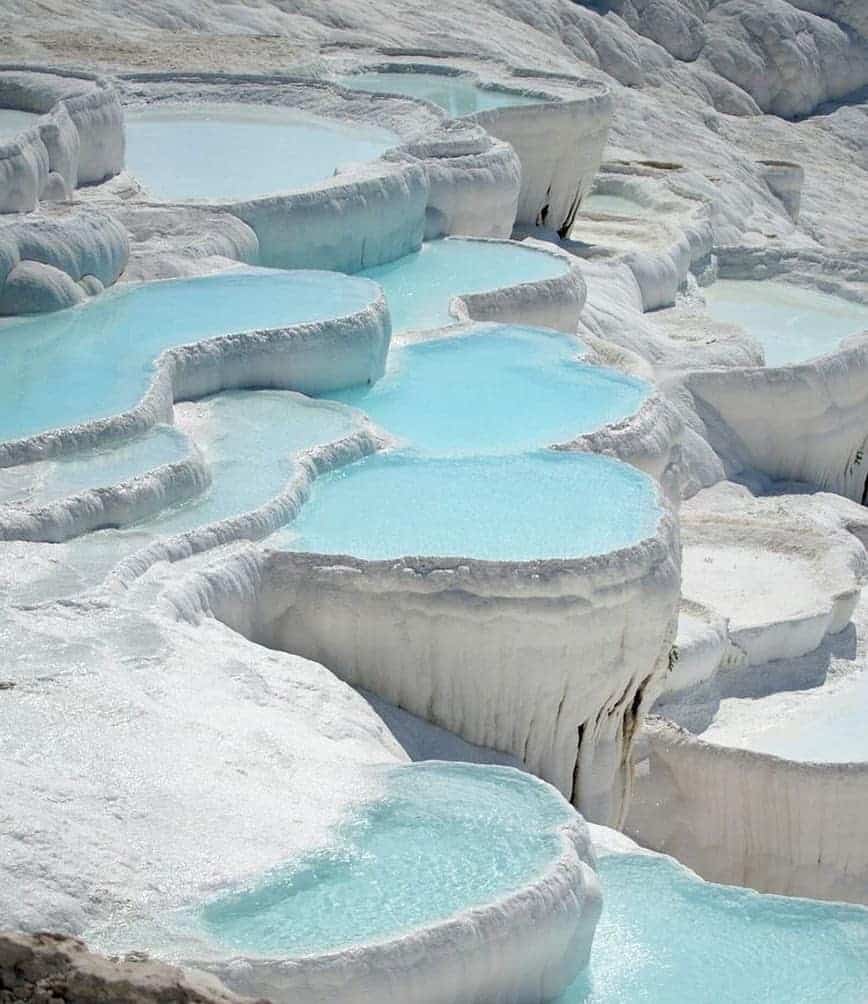 Pamukkale is one of the most unique tourist attractions in Turkey. The name Pamukkale means "cotton candy" in Turkish.
This is a perfect description for the site's ethereal landscapes. Pamukkale's white travertine terraces are reminiscent of white fluffy clouds.
At first glance, the site may look like rolling hills covered in soft white snow. However, the travertines here are formed by sediments from the nearby thermal pools.
Pamukkale is situated at the base of Hierapolis. This is an ancient Greek and Roman city that was built around the natural thermal springs in the area.
It is said that the Roman baths were a gift from Anthony to Cleopatra. Cleopatra was rumored to have been very ugly before taking a swim in their waters and being transformed into someone incredibly beautiful.
It's worth dipping your foot in to see if it has the same impact, right? What remains of Hierapolis is incredibly well preserved and includes a sprawling Roman amphitheater and a Roman graveyard.
Getting to Pamukkale
Pamukkale is a long way away from Istanbul. The fastest option is to fly to Denzili and then take a dolmus to Pamukkale.
You can also take an 11 hour night bus and then a dolmus. It is best to stay overnight if you want to visit Pamukkale. The travertines can be tied in with a trip to Ephesus and Izmir.
Suggested Pamukkale Tours
Iznik
The city of Iznik is steeped in history and culture. Its roots date back as far as 300 BC.
Iznik was formerly known as Nicaea. This was an artisanal city whose craftsmen created beautifully ornate tiles.
Many of the early residents of Iznik came from Iran, thus contributing a unique culture and architectural influence to the area. There are several mosques and historic sites in Iznik that are well worth visiting.
The beautiful mosque of Yeşil Cami has been created in royal hues of blue and turquoise reflecting its Persian influence. The Aya Sofya mosque and the crumbling remnants of the old Roman settlement here should also not be missed.
Getting to Iznik
The city of Iznik can easily be enjoyed on a day trip from Istanbul. The best way to reach Iznik is to take a boat from Ortakoy across to Yalova, and then take a bus to Iznik.
Ephesus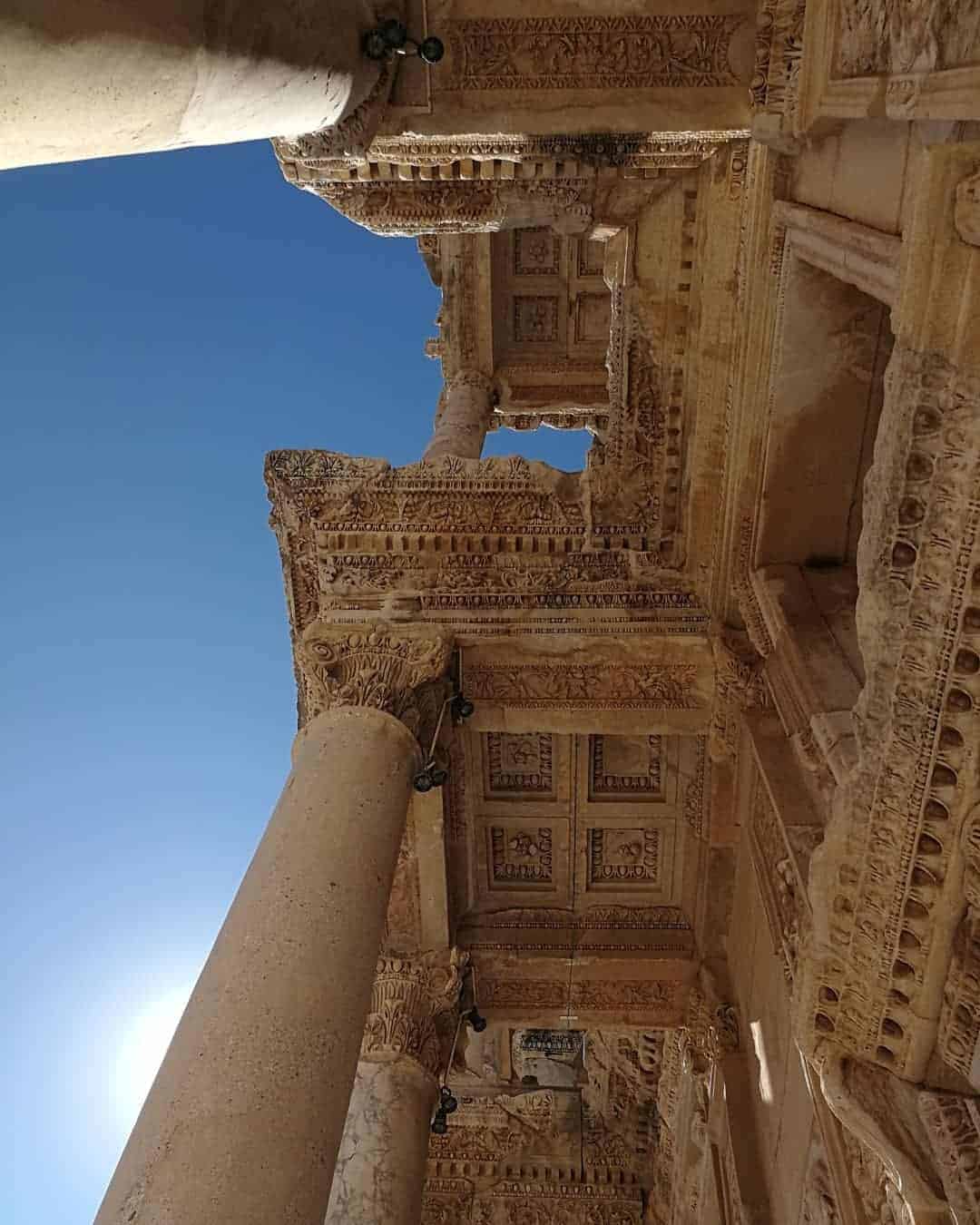 The Greco-Roman ruins of Ephesus are a highlight to any traveller's adventures through Turkey. They are situated just a stone's throw away from Izmir.
The city was founded in the 10th century BC and then eventually abandoned in the 15th century. It is only 20% excavated.
So, it is exciting to imagine what else still awaits beneath the surface! Even though the city hasn't been completely excavated, it is the most well-preserved Roman metropolis in Europe.
Ephesus boasts impressive temples, marble pillars, and Roman promenades lined with sculptures and statues. The ruins here are so expansive that you can dedicate an entire day to exploring the various buildings and temple complexes.
Getting to Ephesus
The bus from Istanbul to Ephesus takes between 9 and 12 hours depending on the specific provider/route. It is better to take the overnight bus to avoid wasting a day of your Turkey itinerary taking transport. It is better to stay overnight and combine a trip to Ephesus with nearby Izmir.
Suggested Ephesus Tours
Parting Words
Have any questions about these day trips from Istanbul, travelling as a solo woman in Turkey, or Turkey travel in general? Feel free to reach out to me below! Looking for accommodation inspiration?
You may also want to take a look at this guide to the best Istanbul hotels. Safe travels! Melissa xo
---