Comuna 13 Medellin is one of the most colorful and vibrant neighborhoods in Medellin today. It is known for its thought-provoking graffiti, its street performers, and its food stalls.
The neighborhood is a highlight of any trip to Medellin and whatever time of day you choose to stop by, you will find that Comuna 13 is teeming with life. Colombianos and international tourists alike dance in the street to reggaeton and afro beats, and the locals are very welcoming, friendly, and eager to show you their neighborhood.
But things haven't always been this way. In the eighties and early nineties, Comuna 13 was one of the most dangerous places in the world.
The neighborhood, though a fun place to hang out and take photos, is much more than that. It is a testament to the initiatives taken by the Colombian government to instigate positive change and improve the quality of life for people living in the poorest neighborhoods.
Visiting here on a walking tour provides valuable insight into the history of Colombia, and how Medellin is changing for the better.
Comuna 13 Medellin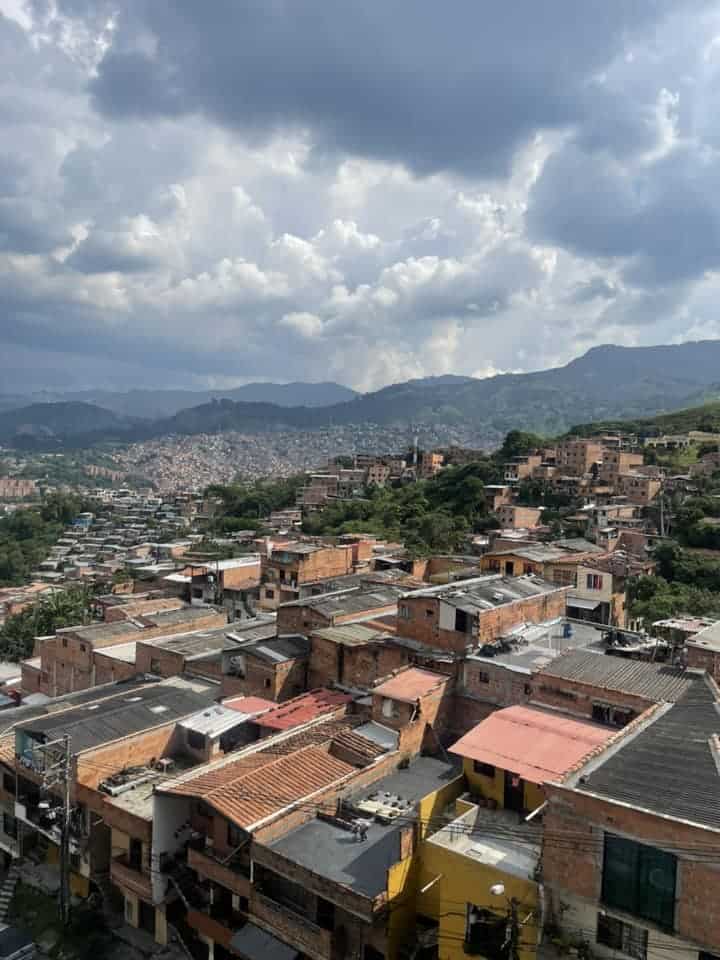 Just two decades ago, you wouldn't want to set foot in Comuna 13 Medellin. The area was a cartel stronghold.
Its location, high in the hills above Colombia's second city, made it a perfect base for transporting drugs, guns, and other contraband in and out of the city.
It was victims of FARC (Revolutionary Armed Forces of Colombia—People's Army) and the Colombian conflict that first started moving here in the 1960s. They hoped to escape the violence that Colombia was facing at the time and to start a new life.
But unfortunately, things would get worse before getting better.
Comuna 13 Medellin is the personification of the idea that "poverty creates violence". The people living in the impoverished barrio had no money, prospects, or employment opportunities.
They became prime victims for organised crime bosses and guerilla groups to take advantage of them. Notorious figures like Pablo Escobar would seduce teenagers and even kids into a life of crime by handing them rolls of cash, and a gun, and asking them to "defend" him if they wanted the cash to keep on coming. 
People's household kitchens would be transformed into cocinas used to prepare drugs. Escobar bought more than 2000 houses for impoverished locals in exchange for their service and loyalty.
This area was such a guerilla stronghold that you couldn't enter (nor would you want to). Shootings, bombings, kidnappings, and murders happened daily. People from the neighbourhood would kidnap wealthier Colombians and hold them here while they extorted families.
In 2002, the Colombian government launched a raid on the district with thousands of troops. Years of conflict and struggle continued but the area is a lot better today. The youth were inspired by rappers and graffiti artists from the Bronx and started turning to music and art, not violence.
Taking a Comuna 13 Medellin Tour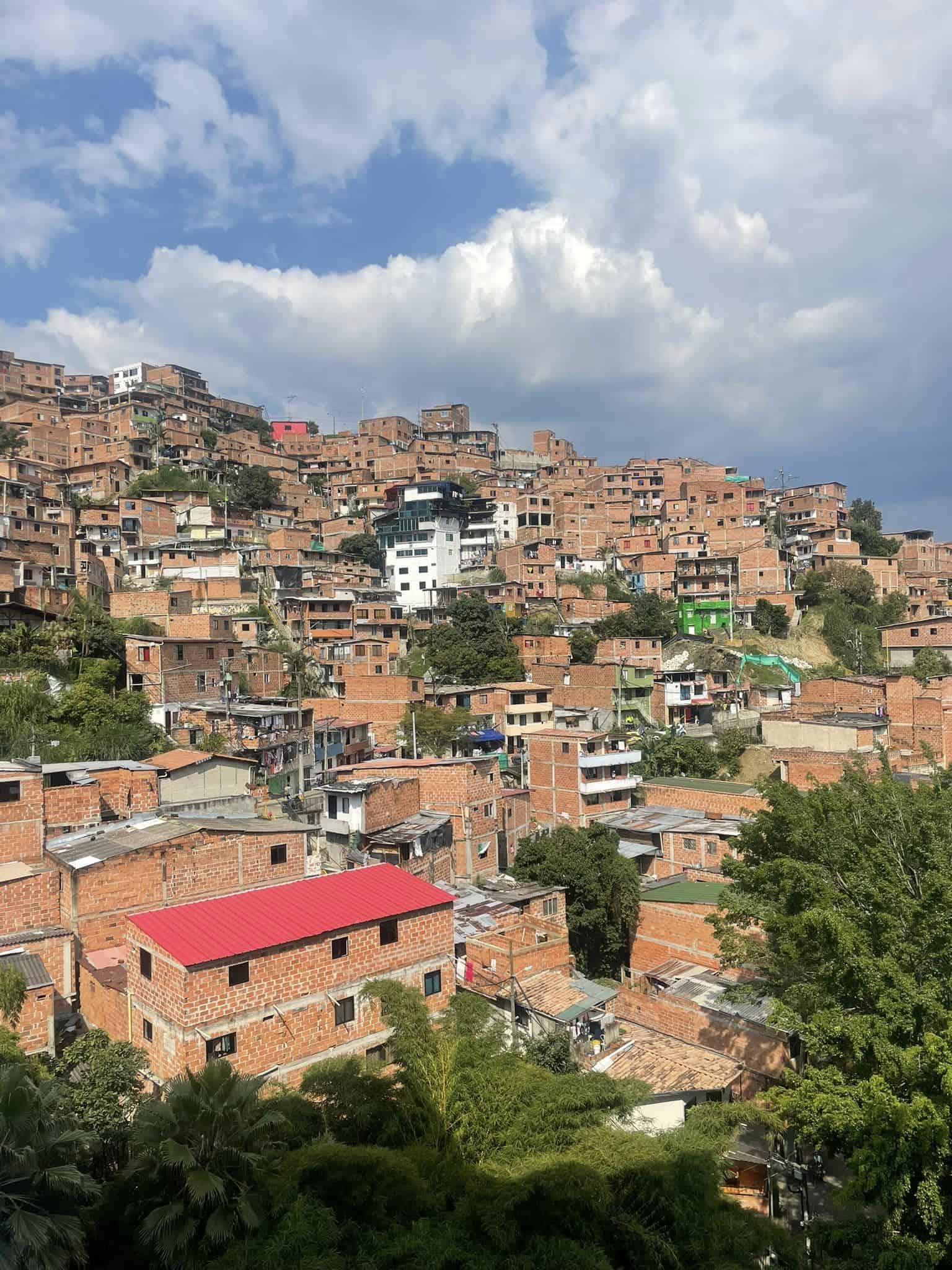 Taking a Comuna 13 Medellin tour is a great way to learn more about one of Medellin's most famous barrios. In doing so, you are helping with the rebuilding efforts of a local community.
You can visit the area independently of course. However, opting to participate in a guided tour gives money back to the residents of Comuna.
It means that you gain more history and context to the various things that you see and find cafes, stores, and businesses that you are not likely to find independently. You will also have a Medellin local Tour Guide on hand to ask for their expert recommendations on where to stay, eat, and hang out in the city.
Recommended Comuna 13 Medellin tours
Numerous reputable local tour companies offer Comuna 13 Medellin tours. A handful of excellent tour options are detailed below for your consideration.
Book online in advance to secure your place and avoid disappointment!
Things to see and know about Comuna 13 Medellin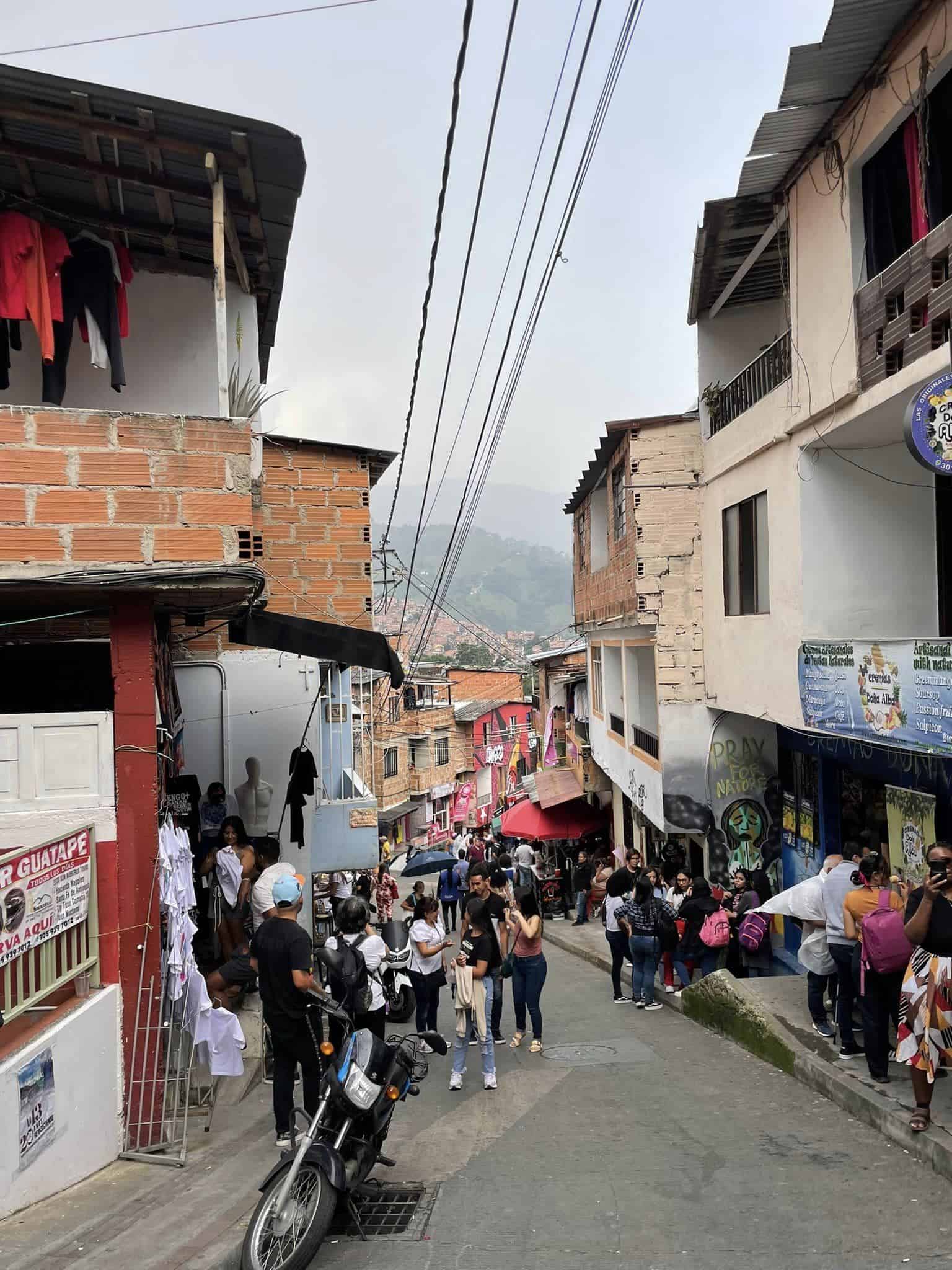 You can see Comuna 13 Medellin in half a day. But the neighborhood is definitely deserved a full day's time and attention if you want to explore at a leisurely pace, see all of the street art, and hang out at local bars and restaurants.
Try the famous Comuna 13 ice cream
Cremas Doña Consuelo (cra 111, Cl. 34d #26, Medellín) is a Comuna 13 ice cream store that has taken Medellin by storm. Doña Consuelo makes her healthy, flavourful ice creams without using cream or milk.
Instead, she prepares tropical iced treats using real tropical fruit pieces (pieces of mango, pineapple, etc), and then adds a little salt and lemon juice to add a bit more zest and taste. One ice cream costs around 2,000 Colombian pesos (circa $0.43 USD).
The green mango (mangobiche) is their most famous specialty. However, you can also sample other beloved flavors like guanabana, mora, maracuya (passion fruit), and coffee.
Take the Metrocable to Comuna 13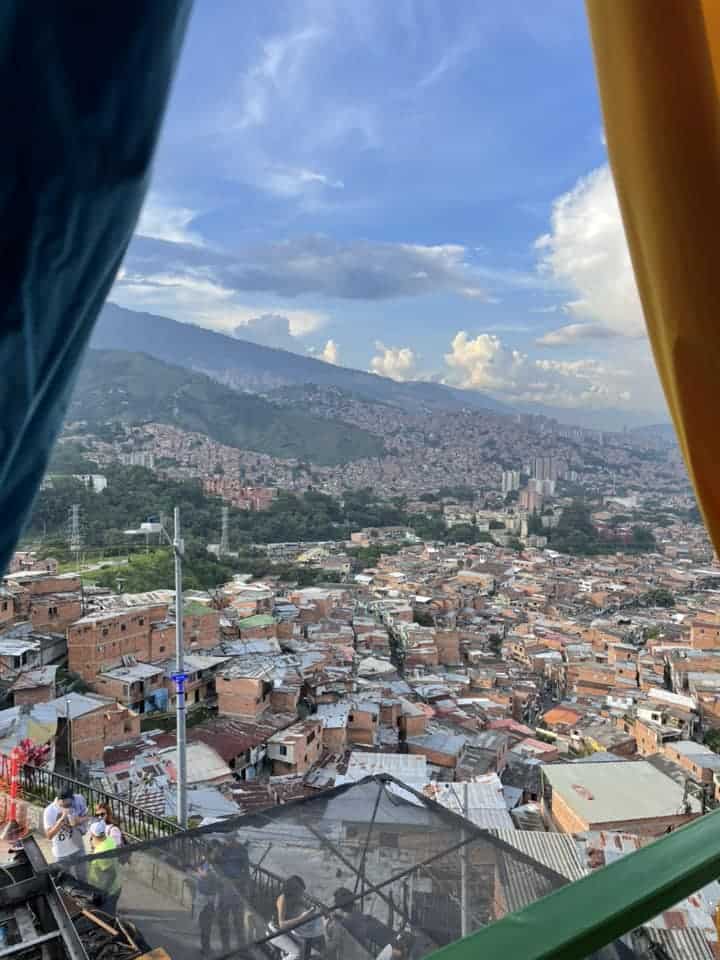 In some cities, the rich are known to live up in the hills. However, in Colombia, things are in reverse.
Many of Medellin's poorest neighborhoods (including Comuna 13) are located high in the hills above the city centre. For the people that live in these areas, getting to downtown Medellin for work can be a challenge and a trek.
So, it is for that reason that the metro cable was introduced. These large, glass cable cars can accommodate about 10-12 people in any car.
There are currently 5 different metro cable lines around the city, with a view for more to be introduced in the future. They are free for neighborhood residents to ride in, providing them with a safe and easy way to get to work and around the city.
Previously, it would take hours for people to get from Comuna 13 to the centre of Medellin. Their journey would necessitate them purchasing multiple tickets and using multiple modes of transport.
Today, they only need to take one metro cable journey which takes about 30 minutes. When the Metrocable was introduced in 2004, it was the world's first aerial tramway.
Today, not only does the metro cable provide a convenient way for Medellin locals to get from A to B, but it also has a tourist appeal. The large, clear glass cable cars offer incredible views over the city.
(This is one of the best viewpoints in town, and coming here for sunrise is particularly stunning!)
Hunt for vibrant street art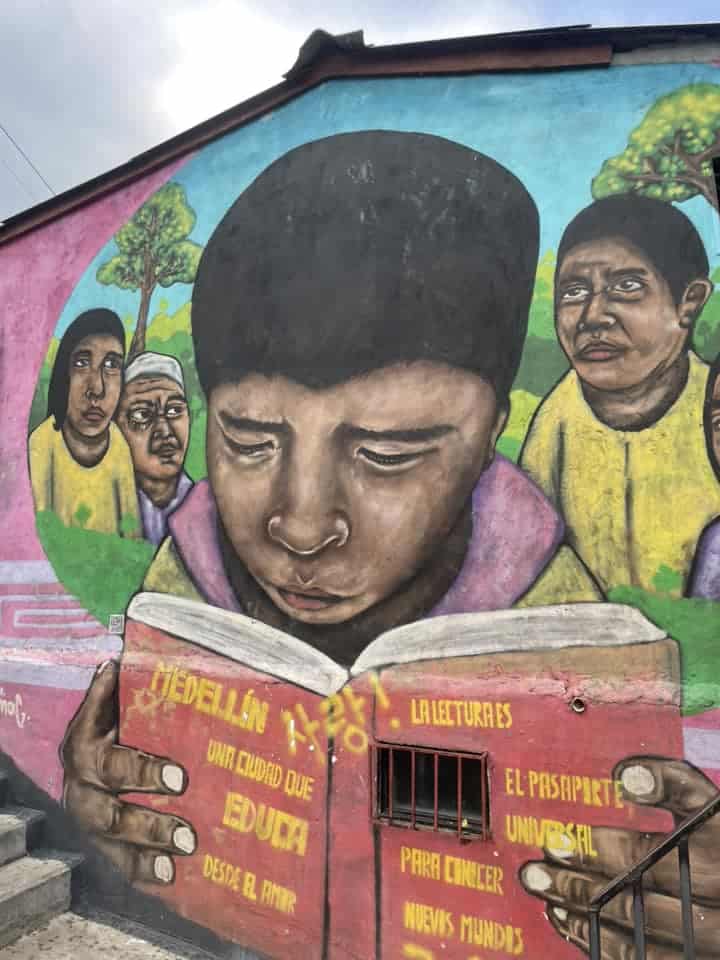 The colorful graffiti that adorns every wall, storefront, alleyway, and surface in Comuna 13 is most people's raison d'etre for visiting the neighborhood in the first place. The street art found here is more than just pretty pictures.
The various pieces depict different scenes of Colombian life and culture, history, and future aspirations. After colorful graffiti started popping up around the area in the early 2000s, the Colombian government saw this as a great opportunity to start a beautification initiative.
They started paying local artists to create more pieces and more and more gorgeous murals are constantly popping up. (You could spend an entire day trying to find all the pieces. There is so much to look at!)
Some of the artists that originated here have gone on to become big names to those in the know, in Colombia, and the world. (Notably, Chota_13 and YesGraff).
Ride the outdoor escalators to find the best viewpoints
Comuna 13 sits in a hilly area high above the city of Medellin. Navigating around its steep hills and narrow streets can pose a challenge for those with mobility issues.
But fortunately, the introduction of sets of escalators outside (escaleras mecánicas) has made getting around a little easier. You should follow the escalators all the way up to the highest point in order to see the best viewpoints.
From up here, you can see the redbrick, metal-roofed houses of Comuna 13 cascading down the green hillsides and the hi-rise buildings of central Medellin in the distance. There are a few lookout points where you can stop and take photos, as well as a handful of ramshackle bars and cafes where you can relax with an iced cold cerveza or a soft drink.
Sample all the wares of Comuna 13 street vendors
As you wander around Comuna 13, the streets here are filled with the smells and sounds of street vendors preparing Antioquia delicacies. Many vendors sell warm, freshly cooked empanadas.
These are Colombian street food favorites and consist of savory yellow corn dough stuffed with marinated beef or pork and potatoes. Patacon with Hogao is another local treat to look out for.
These are deep-fried plantain fritters served with a rich, creamy, garlicky sauce. You could easily scoff down 5-6 of the addictive treats and a lot of the vendors serve them topped with grated cheese.
Sample Colombian coffee in cute coffee shops
Coffee is obviously one of the main exports that Colombia is famous for. Beans are grown in Medellin, Armenia, Manizales, and the area near Bogotá and Bucaramanga.
Depending on which area the beans are sourced from, Colombian coffee is either rich in flavor with balanced acidity, or extremely dark, velvety, and rich. There are a couple of notable coffee shops in Comuna 13 where you can sip decadent Colombian coffees while you take in the scenery around you.
Coffee Shop com 13 (Cra. 110 #35f-19, La Independencia, Medellin, San Javier) is a local favourite. Not only is the service friendly and the hot and cold coffees are delicious. But you can also purchase delicious handmade sweets and candies here, as well as coffee beans and ground coffee to give as gifts.
Watch the street performers
Unless you are unfortunate enough to visit Comuna 13 on a rainy day, there are almost always street performers performing dances, songs, magic tricks, and theatrical performances to delight international audiences.
Just follow the sound wherever you start to hear music. Some of the people that perform here every day are actually fantastic dancers and magicians.
While it is free to spectate, and there is a big sense of community here and every day is one big gathering/party, it is always polite to give a small tip. Even just 2,000 – 4,000 Colombian pesos or so would be appreciated.
You will also find locals wandering around the area with boom boxes balanced over their shoulders. If they don't start serenading you automatically, you can approach them and ask them to make a song for you!
They will make up an impromptu rap specifically for you. Some of their observations of people and what they are doing are hilarious!
Visit the Casa de la Memoria to gain context into the area
The Casa de la Memoria (House of Memory) museum sits in the La Candelaria district in downtown Medellin. It exists to provide some food for thought and different perspectives on the various wars and conflicts that the people of Medellin have faced throughout the decades.
The museum was established in 2006 by victims of the Colombian armed conflict. Entrance is free and the exhibition halls and recovered items share stories of different people that have lived through Medellin's toughest periods.
Many stories are from people born and raised in Comuna 13. Visiting the museum prior to your visit to the area can help you appreciate the neighborhood more when you stop by.
Shop for souvenirs
Comuna 13 is a great place to pick up some souvenirs and Colombian gifts for your loved ones back home. Many of the puestos (stands) here sell everything from bags of gourmet coffee to postcards, t-shirts, and framed photographs of some of the most colourful street art pieces in the area.
The Ruta 13 Tour store sells artistic clothing, hats, stationery, and artwork.
FAQs about Visiting Comuna 13 Medellin
Do you have any further questions or queries about visiting Comuna 13 Medellin or planning a trip to Colombia in general? The answers to some frequently asked questions are provided below.
Hopefully, you will find the information that you are looking for there. If not, feel free to reach out!
What is Comuna 13 famous for?
Comuna 13 is famous for its roots as a guerilla stronghold as well as its vibrant street art. Visiting the area provides a valuable insight into what life in Medellin was like during the days of Escobar and gang violence.
Is it safe to go to Comuna 13?
Comuna 13 is safe to visit. (And Medellin is safe, in general).
However, the streets here do get very crowded with people. Always watch your personal belongings and ideally, in crowded areas, try and walk with your bag/backpack in front of you.
Never walk with your phone or any other expensive personal items and electronics on display anywhere in Colombia. If you are going to be the victim of a crime here, it will be an opportunistic petty crime.
For instance, someone snatches your iPhone out of your hands, pulls your wallet out of your back pocket, or demands that you hand over all your valuables at knifepoint. The area gets a little sketchier at night so it is better to leave as the evening draws in, particularly if you are traveling alone.
Can you go to Comuna 13 without a tour?
It is possible and easy to visit Comuna 13 independently. To do so, you can simply take the metro to San Javier station and then either walk or take the bus (221i or 225i) to the area.
Still, taking a Comuna 13 tour is an arguably better way to explore. Not only will your Paisa guide provide you with a lot more context and information.
But you will be supporting the community by paying for a tour. Profits go back into local initiatives and community projects.
Is Comuna 13 a favela?
Comuna 13 could essentially be considered a favela. Its structures and homes are similar in design to some of the favelas that you see in Rio de Janeiro, Brazil, for instance.
Most people here live in modest, one-level houses with tin roofs.
Final thoughts on visiting Comuna 13
Comuna 13 is perhaps one instance of a place where tourism has had a supremely positive impact on the local economy and the lives of the young people that live in the area. Indeed, it was European backpackers that started wandering into this area initially during their travels through Latin America.
Their fascination with the local culture and the artwork in this area led to local government personnel and business owners seeing an initiative. The increase in tourism to the area has not only provided money and sustainable employment opportunities to residents, but it has helped steer them away from a life of crime.
Have you visited Colombia before or are you planning a trip? If this is going to be your first time in the country, you may also enjoy this article on staying safe in Cartagena.
Have a wonderful trip! Safe travels, Melissa xo
---