Getting from Cancun to Merida is very safe and easy to do. There are also a couple of ways to make the journey, depending on your travel preferences and budget.

There is a distance of 320 kilometres or 199 miles between the two cities. You should also note that there is also a time difference. Merida is one hour behind Cancun.
Visiting Merida, Mexico
The charming city of Merida is the capital of the Yucatan province. It has been the cultural capital of the region since the Spanish conquest. The Centro Storico (historic centre) of Merida is filled with pastel-coloured colonial buildings, fascinating museums, and charming cafes.

Lonely Planet recently recognised Merida as one of their top cities to visit in 2022. The city is popular among international travellers.
However, it has retained its authenticity and has neither become gentrified nor a tourist trap. The culture in Merida is different from that which you will find elsewhere in Mexico.
Merida locals and Yucatecans are descendants of Mayans. A lot of Mayan words are incorporated into their vocab, and a lot of cuisines are specific to this region.

Merida makes a great starting point for any Yucatan itinerary. Some of Mexico's best cenotes and ruins are located nearby. So too are adorable villages that have been identified as Pueblos Mágicos (magic towns) like Valladolid and Izamal. 
Getting from Cancun to Merida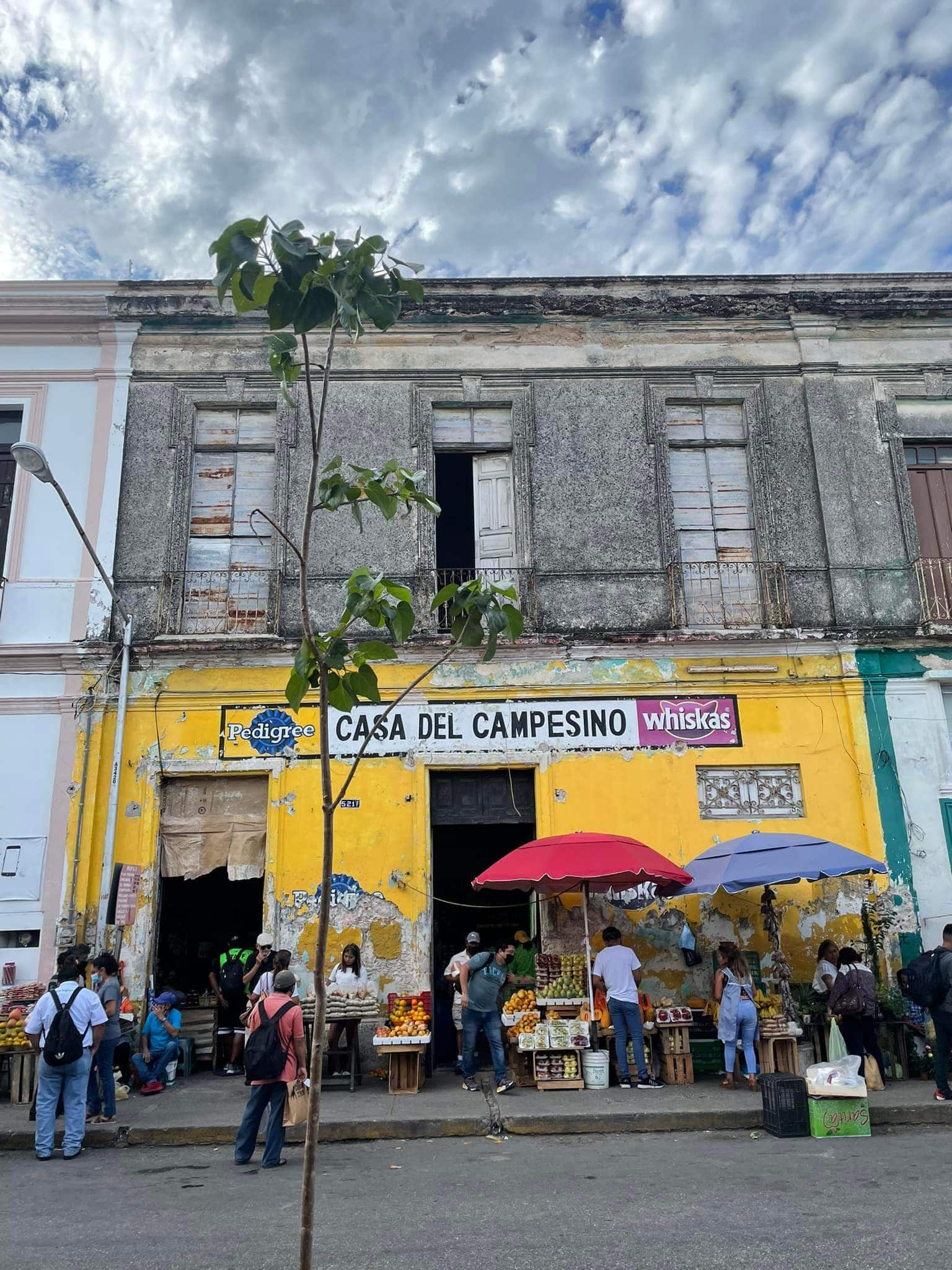 Getting from Cancun to Merida is easy. This is true whether you are travelling from Cancun city centre, or whether you are travelling directly from the airport.

Merida does boast an international airport (Manuel Crescencio Rejón International Airport). However, unfortunately, it is only Houston, Texas and Miami, Florida that offer links to Merida.

Thus, most people travelling to Mexico to fly specifically into Merida will often have to transfer flights in Mexico City or elsewhere. Oftentimes, this is actually more hassle than flying into Cancun and then travelling overland.
Getting from Cancun to Merida by ADO Bus
The cheapest, and arguably one of the most convenient ways of getting from Cancun to Merida is to take the ADO bus. ADO buses are very safe.
They are essentially the Mexican answer to US Greyhound buses or British National Express. They cover a lot of major tourist routes in Mexico – Cancun to Merida, Cancun to Tulum, Merida to Valladolid, etc.

Deluxe buses in Mexico (including ADO) are very comfortable. ADO buses have air conditioning, complimentary wifi, adjustable seats, and USB hubs so that you can charge your devices while you travel. They are a far cry from the innercity "Colectivo" buses that Mexico is known for.
There is another option too. If you want to travel in even more comfort and luxury, you can also opt to travel from Cancun to Merida by ADO Platino class.

ADO Platino buses have individual televisions set into the seatbacks of each chair, as you would expect to find on planes. Free blankets and complimentary food and drinks are also provided throughout the journey,
Whichever ADO service you choose, you can purchase tickets in person at the ADO kiosk at Cancun airport, or at the ticket office of the bus station. It is important to note that buses do get busy, even during the offseason, as they are used by locals as well as tourists.
There are also several ADO bus stations in Cancun, not just one. The main bus station is located in the city centre. (Calle Pino, SM23, MZ56, Lt 1 y 2, Centro, 23). There is also one in the hotel zone (ADO Plaza Kukulcan Zona Hotelera, Blvd. Kukulcan s/n, Zona Hotelera, 77500 Cancún) and one in the north of the city.
Booking ADO Tickets from Cancun to Merida
Consider booking your ticket online in advance via the ADO website or the ADO app if you can. This way, prices are actually cheaper.

You will be assigned a seat and given a QR code ticket to display to the driver when boarding the bus.
Buses depart every 30 minutes or so. Both the ADO website and app are only available in Spanish but they are very easy to comprehend. The journey from Cancun to Merida takes about 4-5 hours. Tickets cost approximately $25 USD.
Getting from Cancun to Merida by Cab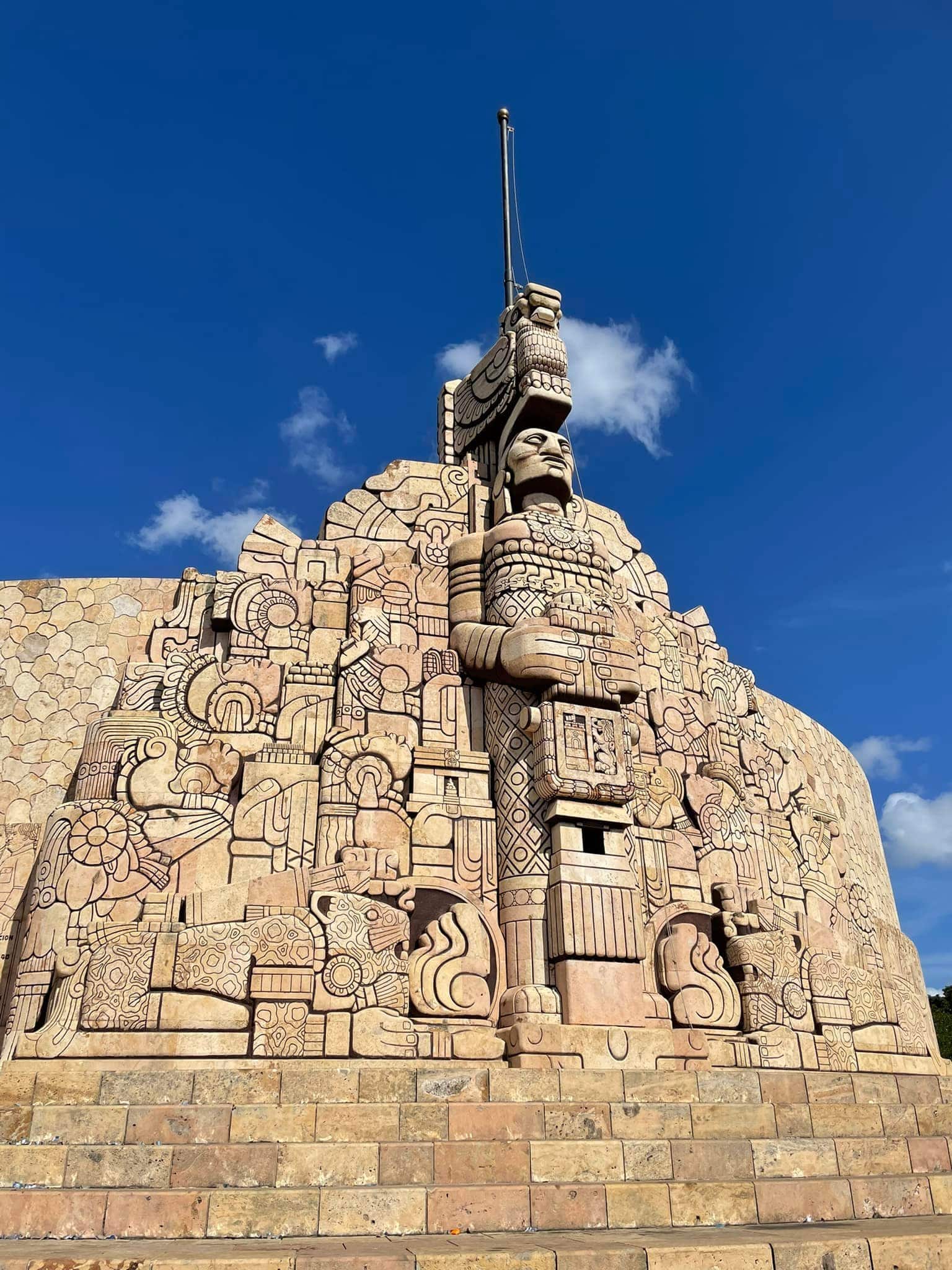 If you prefer a little more comfort and privacy when getting from Cancun to Merida, you can opt to take a cab rather than a bus. Uber operates in Mexico.

A lot of locals will attest to the fact that it is generally safer to use Uber than to hail taxis on the street. There is also a similar, Mexican alternative named Didi.
Prices are comparable between the two apps. However, you will often find that there are a lot more drivers around on Didi.

As you may be aware when using apps like Uber, prices can sometimes fluctuate depending on how much demand there is for a cab at that specific time. You can also take licensed cabs from taxi ranks around Cancun or at Cancun airport.

However, you should be very careful to only get into licensed cabs. It is not unheard of for people to lure tourists into cabs in Quintana Roo (and elsewhere in Mexico) in order to rob or take advantage of them.

This is not to scare you, but it is important to be aware of. Separately, a lot of toots operate around Cancun airport and will often quote tourists exorbitant rates.

If you want to organise a cab from Cancun to Merida outside of apps like Uber, be aware of what the correct rate should be. If you can, ask your hotel receptionist/concierge or Airbnb host to organise it for you.
Getting from Cancun to Merida by Rental Car
Getting from Cancun to Merida by rental car is a very convenient option. Opting to rent a car in Mexico provides you with a lot more freedom and flexibility than if you are relying on public transport.

Not only do you not have to depend on a public transport schedule. But you may also find that you stumble across charming villages, fascinating sites, and ruins that are not easily accessible otherwise.
A number of globally renowned car rental providers operate in Cancun, including Avis and Budget. Try to use a reputable international rental company if you can.
It is also possible to collect your rental car upon arrival at Cancun airport. Prices vary depending on season and provider but realistically, you are looking at a total cost of around $40 a day including insurance.

You should be mindful of your intended route around Mexico if you are renting a car. Generally speaking, one-way rentals are much more expensive.

If you are planning on picking up your car in Cancun, driving to Merida and the Yucatan, and then dropping the car off in Cancun again, the rates should be competitive. However, if you are hoping to drop the car in Merida and fly to Mexico City from Merida, double-check the prices in advance.

Your local driving license from your home country will be accepted in Mexico – whether that is an American license, a Canadian one, a British one, etc. You do not need an International Driver's Permit to be permitted to drive here.

Always ensure that you check rental cars over before driving off on your adventure. Take photos of the condition of the car so that you have time-stamped proof of how it was when you first collected it.

This is good practice wherever in the world you travel. There are police checkpoints at the Yucatan border but this is just for safety and cars do not have to stop.
Getting from Cancun to Merida by Air
Technically, yes you can fly from Cancun to Merida. However, is the journey worth it?
Not necessarily. Direct flights between Cancun and Merida have a flight time of an hour and fifteen minutes.
However, they are very infrequent. Indirect flights require changes at Mexico City and in total, they wind up taking longer than the ADO bus.

Even if you are able to find a direct flight between the two cities that suits your schedule, it will probably wind up easier and a lot less stressful to just take the ADO bus and travel overland.
By the time you factor in waiting around at the airport, getting through security, the cost of checking in luggage, etc, flying hardly seems worth it.
---