There are plenty of things to do in Baku to keep you occupied for two or three days. The glittering Azeri capial has only recently started to grace the radars of the most intrepid travellers.
Baku has risen in popularity as a travel destination in recent years and for good reason. The city is a magnificent starting point for an adventure around Central Asia.
Baku, Azerbaijan
Baku is a magnificent juxtaposition of ancient tradition meets modern living and contemporary architecture. If you are looking for an alternative weekend break destination, the Azeri capital is a great place to start.
The city is also a perfect jumping-off point for a wider exploration of Azerbaijan, the mysterious land of fire. To the first-time visitor, jetting out to Azerbaijan and embarking on a Baku itinerary may seem daring and ambitious. You may feel that you are venturing into the frightening unknown.
However, arrival in Baku reassures you that you are in a culturally rich capital that is almost like another European city. Baku has great night-life, quirky cafe culture, and a plethora of historical sites to boot.
Disclaimer: This Baku itinerary may contain affiliate links. This means that if you decide to make a purchase through one of the links on this page, I will receive a small amount of commission at no extra cost to you.
This helps me to keep up with the costs of running this site. Thank you for understanding.
A Little History of Baku, Azerbaijan
Baku has a fascinating history that dates back thousands of years. Indeed, documents indicate that the city was in existence in 885 AD. However, archaeological work points to a settlement of sorts standing here even several centuries before Christ.
Camel Caravan Traders & the Old Silk Road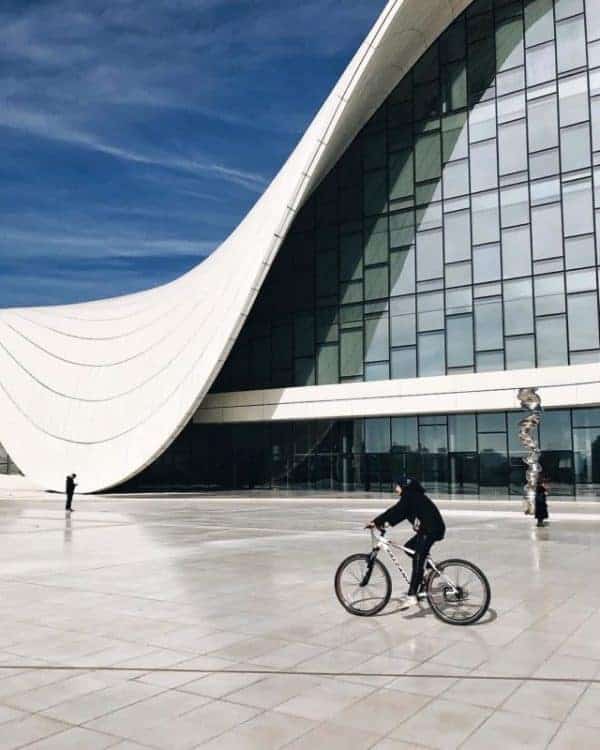 Some of the structures, palaces and mosques in Baku date back to the Silk Road era and are remarkably well-preserved. It is easy to walk in their shadows, and navigate through narrow, labyrinth-like streets and alleyways to envisage what life was like here during the days of the camel caravan traders.
Baku: A City Passed Through Countless Hands
Most recently, Azerbaijan is known for its role as a member state of the USSR for almost 100 years. Russian rule has left its mark on Azerbaijan. In doing so, it has contributed to creating a national culture quite unlike any other.
Prior to that though, Baku was no stranger to foreign rule. In the 11th and 12th centuries, the city was owned by the Shīrvān-Shāhs who eventually made it their capital.
During the 13th and 14th centuries, the Mongols ruled over Baku. They used the city as a strategic base as they plotted their conquer and expansion quest across Central Asia.
The Shīrvān-Shāhs ultimately regained control over Baku. That is until it was captured by Peter I, then returned to Persian rule, then captured again by the Russians in 1806.
Baku became the capital of the Azerbaijan republic in 1920. It was not until 1991 that Azerbaijan won its independence from the USSR.
Baku has been a global leader in oil exports since the 19th century. It is thanks to this oil money that the city has rapidly developed and become the chic, futuristic city that sits in central Azerbaijan today.
Baku Cultural Highlights
Two or three days in Baku is sufficient. This provides you with ample time to explore the city's historical and cultural sites, and hang out in its various coffee shops and restaurants at a leisurely pace.
If you also incorporate a day trip out to Gobustan's mud volcanoes and petroglyphs (you should!), add a third day to your Baku itinerary. A handful of the highlights of things to do in Baku are summarised below.
Sample the local cuisine


Enjoy copious amounts of sweet Azeri tea and hookah at a local tearoom


Learn about Zoroastrian fire-worshippers at Ateshgah Temple of Fire


Get lost in the halls and annexes of the Palace of the Shrivanshahs


Learn the legend of the Maiden's Tower


Shop for trinkets and souvenirs in Old Town Baku


Try international cuisine at Nizami street


Admire the work of Zaha Hadid at the Heydar Aliyev Centre
Your Perfect Three Day Baku Itinerary
This three day Baku itinerary is a great schedule to follow for your first visit to the Azerbaijani capital. The first two days are spent in and around Baku.
The third day takes you out to the mud volcanoes and petroglyphs of Gobustan. This Baku itinerary can be done predominantly on foot, and by making some use of local buses and metros.
This schedule is quite jam-packed. However, you are free to cherry pick the activities that most interest you, chop and change this itinerary and go at your own pace.
Baku Itinerary Day One:
Get Transported Back to Ancient Azerbaijan
Azerbaijan has had an interesting history. Nestled between Russia and Iran, Azerbaijan is officially a Muslim country. However it is mostly secular and few people in Azerbaijan today practice religion.
People have been fighting over this land for centuries. Day one of this Azerbaijan takes you back to the beginning of Baku's history.
Enjoy an Arabian Breakfast Fit for a Sheikh
There is so much to cram into this Baku itinerary. Try to get up early on your first morning in Azerbaijan so as to make the most of your time.
Have breakfast at your hotel or consider stopping by one of the scenic outdoor eateries near to the old town. Azeri food is a blend of Russian (think dishes like plov) and Arabic.
Try an authentic Azeri style breakfast. Turkish-style menemen or shakshuka, washed down with a refreshing cup of black tea is a local favourite.
Ateshgah Temple of Eternal Fire
Azerbaijan isn't just labelled as the land of fire because that's a cool name to have, but because it is literally the land of fire. At Ateshgah fire temple, the fires that burn in the various fire pits never go out.
This is because they are caused by a reaction of natural gases escaping from the earth. This temple has been used by Zoroastrian fire worshipers, Sikhs, and Hindus over the course of the last few centuries.
Many of the markings on the walls and doorways are in Farsi. However, nobody is sure of the exact origins of the temple.
Ateshgah Temple is situated a little way out of town and takes a little time to get to. You can take an Uber there for just a few manats or you can opt to take the local buses.
You should dedicate your full morning of the first day of this three day Baku itinerary to visiting Ateshgah. The rest of the afternoon will be spent in the old town.
Explore Old Town Baku
Old Town Baku is seemingly frozen in time. Meandering through the streets here transports you back in time to some several hundred years ago. The higgledy-piggledy buildings here sit right beside the hi-rises and cosmopolitan buzz of the modern part of town.
The ornate ancient minarets provide a stark contrast to the modern glass facades of the modern city. They peep out above winding cobbled passageways and ramshackle houses.
Notable Things to See in Baku Old Town
Enjoy getting lost here as you make your way past carpet sellers and artisans pitching their wares. Notable sites of interest in this area are the Maiden's Tower and the Museum of Miniature Books.
The latter is the largest collection of miniature books in the world and is home to a wide array of weird and wonderful cute miniatures. Meanwhile, the Maiden's Tower is the oldest structure in the Old Town.
Nobody is entirely sure of what its original purpose was. However, there are several stories and legends that surround it. Most notably, it is believed that a King once kept his Princess daughter locked away up here, Rapunzel style.
Stop for an Azerbaijani Tea Break
Stop by an Azeri tearoom to get a taster for local life. Tea is a big part of Azerbaijan culture and a big fuss is made of the preparation and presentation of the tea.
You can draw a lot of similarities between how tea is enjoyed here compared to neighbouring Iran and nearby Uzbekistan. It is commonly served with traditional Arabic sweets and in lots of little pots and dishes.
The dimly lit Old Baku Tea House (106 Shamsi Badalbeyli St) is a great place for people watching. It is tucked away down a side street and seems to escape the attention of most tourists.
Enjoy Lunch, Azeri Style
Grab a spot of lunch while back in the old town. Though the old town is arguably the most touristic part of Baku, tourism is such a new concept to the city that the prices here remain competitive and the dishes are authentic and generally of a very good quality.
Visit the Palace of the Shrivanshas
Long before Azerbaijan came under the Soviet rule, the country was divided into sections with a noble family ruling each region. In Baku, this was the Shrivanshas.
Their 15th century palace remains incredibly well preserved within the city walls of Baku old town. The palace is a UNESCO protected world heritage site and is comprised of a number of different buildings and complexes – including mosques, ancient bathhouses, and tombs.
It is believed that the main purpose of the site was as a place of worship for the Shrivansha family. They had fled to Baku from Shamakhi after a devastating earthquake shook the region.
Baku Itinerary Day Two
Day two of this three day Baku itinerary takes you into the more modern, cosmopolitan part of town. It showcases how today Baku is a city of contrasts and enables you to experience the multicultural Dubai-like ambiance that is the "new" side of the city.
Visit the Heydar Aliyev Centre
If there was a site that could be surmised as the symbol of Baku, the Heydar Aliyev Centre would be it. This contemporary modern structure was built by the late British-Iraqi architect Zaha Hadid.
Its distinctive appearance is often photographed in global media about Azerbaijan. Inside the Heydar Aliyev Centre is a contemporary art museum where the exhibitions are just as eclectic as the design of the building itself.
However, even if you are not particularly interested in art, it is still worth stopping by. The structure is unique, and its exterior grounds are filled with all sorts of weird and wonderful statues.
The steps leading to Heydar Aliyev have become something of a rendezvous point among locals. Grab a steaming cup of takeout coffee, and come sit here and people watch.
Grab Lunch at Nizami Street
Nizami Street is one of the liveliest areas in Baku and a great place to stop for lunch. It is filled with luxurious international boutiques, quaint coffee shops, and restaurants serving world-cuisines, Nizami street has something for everyone.
Arguably the highlight of this region is the diverse range of foods available. Baku is incredibly multicultural and home to immigrants from all corners of the globe.
Nizami Street is the place where you can sample their exotic delicacies. Here you can enjoy authentic spicy Indian food, beautifully marinated Lebanese lamb, or mouthwatering shkmeruli chicken from Georgia. You can find everything here.
Revel in the Views from Upland Park
On day two of this three day Baku itinerary, be sure to take the scenic funicular to Upland park. This is a breathtaking view point, and the best place to venture up to if you want to obtain panoramic photos of Baku.
A pleasant walking trail runs through the length of the park. Upland is situated high above Baku's skyline.
From up here, you can look out across the Caspian Sea. The atmosphere is especially magical when the sun begins to set and the sky is illuminated with hues of red and orange.
The Park is also adjacent to the iconic flame towers of Baku. Unfortunately you cannot ascend to the top of them. However, they are well worth getting up close and personal to.
Baku Itinerary Day Three:
The Eccentric Wonders of Gobustan
How does a day of mud volcanoes, 40,000-year-old caveman paintings, and off-the-beaten-path old Soviet towns sound? Fascinating, right?
Heading out to Qobustan is a wonderful way to round up your Baku itinerary. It is the highlight of any cross-country Azerbaijan itinerary.
Organising the Logistics
It is pretty tricky to get to Qobustan by public transport. Azerbaijan isn't really geared up for tourism yet. However, you can organise for a Driver to take you there from Baku.
For approximately 90 manats, you can arrange for a private car to take you to Gobustan national park, the Azerbaijani mud volcanoes, and Yanar Dag – the burning mountain.
Gobustan National Park
Gobustan National Park boasts the world's largest collection of petroglyphs. In layman's terms, petroglyphs are ancient caveman paintings.
The carvings and paintings that you can find here date back over 40,000 years. You can also find ancient cave dwellings, burial grounds, and a museum at Gobustan.
Mud Volcanoes
Azerbaijan is home to the largest collection of mud volcanoes in the world. 350 out of a global total of 700 are found here.
This strange geothermal phenomenon occurs when a build up of gases create pressure under the land surface. Mud volcanoes have craters just like regular volcanoes. However, instead of spewing rocks and molten lava, they ooze out cold mud when they erupt.
The landscape here is otherworldy. Here in the desert of Southern Azerbaijan, you feel a million miles away from the city lights of Baku. The mud from the volcanoes is said to have healing properties so don't hesitate to scoop some up for an at-home facial!
Yanar Dag
Yanar Dag is one of Azerbaijan's many peculiar fire-related phenomenons. According to the story, a local farmer cast aside his cigarette here several decades ago and the base of mountain has been alight ever since.
Yanar Dag can be found in the Absheron Peninsula. It is easy to stop here on your way back to Baku from Gobustan.
Where to Stay in Baku
There are plenty of comfortable, reputable accommodation options available to choose from in Baku. The city has something for every budget and travel style.
The Merchant Hotel Baku
If you enjoy gorgeous boutique hotels that are a far cry from your generic cookie-cutter chain hotels, you will fall in love with The Merchant Hotel Baku. The building which the hotel is set in is one of the most iconic structures in the city.
These premises were formerly the headquarters of the Caspian Sea Shipping Company and the structure dates back to 1958. The Merchant Hotel's interiors are just as gorgeous as the building that contains them.
Rooms have been decorated in contemporary style with fittings and furnishings that pay homage to the rich and diverse history of Azerbaijan. For instance, colourful handwoven Azeri rugs, vibrant murals of old trading ships, and vintage furnishings.
This is one of the most unique hotels in town. Click here for the latest room rates and availability details.
The Landmark Hotel Baku
The Landmark Hotel Baku is a luxury hotel without the luxury price tag. Rooms here are sleek and modern, and you can enjoy incredible panoramas from the rooftop bar as you sip your morning coffee.
This modern hotel boasts three restaurants and an indoor spa and pool. Rooms start from just €70 per night. You can check the latest availability and room rates here.
Sahil Hostel, Baku
There are ample backpacker's hostels in Baku that are perfectly suited to travellers on a budget. Sahil Hostel is one of the top-rated hostels in town.

This is a great place to meet other travellers if you are exploring Azerbaijan alone. Click here to review the latest availabilities and room rates.
Baku Itinerary:
Getting a Visa for Azerbaijan
It should be noted that residents of most countries (including the UK and the USA) require a visa in order to travel to Azerbaijan. Check your country's government travel advice to see if this is applicable to you.
Azerbaijan E-Visas Now Available
Up until recently, it was quite tricky to get a visa for travel in Azerbaijan. However, fortunately, the process has become easier over the last two years.
It has been possible to apply for an e-visa to visit Baku and Azerbaijan since January 2016. You can access the Azerbaijan Republic visa portal here to apply.
Try and apply at least a month in advance of your intended travel date. Sometimes, the application process is extremely swift. However, it is best to allow as much time as you can just in case.
Beware of Imitation Visa Sites
Be very cautious here. Unfortunately there are several Azerbaijan visa agencies that have sites which look identical to the government site.
The difference though is that they will charge you three times the price. Applying for an Azerbaijan visa is straightforward and you don't need the help of a third party.
One particular scammer to note is below. Even the URL is identical to the government URL. Avoid!
Official Azerbaijan visa site – Evisa.gov.az
Scammy site that charges triple the price – Evisa.com.az
Registering with the Police in Azerbaijan
Most Baku visas are applicable for 30 days. The Azerbaijan government require travellers to register with the local police if they plan on staying in the country for more than 15 days.
If you are only flying in and out of Baku on a quick weekend break, this is not applicable to you. However, if your Baku itinerary will be part of a wider trip around Azerbaijan, you need to register.
Try and do this as soon as possible to get this out of the way. Rest assured, this is not a complicated or confusing process.
Simply tell the Reception at your Baku hotel that you will be travelling for more than 15 days and they will fill out a form on your behalf. It's super simple. They do this every day.
When to Plan Your Three Day Baku Itinerary
Baku is relatively mild all year round. As such, you can plan your Baku itinerary at pretty much any time of year and experience pleasant conditions.
That said, the city is known for getting ridiculously windy, particularly in the cooler months. In fact, Baku often gets so windy that it is affectionately nicknamed as being the "city of winds".
The name is actually derived from the Ancient Persian word Bādkube which means "pounding winds". A more detailed breakdown of Baku's temperatures is mentioned below.
Spring (March to May)
Temperatures are warm and pleasant in Baku during the spring months. Think temperatures in their mid twenties in terms of degrees Celsius. I travelled to Baku during this period. Temperatures get a little cooler in the evenings, so pack a few sweaters for this time.
Summer (June to September)
Summers in Baku can become very hot. Temperatures often exceed 35 degrees Celsius and not everywhere is air-conditioned.
Autumn (October to November)
Autumn in Baku has very similar temperature conditions to the Spring. This is one of the best times to plan your three day Baku itinerary.
Winter (December to February)
Baku gets a little colder during the winter months. Expect temperatures of between 9 and 15 degrees Celsius. Owing to its location on the Caspian Sea, Baku can get very windy, especially during the winter (It is actually sometimes referred to as being "the city of winds"). Pack some warm clothes and a coat if planning your Baku itinerary during the winter.
Getting Around Baku
Public transport in Baku is incredibly cheap and efficient. A one-way journey via bus or metro will cost you just 14p (Yes you read that correctly!).
You need to get a Baki Kart (Baku Card) in order to use these services. The card can be purchased from the ticket machines and offices at numerous metro and bus stations around the city.
Baku Metro
There are four metro lines that run through Baku. The system is very easy to navigate. Be sure to purchase your Baku Card for 2AZN before riding.
Baku Buses
Baku boasts an extensive bus network. However, you will probably find it easier to get around by metro.
Bus 184 to Ateshgah
The only time you will have to take the bus is if you go to Ateshgah temple and prefer not to take a cab. For this, you should take Bus no. 184 from Koroglu metro station.
Baku Aero Express
A dedicated bus runs between Baku city and the airport 24/7 at regular intervals (every 30 mins or so). This bus is called the "Aero Express".
Bus tickets cost 1.50 AZN for a single ticket, and 3AZN for a return. These can be purchased directly from the bus driver.
The final stop is metro station 28 May which is close to Baku's main railway station Bakı Dəmir Yolu Vağzalı.
Taking Cabs in Baku
Taxis are widely available in Baku. However, scams here are common and cab drivers will often try and trick you if you flag them down in the street.
Download Uber before you arrive. Exploring the cty this way is very affordable and a single journey across town should never cost you more than around 4-5 manat.
Final Words
Do you have any additional questions or queries about this three day Baku itinerary? I have also written this comprehensive Azerbaijan Travel Guide that you may find useful.

You can also reach out to me via the comments below if you have any questions. Wishing you safe travels, always! Melissa xo
---