The perfect Baku itinerary for spending 48 hours in Baku. Located at a cultural crossroads, Baku is a magnificent juxtaposition of ancient tradition meets modern living and contemporary architecture. If you are looking for an alternative weekend break destination, the Azeri capital is a great place to start. The city is also a perfect jumping off point for a wider exploration of Azerbaijan, the mysterious land of fire. This Baku itinerary showcases the most notable highlights to see in Baku with a limited amount of time.
To the first-time visitor, jetting out to Azerbaijan and embarking on a Baku itinerary may seem daring and ambitious – they may feel that they are venturing into the frightening unknown. However, arrival in Baku reassures the traveller that they are in a culturally rich capital that is almost like another European city – Baku has great night-life, quirky cafe culture and a plethora of historical sites to boot.
How Long to Spend in Baku?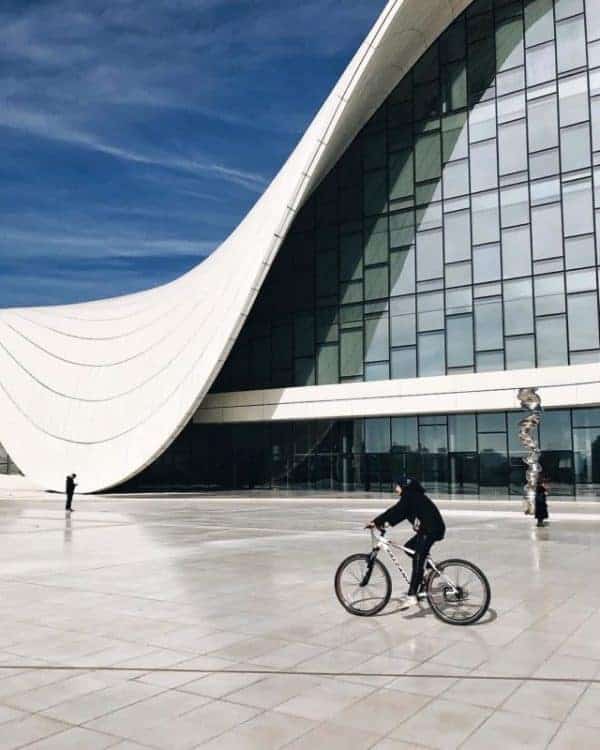 I spent a week in Baku, primarily because I also needed to work remotely while travelling. While I am a big advocate of slow travel, and really loved taking this time to just hang out with locals and uncover all of the different, wonderful restaurants and cafes in Baku, it's not really necessary to dedicate so long to the city.
The highlights of central Baku can be explored in a day. Two days if you want to go at a more relaxed pace. If you also incorporate a day trip out to Gobustan's mud volcanoes and petroglyphs (you should!), add in a third day to your Baku itinerary.  
There are a plethora of affordable accommodation options available in central Baku that place you in a perfect spot for enjoying the city's main attractions. For inspiration, take a peek at this Baku hotel guide.
Baku Itinerary Day One:
Get Transported Back to Ancient Azerbaijan
Azerbaijan has had an interesting history. Nestled between Russia and Iran it is officially a Muslim country with colourful Arabian roots. Since Azerbaijan fell under Soviet rule however, the variances of Arabic and European cultures have merged to create a country altogether quite unique. People have been fighting over this land for centuries and day one of this Azerbaijan takes you back to the beginning of Baku's history.
8 am Enjoy an Arabian Breakfast fit for a Sheikh
With so much to cram into this Baku itinerary, try to get up early on your first morning in Azerbaijan so as to make the most of your time. Have breakfast at your hotel or consider stopping by one of the scenic outdoor eateries near to the old town. Azeri food is a blend of Russian (think dishes like plov) and Arabic. Try an authentic Azeri style breakfast – perhaps Turkish menemen or shakshuka, washed down with a refreshing cup of local black tea.
9 am Venture to Ateshgah Temple of Eternal Fire
Azerbaijan isn't just labelled as the land of fire because that's a cool name to have, but because it is literally the land of fire. At Ateshgah fire temple, the fires that burn in the various fire pits never go out. This is because they are caused by a reaction of natural gases escaping from the earth. This temple has been used by Zoroastrian fire worshipers, Sikhs and Hindus over the course of the last few centuries.
11 am: Explore Old Town Baku
In old town Baku, ornate ancient minarets provide a stark contrast to the modern glass facades of the modern city. They peep out above winding cobbled passageways and ramshackle houses. Enjoy getting lost in this labyrinth-like historic neighbourhood as you make your way past carpet sellers and artisans pitching their wares. Notable sites of interest in this area are the Maiden's tower – a crumbling structure where legend has it, the king kept his princess locked away in the tower, and the museum of miniature books which is the largest collection of miniature books in the world and is home to a wide array of weird and wonderful cute miniatures.
To get a taster for local life, stop by an Azeri tearoom. Like their Iranian neighbours, tea is a big part of Azerbaijan culture and a big fuss is made of the preparation and presentation of the tea as it is commonly served with traditional Arabic sweets and in lots of little pots and dishes. Tucked away from the view of most tourists, the dimly lit Old Baku Tea House is a great place for people watching.
12 pm: Enjoy Lunch, Azeri Style
Grab a spot of lunch while back in the old town. Though the old town is arguably the most touristic part of Baku, tourism is such a new concept to the city that the prices here remain competitive and the dishes are authentic and generally of a very good quality.
1 pm Visit the Palace of the Shrivanshas
Long before Azerbaijan came under the Soviet rule, the country was divided into sections with a noble family ruling each region. In Baku, this was the Shrivanshas and their 15th century palace remains incredibly well preserved within the city walls of Baku old town. The palace is a UNESCO protected world heritage site and is comprised of a number of different buildings and complexes – including mosques, ancient bathhouses, and tombs. It is believed that the main purpose of the site was as a place of worship for the Shrivansha family who fled to Baku from Shamakhi after a devastating earthquake shook the region.
2 pm Visit the Heydar Aliyev Centre
If there was a site that could be surmised as the symbol of Baku, the Heydar Aliyev Centre would be it. This contemporary modern structure built by British-Iraqi architect Zaha Hadid and with its distinctive appearance is often photographed in global media about Azerbaijan.
Inside the Heydar Aliyev Centre is a contemporary art museum where the exhibitions are just as eclectic as the design of the building itself. If there was a must see while in Baku, this would be it.
5 pm Grab Dinner at Nizami Street
When the evening creeps in, Nizami street is one of the liveliest areas in Baku. Filled with luxurious international boutiques, quaint coffee shops and restaurants serving world-cuisines, Nizami street has something for everyone.
Arguably the highlight of this region is the diverse range of foods available. Baku is incredibly multicultural and home to immigrants from all corners of the globe. Nizami street is the place where you can sample their exotic delicacies. From authentic spicy Indian food, to beautifully marinated Lebanese lamb or Georgian shkmeruli chicken, you can find everything here.
7 pm Soak in the Views from Upland Park
For the perfect panoramic photos of Baku, take the scenic funicular to Upland park. This pleasant walking trail is situated high above Baku's skyline and when the sun begins to set and the sky above the Caspian Sea is illuminated with hues of red and orange, the atmosphere feels almost ethereal.
Though you cannot ascend to the top of them, Upland Park is also adjacent to the iconic flame towers of Baku which are worth getting up close and personal to.
Baku Itinerary Day Two:
The Eccentric Wonders of Qobustan
How does a day of mud volcanoes, 40,000 year old caveman paintings, and off-the-beaten path old Soviet towns sound? Fascinating, right? Heading out to Qobustan is a wonderful way to round up your Baku itinerary. It was actually the highlight of my entire Azerbaijan itinerary.
It is pretty tricky to get to Qobustan by public transport. Azerbaijan isn't really geared up for tourism yet. You can, however, organise for a Driver to take you there from Baku. I split the price with another solo traveller and the total was 90 manat. This included heading to Qobustan national park, checking out the mud volcanoes (I didn't know they were a thing, either), and stopping by Yanar Dag – Azerbaijan's fire mountain.
Baku Itinerary:




Getting a Visa for Azerbaijan
It should be noted that residents of most countries (including UK and the USA) require a visa in order to travel to Azerbaijan. Check your country's government travel advice to see if this is applicable to you.  
Up until recently, it was quite tricky to get a visa for travel in Azerbaijan but fortunately the process has become easier over the last two years. You can access the Azerbaijan Republic visa portal here to apply. Try and apply at least a month in advance of your intended travel date. For me, the approval was extremely swift, but it can depends so allow plenty of time.
Be very cautious here. Unfortunately there are several Azerbaijan visa agencies that have sites which look identical to the government site. The difference though, is that they will charge you three times the price. Applying for an Azerbaijan visa is straightforward and you don't need the help of a third party.
One particular scammer to note is the below. Even the URL is identical to the government URL.
Official Azerbaijan visa site – Evisa.gov.az
Scammy site that charges triple the price – Evisa.com.az
Baku Itinerary:




Azerbaijan Police Registration
Most Baku visas are applicable for 30 days. The Azerbaijan government require travellers to register with the local police if they plan on staying in the country for more than 15 days. If you are only flying in and out of Baku on a quick weekend break, this is not applicable to you.
If your Baku itinerary will be part of a wider trip around Azerbaijan, you need to register. Try and do this as soon as possible to get this out of the way. I have read articles by Bloggers making this out to be a really confusing thing to do. I assure you it is not. Simply tell the Reception at your Baku hotel that you will be travelling for more than 15 days and they will fill out a form on your behalf. It's super simple. They do this every day.
Baku Itinerary:




When to Travel to Baku
Baku is relatively mild all year round. As such, you can plan your Baku itinerary at pretty much any time of year and experience pleasant conditions. A more detailed breakdown of Baku's temperatures is mentioned below.
Spring (March to May)
Temperatures are warm and pleasant in Baku during the spring months. Think temperatures in their mid twenties in terms of degrees Celsius. I travelled to Baku during this period. Temperatures get a little cooler in the evenings, so pack a few sweaters for this time. 
Summer (June to September)
Summers in Baku can become very hot, with temperatures often exceeding 35 degrees Celsius.
Autumn (October to November)
Autumn in Baku has very similar temperature conditions to the Spring. This is one of the best times to plan your Baku itinerary.
Winter (December to February)
Baku gets a little colder during the winter months. Expect temperatures of between 9 and 15 degrees Celsius. Owing to its location on the Caspian Sea, Baku can get very windy, especially during the winter (It is actually sometimes referred to as being "the city of winds"). Pack some warm clothes and a coat if planning your Baku itinerary during the winter.  
Getting Around Baku
Public transport in Baku is incredibly cheap and efficient. A one-way journey via bus or metro will cost you just 14p (Yes you read that correctly!).
You need to get a Baki Kart (Baku Card) in order to use these services. The card can be purchased from the ticket machines and offices at numerous metro and bus stations around the city.
For answers to any more FAQs that you may have about planning a Baku itinerary, I have also written this comprehensive Azerbaijan Travel Guide. You can also reach out to me via the comments below if you have any questions.
Disclaimer: This Baku itinerary may contain affiliate links. This means that if you decide to make a purchase through one of the links on this page, I will receive a small amount of commission at no extra cost to you. This helps me to keep up with the costs of running this site.
---