Hong Kong is looked upon as a bustling megalopolis famous for its shopping and status as an international business hub, yet is often overlooked as a travel destination, with visitors to Asia often looking to nearby countries like Thailand, and Vietnam for more of an adventure. However, there is so much more to this city than initially meets the eye and you could easily dedicate a full week or more to a Hong Kong itinerary. Hong Kong is a fabulous blend of East meets West, and traditional culture meets modern society.
The city is divided into two halves – Kowloon in the North (the busy, pulsing, local district that offers an insight into traditional Chinese culture), and Hong Kong Island in the south: A chic and glamorous setting for shopping, dining, and enjoying some R&R.
Four or five days is plenty of time to explore this colorful city, although if you wish to take a more relaxed pace, you could extend your trip for a full week as there are plenty of things to do in Hong Kong.
Below is my four day Hong Kong itinerary. I actually spent a little over a week in Hong Kong, however I've condensed my schedule down into four days to highlight the best possible attractions to see if you have a short time in Hong Kong. Some of these are off the beaten track adventures, others are must sees while in town. First time visitors to Hong Kong can also check out the suggestions on this first-timer's guide to Hong Kong.
A Fabulous Four Day Hong Kong Itinerary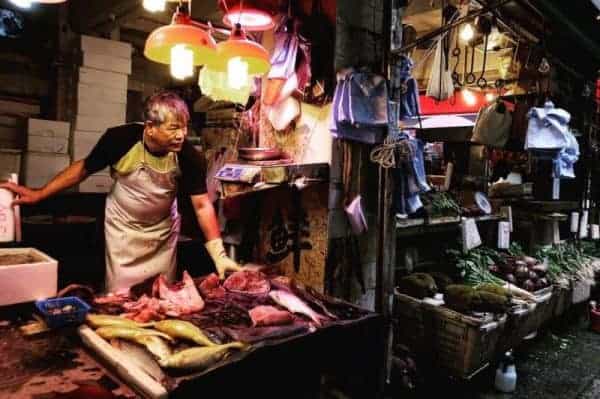 Hong Kong Itinerary Day One:
The Best Of Traditional Hong Kong Culture
You just got off the plane yesterday and this is your first full day in Hong Kong. You're tired, you're jet lagged – it's OK, I get it, so I'll take it easy on you during this first day…
10am: Man Mo Temple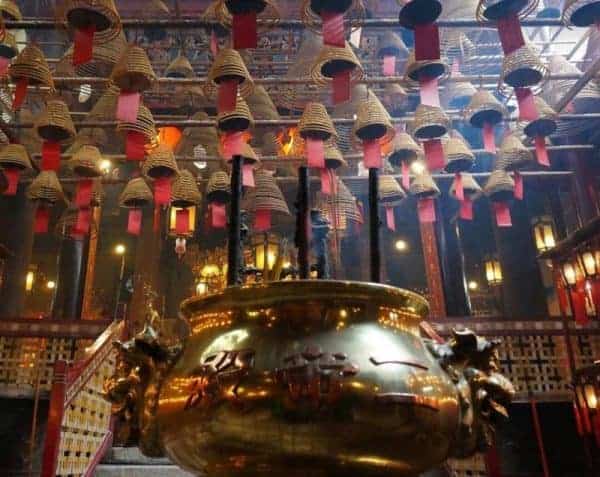 Man Mo is a beautiful Taoist temple located on Hong Kong Island, and one of the oldest in the city, dedicated to "Man", the gods of literature.
Make your way through the cloudy haze of scented incense as you gaze upon the elaborate carvings inside, and the worshipers burning incense coils as offerings. (Fun Fact: worshipers used to behead roosters here and leave them as offerings instead – aren't you relieved all that changed?)
Hopefully your taster of ancient Chinese temples has whet your cultural appetite and left you wanting for more as we have one more on the itinerary later today.
11am: Take the Star Ferry to Kowloon
From Man Mo, it's just a short walk to Central Piers where you can take the infamous Hong Kong "Star Ferry" across to Kowloon. The views of Hong Kong Island from the Kowloon side are truly stunning, especially from the water, making for a great photo opportunity.
You don't need to reserve a ticket in advance, you can just rock up to the station and purchase it there. Transportation from one side to the other weighs in at $2.50HKD per person and the ride takes just 10 minutes.
11.10am: Hong Kong's Avenue of the Stars
Touchdown, Kowloon. Welcome! Though you are not immediately greeted with it, you will soon see the drastic contrast between the two sides to Hong Kong.
From arrival at the Ocean Terminal, spend a little while taking a walk along the riverside and admiring the views of the Hong Kong Island skyline. Located within this walking route is the Hong Kong "avenue of the stars" aka the Chinese version of LA's Hollywood Walk Of Fame. Let's see if you can recognize any of these names! You can also queue up here to have your photo taken with the angry looking statue of Bruce Lee.
12.30: Have Lunch in Tsim Sha Tsui
The district that we're now in is Tsim Sha Tsui – a bustling neighborhood filled with restaurants and bars. The area is often overlooked in favor of glamorous options available on Hong Kong Island but there are some great options for dining here that are much loved by locals.
There are plenty of great and well respected eateries here offering cuisines that range from South East Asian, to American casual, and to French fine dining but when in HK, why not experiment with local tastes?
1.30pm: Visit Tin Hau Temple
Now you're feeling well and truly stuffed like a Christmas turkey, hop on the metro at Tsim Sha Tsui station for a ride to Yau Ma Tei station (2 stops North). From here, it's a short walk to our last temple of the day – Tin Hau temple.
This vibrant, colorful temple is dedicated to Tin Hau, goddess of the sea and the antique building is a huge contrast to the highly cosmopolitan area around it.
2pm Until Late: Experience the Chaos of Mongkok
Take the subway once more up to Mongkok (or you can walk if you so wish – it's just one stop away).
Be prepared for an attack on all senses in this crowded Hong Kong shopping district. Neon lights flash different colors from every angle, the air is filled with the scent of street foods, the floor beneath you tremors at the bass of the music from nearby stores, and more signs hang overhead than you ever thought possible. It's not luxury shopping, but this place is worth a visit just for people watching alone.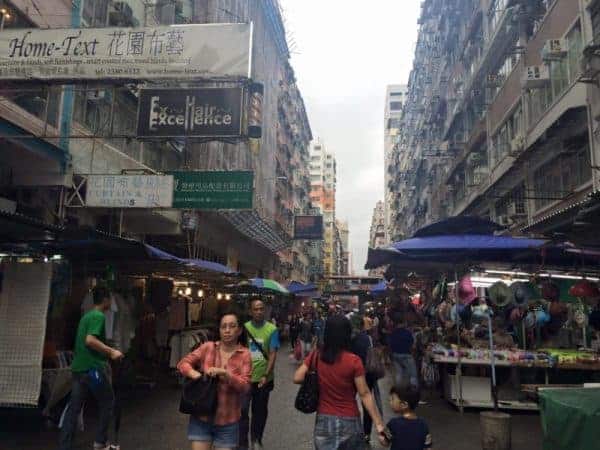 Spend a few hours in this area as there is just so much to see, and you can enjoy getting lost among the twisty streets and market stalls while watching on as Chinese vendors pitch their wares. There are maps everywhere in this area to help you navigate so rest assured, it's easy to get around.
Look out for Ladies Market (Tung Choi street) – a cluster of streets with stores and stalls selling everything from accessories to cosmetics, Sneaker street (yes, bizarrely it's exactly as the title suggests), Fa Yuen street market (exotic foods and fresh veggies) and the goldfish market (yes, also exactly as it says on the tin).
When the sun starts to go down, head over to Temple street and browse the night market there. This is a great opportunity to trial out some street foods, visit a Chinese fortune teller, and watch in fascination as Chinese opera singers perform in the street.
For dinner, why not fill up on the street foods available here, or at one of the authentic street side restaurants?
Hong Kong Itinerary Day Two:
Lantau Island
10am: Head to Lantau Island
Home to Buddhist temples and small traditional villages, Lantau Island offers a great insight into both rural life and religion in Chinese culture. You want to dedicate an entire day to Lantau Island to give yourself the time to enjoy exploring.
To get to Lantau island, you need to take the metro to Tung Chung station where you can take the Ngong Ping cable cars, or the bus if you prefer. (You may find that during adverse weather conditions, the cable cars are cancelled. This is particularly common if you are travelling during typhoon season which occurs between the months of September and November)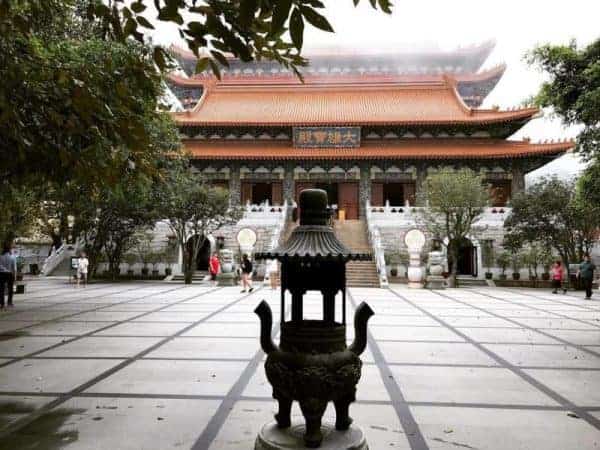 Start by taking the bus to "Tian Tan" Big Buddha and prepare yourself for a workout fit for Hercules himself as you ascend the 268 stairs to meet Buddha at the top. Marvel at the architecture of the Buddhist sculptures, and let the views of Lantau Island below take your breath away.
Walk around the surrounding area and enjoy the many Buddhist statues that are scattered around the grounds of this area. Consider visiting the Po Lin Monastery restaurant for traditional vegetarian temple food for lunch. (How many times do you get an opportunity like that?)
2pm: Tai O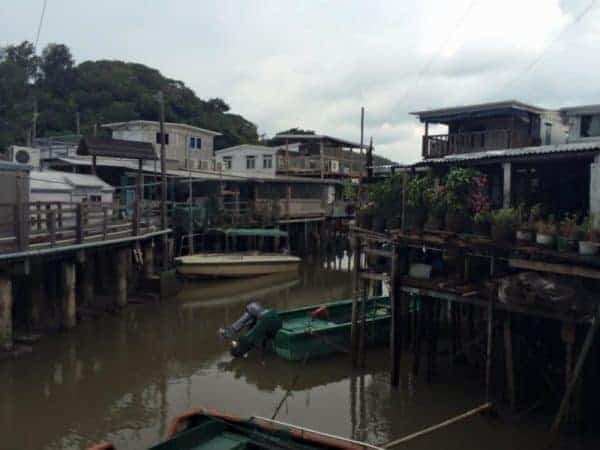 From Big Buddha, take the bus over to Tai O. This takes around 15 minutes from here.
Tai O is a traditional fishing village where the quirky wooden houses are all elevated above the water on stilted platforms. The town has become more popular with tourists in recent years however if you are visiting in the off season, you may very well have the place to yourself.
Lantau Island Transport Tips:
If the weather is bad, or you just prefer the bus then to get to the bus terminal, continue walking straight ahead on the road from Tung Chung station, past the cable car terminal and you will see the bus terminal on the left hand side.
Buses run frequently around the island, timetables can be found at every point, and the information is in English.
6pm Until Late: Central District
In the evening, venture into central district for dinner and drinks at some fabulous locations. There are many rooftop bars, and quirky cocktail places and part of the fun can be exploring the streets, and stumbling across new places.
Hong Kong Itinerary Day Three:
Explore New Territories
New territories is the area just North of Hong Kong city and before the border with Shenzen, China.
The area is much more rural than the lively city center and encompasses several national parks, and hiking trails within its reach. Seldom visited by tourists, this is a nice place to go to be free of Hong Kong's "big city" vibes for a few hours.
10am: Walk The Ping Shan Heritage Trail
The Ping Shan heritage trail is Hong Kong's first and oldest cultural trail. Starting by Tin Shu Wai station on Tsui Sing Road, the trail leads you past Hong Kong's oldest temples, beautiful shrines, stunning natural scenery, and ancient walled Chinese villages.
2pm: Visit the Hong Kong Heritage Museum
The Hong Kong heritage museum includes a little bit of everything that makes up the history and culture of Hong Kong. It really is a random assortment. The museum will walk you back in time to traditional Chinese villages, show you exhibitions of stunning hand painted artwork, and then surprise you with an entire exhibition dedicated to Bruce Lee…
4pm: Pay Your Respects at the Che Kung Temple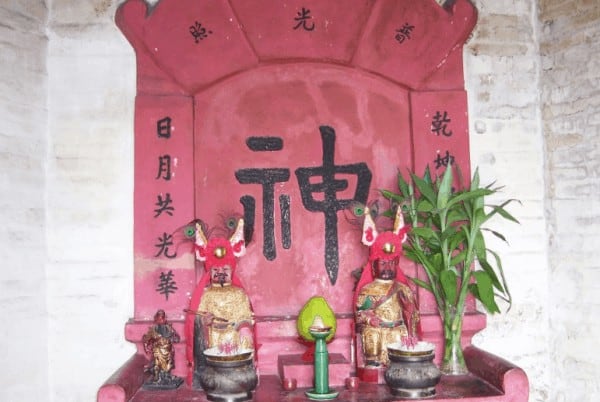 Close to the heritage museum awaits Che Kung station. This place is a bit of a contrast from the rest of new territories as it always seems to be incredibly busy. The temple was built in honour of Che Kung, a military commander whose achievements were so successful, he started to become revered as a god.
You can turn the wheel on the fan bladed wheel of fortune that can be found next to the main alter inside the temple. If you spin the wheel three times, you are to be rewarded with good luck.
Ancient Chinese fortune tellers potter about outside the entrance. If you're feeling spiritual, you can visit them for a reading.
Hong Kong Itinerary Day Four:
The Best of Chic HK Island
10am: Explore Central District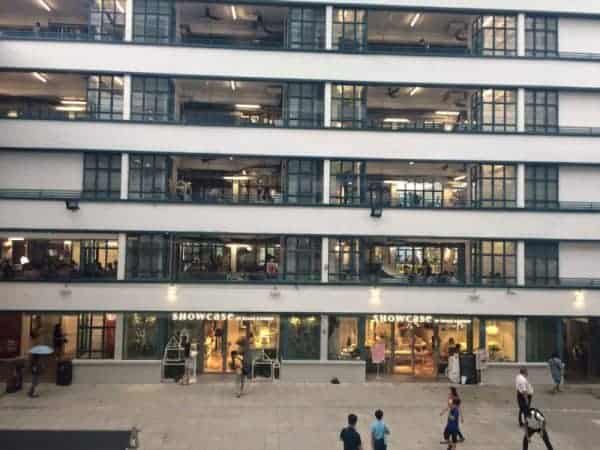 Central district is home to many quirky coffee bars and boutique stores and you can have a pleasant time picking up some unique finds here or simply browsing. Be sure to check out the PMQ building which features pop up stores selling handicrafts, articles of clothing designed by local designers, and free art exhibitions.
12pm: Have an Afternoon Tea
You may have noticed many influences of British culture scattered throughout Hong Kong – from the antique looking red telephone and mail boxes that can still be found on the streets, to the large number of British expats that call it home.
One of the most elegant aspects of British-ness that those in Hong Kong are particularly fond of, is the upper class tradition of going out for "afternoon tea". There are many places on HK Island that offer this, but while you're here, why not go all out and enjoy an afternoon tea that would satisfy even Queen Liz herself at the stylish Clipper Lounge.
Enjoy your delicious array of teeny tiny sandwiches, cakes and pastries served with tea and champagne in a truly exquisite setting.
5pm: Take the Tram to the Peak, Hong Kong
One of HK's most popular tourist attractions, the Peak is the mountain point which offers the visitor stunning views of the city below. There is a reason that we scheduled this part of the itinerary for this time and that is because you will have the opportunity to see the city below not only during daylight, but as the sun goes down and the city becomes illuminated by lights. To get to the peak, come out of exit 2 of central station and take the peak tram.
6pm: Wan Chai and Times Square
From high end stores like Gucci and Roberto Cavalli, to high street favorites and local brands, this is one of the most popular shopping areas in the city. If you do wish to shop, the stores are open until 11pm so you have plenty of time. When you are ready to eat, you can find many restaurants here selling global cuisines and local delicacies.
Hong Kong Itinerary Day Five
(Bonus Day): A Day at the Beach

Hong Kong isn't necessarily the sort of place that you associate with a beach break, but it does have stunning beaches which would rival California's coastline… It's just that the locals have done a good job of keeping them a secret! If you have a little extra time, or you'd simply prefer something a little more relaxing on one of the days during your Hong Kong itinerary then consider heading down to the beach for a little R&R.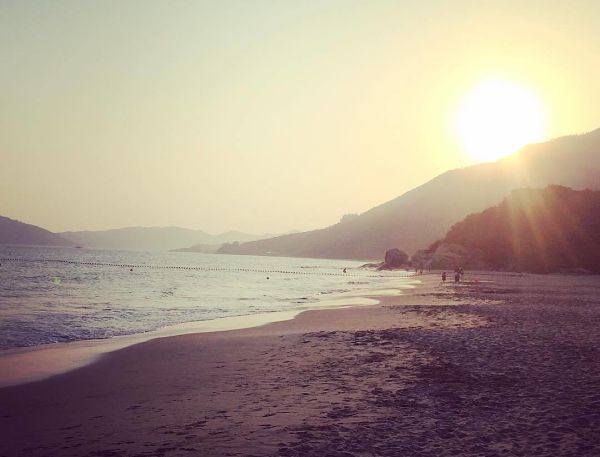 Repulse bay is nice, but it gets a little crowded and you won't be able to relax when you are inches away from another holiday maker with no space and privacy will you?
Instead, take a short ferry ride to Cheung Sha Beach. The beach is divided into two sections: upper and lower. The lower section (where you immediately arrive) is populated with many bars and restaurants, but a short ten minute walk leads you to upper Cheung Sha, a beautiful little cove that is free from the crowds.
The beach is very clean, and the water is safe to swim in. Work on your tan, take a picnic, go swimming or do whatever else tickles your fancy. When you get hungry, head back down to one of the restaurants in the lower section of the beach and have dinner.
Cheung Sha Beach Tips:
Take the Mui Wo ferry from pier 6 at central pier (where you took the star ferry from a few days back) The journey takes about 30 minutes. When you arrive at the village, hop on a bus to Cheung Sha or just take a cab for around 100 HKD.
Find Deals on Hotels in Hong Kong!
Hong Kong Itinerary Travel Advice
Visas
UK and U.S. Citizens do not need a visa for general travel in Hong Kong. UK citizens can stay up to six months without a visa, and U.S. Citizens can stay for up to thirty days (readers from other nationalities – please check your government travel advice before departure)
Getting around
It's easy to navigate around Hong Kong and although it may seem intimidating that the city is divided into two, the city isn't anywhere near as big as other major cities like Tokyo or London. Most sign posts, maps and information boards are displayed in both English and Chinese.
Transportation
Buy an Octopus card for the metro as doing so will mean that subway travel is much cheaper. An octopus card can be picked up at the airport upon arrival or at most metro stations. They are $150HKD to buy. That price includes $100 credit and $50 deposit.
When To Go
Hong Kong has a subtropical climate and is typically warm all year around. Be wary of travelling between September and November as this is typhoon season and adverse weather conditions can be very extreme and result in closures around the city.
Pin this Hong Kong Itinerary For Later!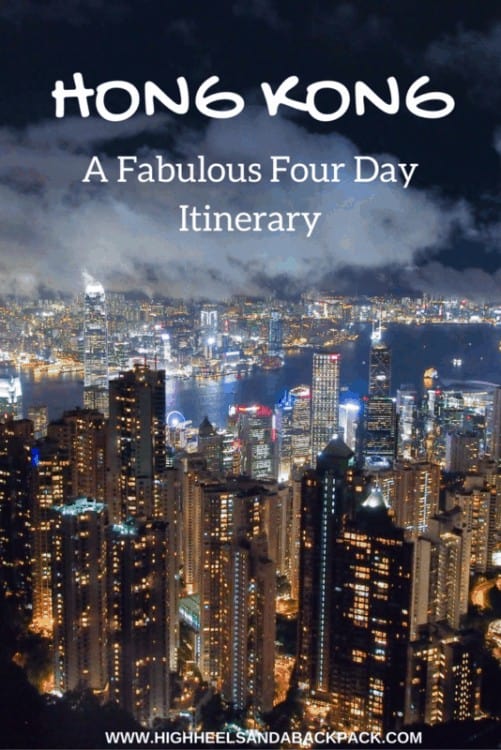 Disclaimer: High Heels & a Backpack occasionally uses affiliate links around this site. That means that if you choose to make a purchase via the sites, I obtain a small % of commission at no additional cost to you. I only work with brands and Travel Companies that I personally use and this aids me in the running of this site and in continuing to provide you with useful travel advice and resources.
---