This Romania itinerary offers you the perfect introduction to Romania. It takes you cross country from the cobbled streets of Bucharest, through the fairytale landscapes of Transylvania, and onwards to the chic cosmopolitan city of Cluj Napoca.
Falling in Love with Romania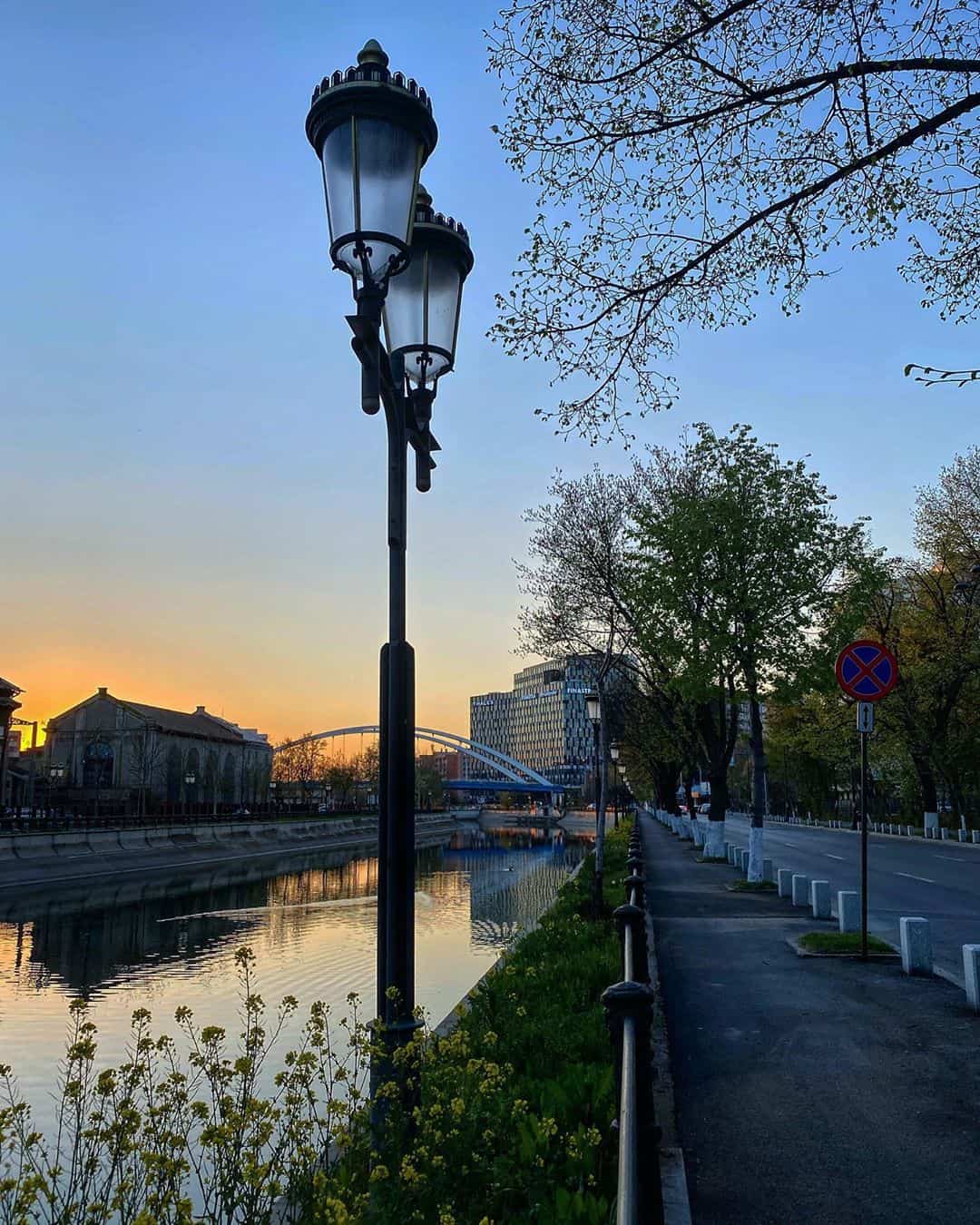 Romania boasts a rich and diverse history and culture that will captivate even the most well-travelled adventurers. The stunning region of Transylvania is filled with ancient castles and idyllic medieval towns.
The cobbled streets of Sibiu, Sighișoara, Brasov, and Râșnov appear almost frozen in time. Meanwhile, the lovingly restored buildings of Bucharest and Cluj exude a hip-youthful vibe. Many of these buildings have been converted into elegant bars and upscale eateries.
Nature lovers will not be short of opportunities to immerse themselves in the "Great Outdoors" during their Romania itinerary. The Carpathian Mountains tear through the centre of the country.
This mountainous region provides a stunning backdrop for the long drives through the country. Additionally, it boasts a plethora of hiking routes. Romania has something to captivate every type of traveller.
There is arguably no such thing as a bad time to embark on a Romania itinerary and each season offers something a little different. With summer comes better weather.
However, Romania in winter is equally magical and is not as blisteringly cold as you might think. Opting to travel at this time means the opportunity to see the Carpathian Mountains and other Romanian landmarks under a canvas of soft white snow.
A Suggested 10 Day Romania Itinerary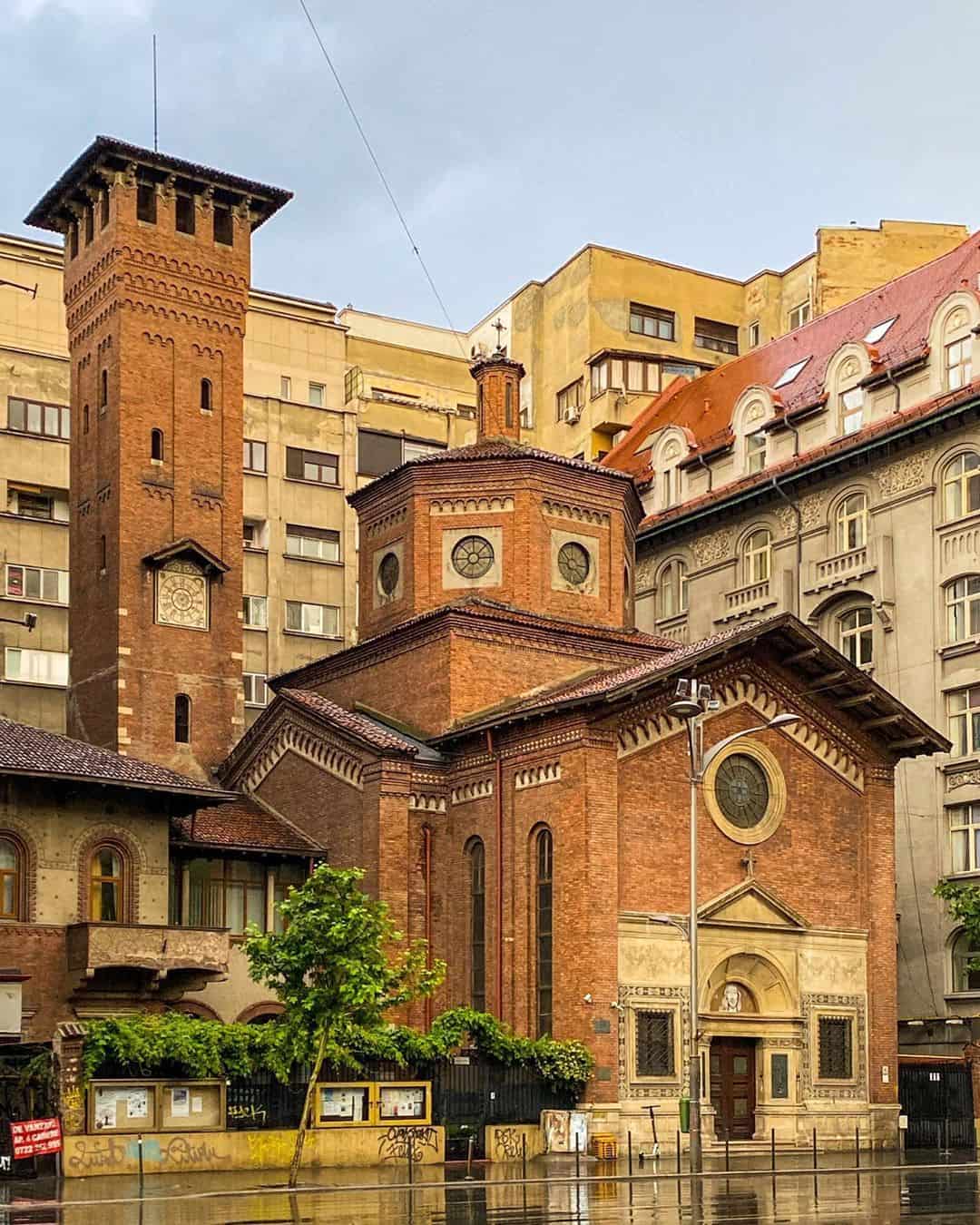 This 10 day Romania itinerary starts in Bucharest and finishes in Cluj. It is also possible to do the trip in reverse. Many international budget airlines run to both Avram Iancu Airport (Cluj) and Henri Coandă International (Bucharest).
This Romania itinerary may contain affiliate links. This means that if you choose to make a purchase through some of the links contained on this page, I may obtain a small amount of commission. This is charged at no extra cost to you.
Romania Itinerary Days 1&2:
Bucharest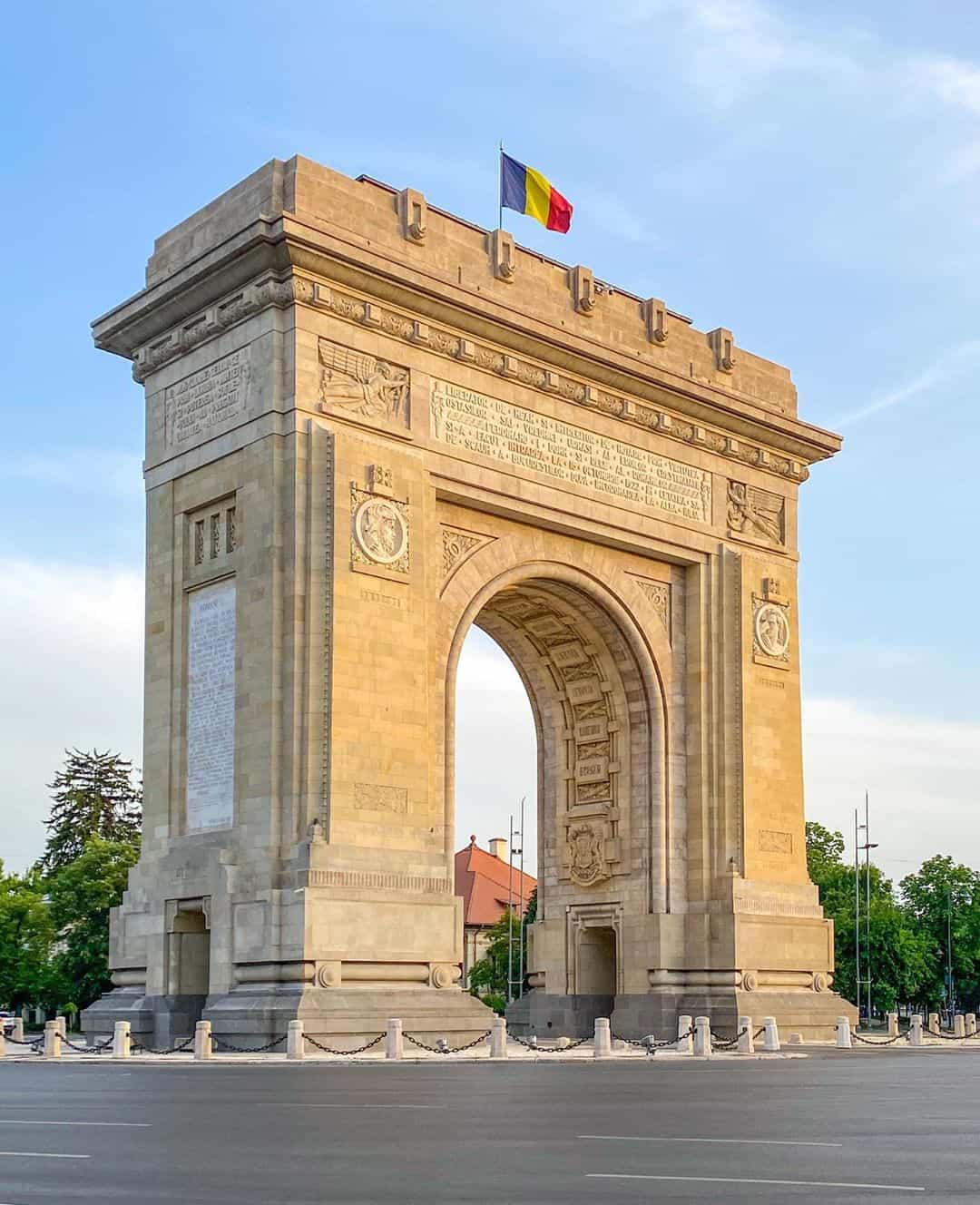 Bucharest is the capital of Romania. The city is alive with a buzz of activity.
The Romanian capital may not be the most beautiful city in Europe. However, scratch beneath the surface and you will find that Bucharest's fascinating history, hidden Orthodox churches, and friendly locals more than make up for its outward appearance.
There are enough things to do in Bucharest to keep you occupied for a long weekend. This is a great place to start your Romania itinerary.
Sites such as the Palace of the Parliament and the Sighet Memorial tell the tale of Romania's Communist past. They help you to understand the traditions and customs of modern Romania today.
Consider embarking on a Bucharest walking tour or bicycle tour with the aid of a local. This lets you see the city from the perspective of someone who has been born and raised in Bucharest.
Bucharest Highlights
Learn the history behind the most-hated structure in Romania: The Palace of the Parliament


Sample traditional Romanian street food – from gogoasa doughnuts to covrigi pretzels


Meander through the narrow cobbled streets of Bucharest's Armenian and Jewish districts


Marvel at the ornate design of the People's Salvation Cathedral. This is the largest Orthodox cathedral in the world


Enjoy a picnic in Cismigiu Gardens


Learn about Romania's painful Communist history at the Sighet Memorial Exhibition
Where to Stay in Bucharest
You will find accommodation for every budget and travel style in Bucharest. Opt to stay in the Old Town (Centru Vechi) or Unirii Square if you want to be in the beating heart of the action.
Piata Romana and Cismigiu are peaceful residential neighbourhoods. You may wish to consider staying here if you want to experience Bucharest "like a local". A selection of excellent Bucharest hotels is provided below.
Romania Itinerary Day 3:
Sinaia and Peleș Castle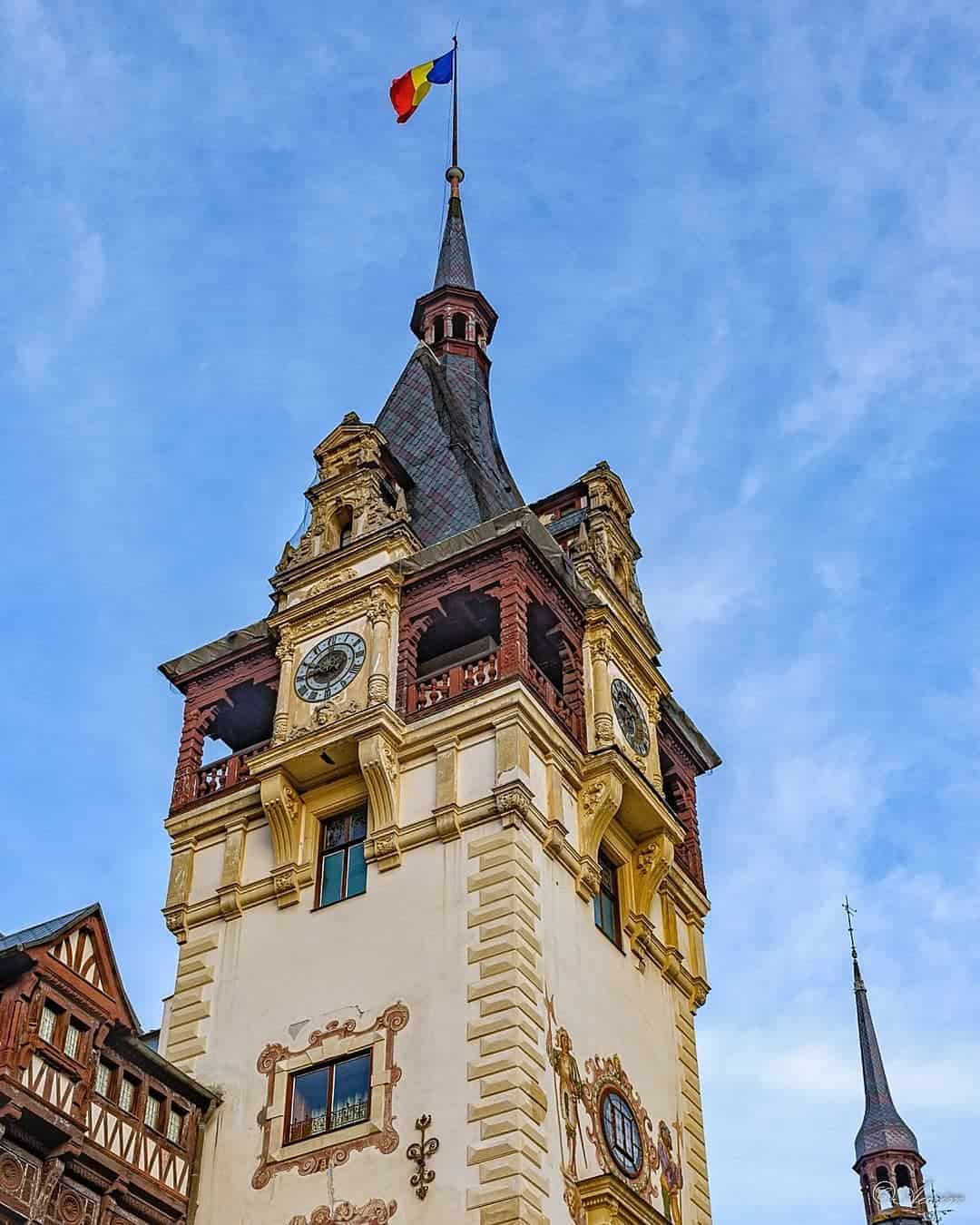 Sinaia is a picturesque mountain town that is situated in Central Romania's Bucegi Mountains. The town is a popular vacation spot among Romanians on account of its stunning mountain scenery and nearby ski resort.
Peleș Castle is arguably Siniaia's most iconic attraction. This ornate structure was constructed in 1873. It was built in Neo-Renaissance style.
The Romanian King Carol I funded the castle's creation and used the site as his summer residence. The interiors are every bit as grand as the exteriors. You will find colorful stained glass windows, decadent furnishings, Murano crystal chandeliers, and fine art pieces inside Peleș Castle.
Siniaia Highlights
Walk to the spectacular Peleș Castle – the summer home of Romanian King Carol I


Wander the narrow cobbled streets of Sinaia. Take in the magnificent views of the Bucegi Mountains


Marvel at the interiors and mosaics of the Orthodox Sinaia Monastery.


Enjoy a picnic at the picturesque Dimitrie Ghica Park


Look out for the 1912 Sinaia Casino. The building was once a popular rendezvous point among the Romanian and Monaco elite
Where to Stay in Siniaia
You may wish to consider the below hotels for your time in Sinaia.
Romania Itinerary Days 4 & 5:
Brasov, Râșnov, and Bran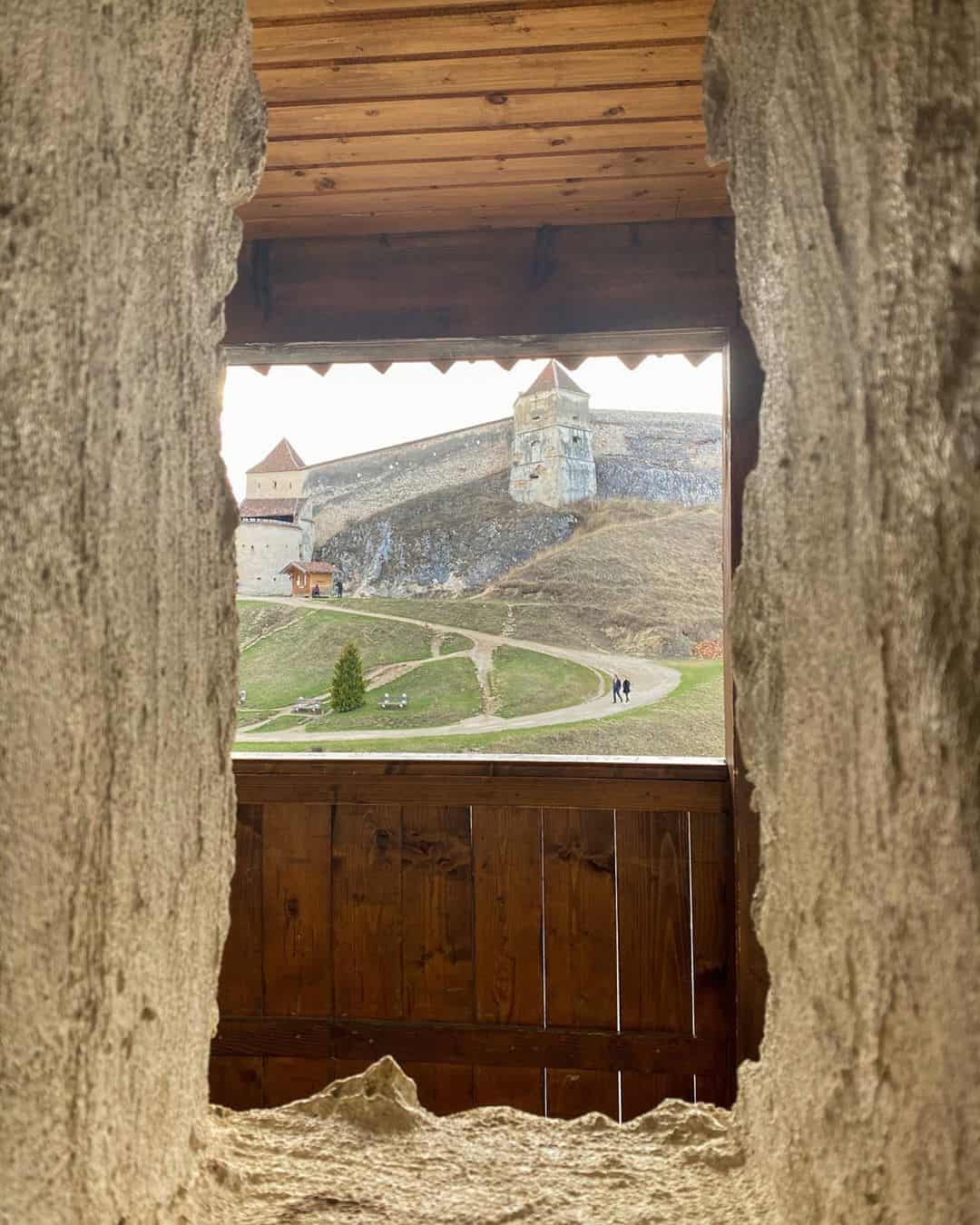 The medieval town of Brasov is perhaps one of the most beautiful places in all of Romania. Meandering through Brasov's winding, labyrinth-like streets is enjoyable in itself. However, Brasov also makes a great base for exploring the wider Transylvania region.
Bran Castle is a highlight of any Romania itinerary. This eerie, looming structure can be reached within just a 30-minute bus journey from downtown Brasov.
The castle served as inspiration for Bram Stoker's Dracula novels. It was here where Vlad the Impaler was supposedly once imprisoned.
Brasov Highlights
Board the bus to the village of Bran and its imposing namesake castle


Stop by the Black Church – a spectacular Gothic church that dates back over 600 years


Hike to the defensive fortress of Cetatea Râșnov


Tread the scenic hiking trails of Seven Ladders Canyon. Walk to hidden waterfalls and secluded stone villages


Step back in time at the museum of Romania's very first school


Explore the depths of Valea Cetatii Cave and admire the natural rock formations within
Where to Stay in Brasov
Base yourself in Brasov when you explore Brasov, Râșnov, and Bran. The below hotels come highly recommended.
Ulysses Guest House (Budget)


Antler Boutique Hotel (Mid-Range)


Hotel Esprit (Mid-Range)
Romania Itinerary Days 6 & 7:
Sibiu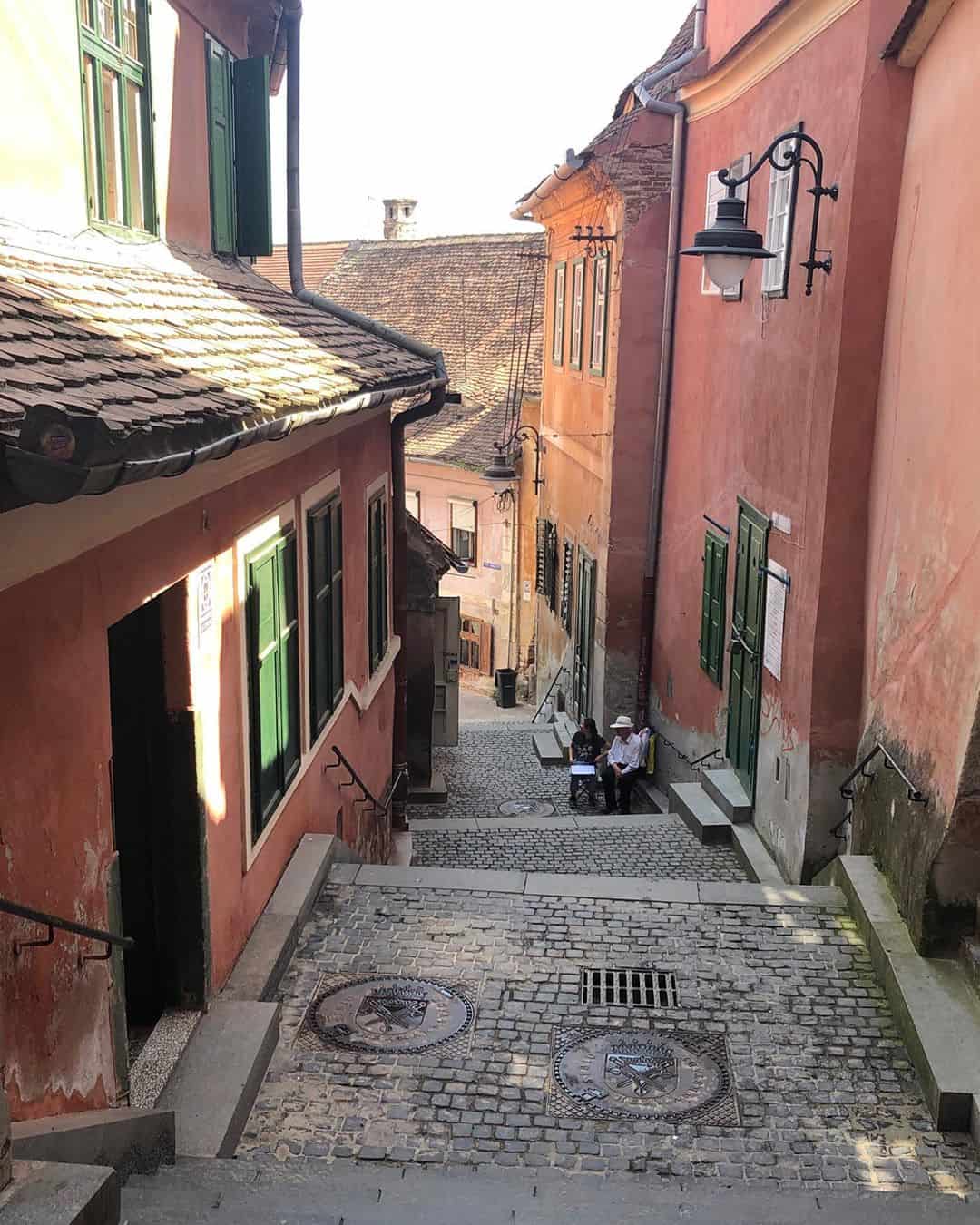 Sibiu is an old Saxon city that exudes elegance at every turn. Once upon a time, the city was occupied by Nobles and was an enviable address in Romania.
Today, the prestige and perks of living in Sibiu still remain. The city appears time and again on "best cities to live in" polls.
The buildings and churches here still possess an air of glamour. The homes and storefront facades have been built in classic art-nouveau style and the interiors of churches and religious buildings are embossed with gold and lavish furnishings.
The lesser-known Transylvanian towns of Cisnadie and Cisnadioara are gorgeous rural settlements found on the outskirts of Sibiu. The towns are famous for their fortified churches that date back over 800 years.
Sibiu Highlights
Enjoy dinner with a view in the Piața Mare (Grand Square)


Walk beneath the "bridge of lies – a Sibiu bridge that is rumoured to collapse if the person standing beneath it lies

Venture out to the ASTRA museum – an open-air exhibit in the Dumbrava Forest. The 300 or so reconstructed homes, windmills, workshops, and farms demonstrate traditional life in rural Romania


Look out for some of Romania's best baroque architecture. The Jesuit Church and the Brukenthal Palace are two of the best examples in the country


Admire the ramshackle 14th-16th century Merchant's houses that line Piața Mică (the small square)


Step inside Sibiu's Lutheran Cathedral – one of the largest Gothic-style churches in Transylvania
Where to Stay in Sibiu
There are ample hotels in Sibiu to suit every travel style and taste. The below hotels place you close to the town's main attractions and ooze personality and charm.
Romania Itinerary Day 8:
Sighișoara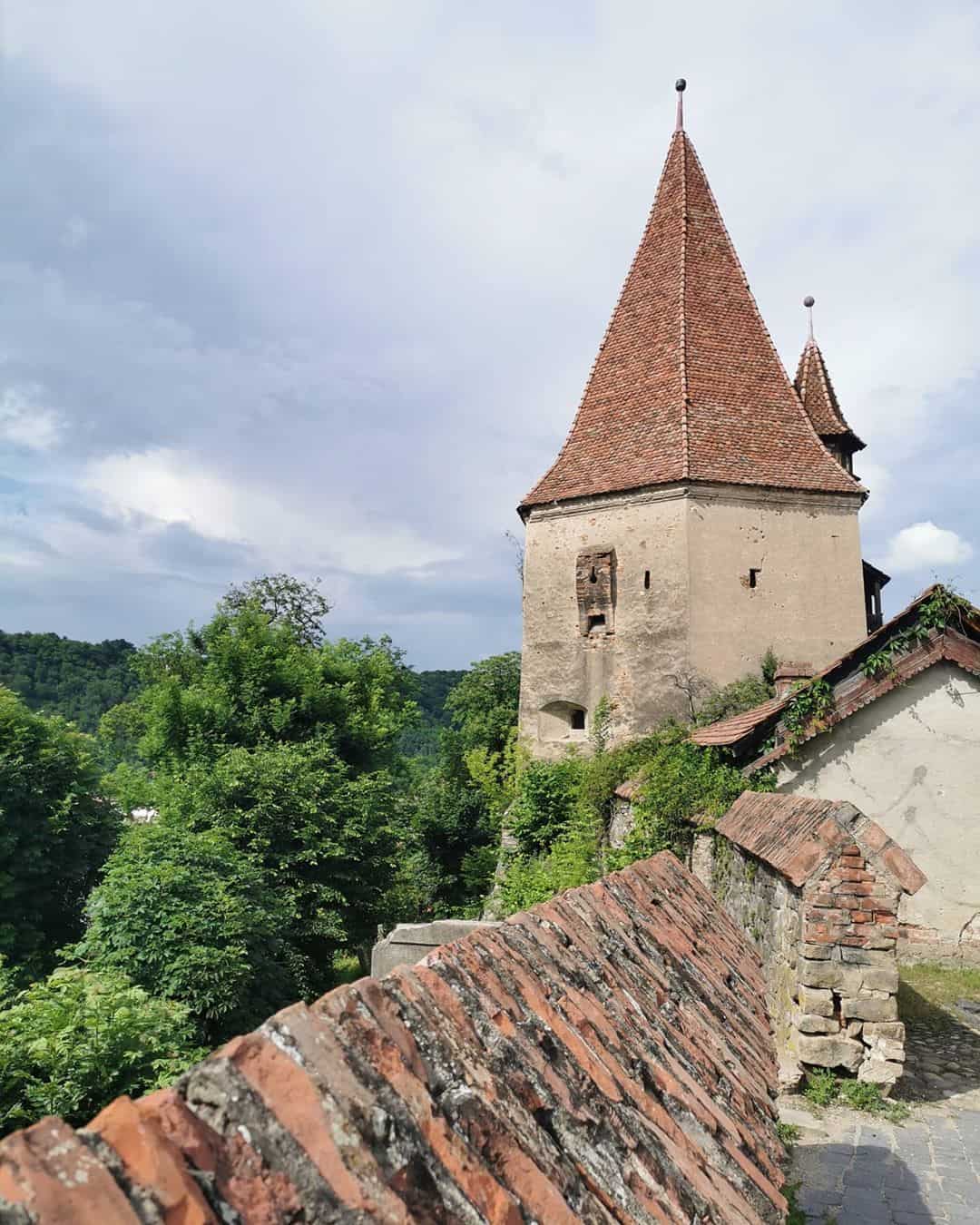 The compact city of Sighișoara sits on the banks of the Târnava Mare River in Transylvania. Sighișoara is famed for being the birthplace of Vlad the Impaler. The UNESCO protected old town dates all the way back to the 1100s.
Sighișoara is characterised by pastel-coloured houses, an intricate network of narrow winding streets, and medieval plazas that are centuries old.
One day is enough to explore Sighișoara. However, you can stick around and explore this beautiful place at a more relaxed pace if your schedule permits.
Sighișoara Highlights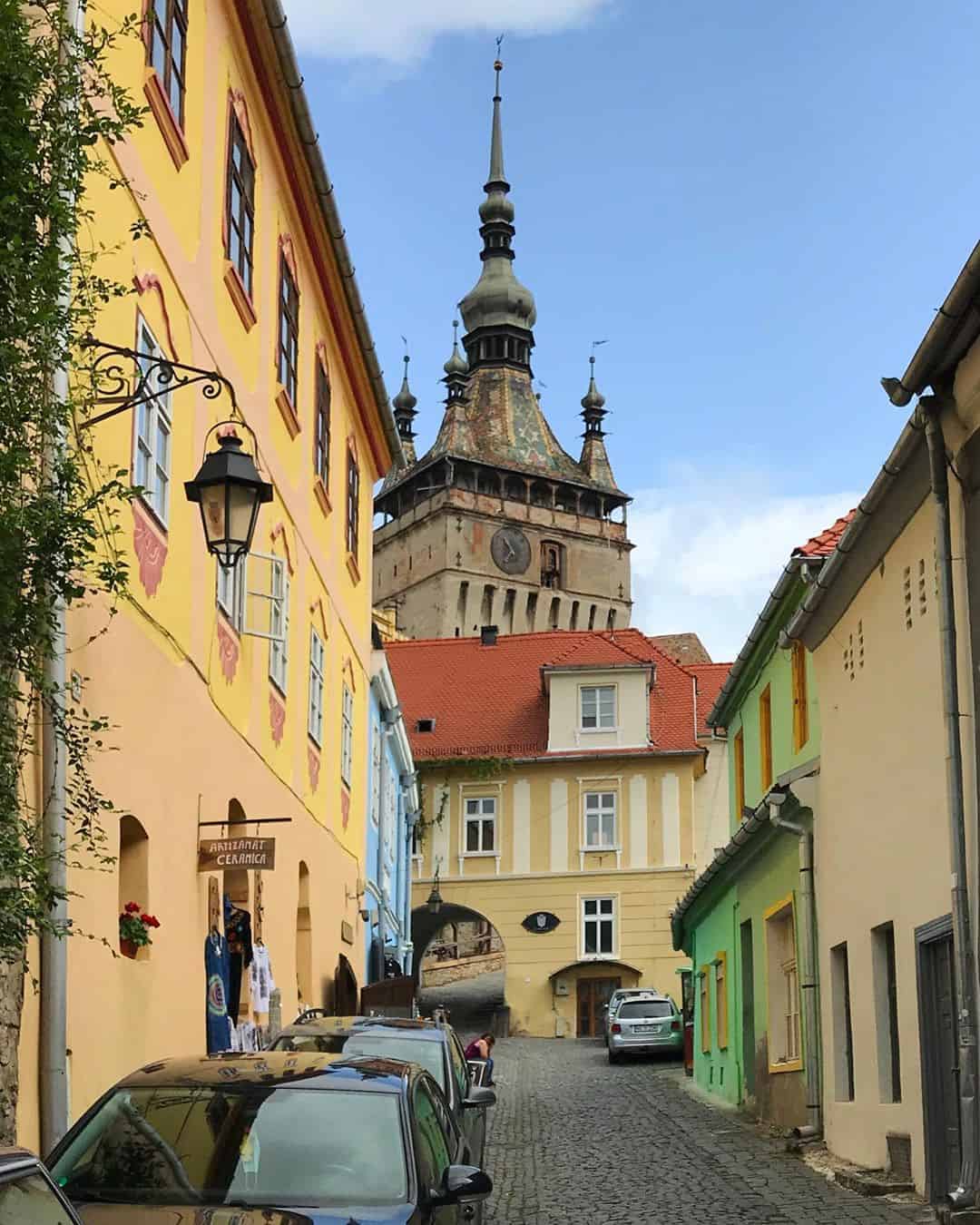 Take an obligatory selfie in front of the former residence of Dracula (Vlad the Impaler)


Drive out to the quaint Saxon villages of Biertan and Viscri


Tour the Sighișoara Citadel. Look out for the defensive towers that still watch protectively over the town today


Dine al fresco in the charming bars and restaurants of Piata Cetatii


Ascend to the balcony of the iconic Sighișoara clock tower for impressive panoramas over the town


Embark on a hike to the "church on the hill" and view the 15th-century frescoes within
Where to Stay in Sighisoara
You can find many adorable, family-owned guest houses and B&Bs in Sighisoara. The accommodation options detailed below are well worth considering.
Romania Itinerary Days 9&10:
Cluj Napoca
Cluj Napoca is Romania's "second-city". Its large student population has paved the way for a plethora of eclectic bars, coffee shops, and restaurants to open here.
The city is often bypassed by most international tourists who use Cluj as a stopgap on their way to other Transylvanian towns. However, Cluj is a wonderful place for an alternative European city break.
Cluj Highlights
Admire the 15th century St Michael's Church in Unirii square.

Observe the works of some of Romania's most notable painters at the Cluj Napoca art museum. Featured artists include Nicolae Tonitza and beloved Impressionist Artist Ion Andreescu


Hang out with Cluj's student population at quirky coffee shops and hip nightlife spots


Learn the history of Romania's Transylvania region at the National Museum of Transylvanian History


Take a day trip to the caves and forests of the Apuseni Mountain slopes


Rent a bicycle or a pedal-boat and enjoy the ambiance at Parcul Central


Stop by Piarists' Church – the first Baroque church in Transylvania
Where to Stay in Cluj Napoca
Despite being Romania's second-largest city, Cluj Napoca exudes a cosy "small town" vibe. Try to base yourself in the city centre so that the city's nightlife, coffee shops, and historic attractions are right on your doorstep.
Possible Romania Itinerary Extensions
There are dozens of other beautiful places that you should take the time to incorporate into your Romania itinerary if you are not on a tight schedule.
Explore the Danube Delta
The Danube Delta is one of Romania's natural UNESCO protected sites. The Delta is situated in Tulcea County in Eastern Romania. It is possible to venture here from Bucharest before continuing north to Transylvania.
The region has the third-largest biodiversity in the world – third only to the Galapagos islands and the Great Barrier Reef. More than 5,500 species of flora and fauna, and 300 bird species call this area home.
Go Wine Tasting in Valea Calugareasca
Valea Calugareasca is one of Romania's premier wine-tasting regions. Some of the wineries here date back to the 18th century. It is possible to organise an independent wine tasting, or join one of the many day tours that venture here from Bucharest.
Bucovina's Painted Monasteries
Bucovina sits on the northeastern border between Romania and Ukraine. This UNESCO-protected region is famed for its painted monasteries. Many of the monasteries and churches here have been built in obscure shapes and styles.
The frescoes of Bucovina's churches and monasteries are remarkably well-preserved. They can be found scattered throughout the villages of Moldovita, Arbore, Probota, Patrauti, Sucevita, and Voronet.
Stunning churches and monasteries are one of the main things that Romania is known for. There is truly no better place to observe them at their best than in Bucovina.
This region is also famed for its handicrafts and traditional artisan products. Consequently, Bucovina is a wonderful place to pick up gifts and souvenirs such as ceramics, painted eggs, wood carvings, and woven goods.
Stay the Night in Iaşi City
The city of Iaşi is about as off-the-beaten-path as you can get in Romania. This eastern city is bursting with history. Indeed, Iasi is often referred to as being the country's historical capital.
The Palace of Culture sits in Iaşi's centre. Construction on this sprawling 300 room palace started in 1901 and was completed in 1925. It's possible to tour this building which is widely-regarded as being the most important historical site in Eastern Romania.
Alternative Romania Itineraries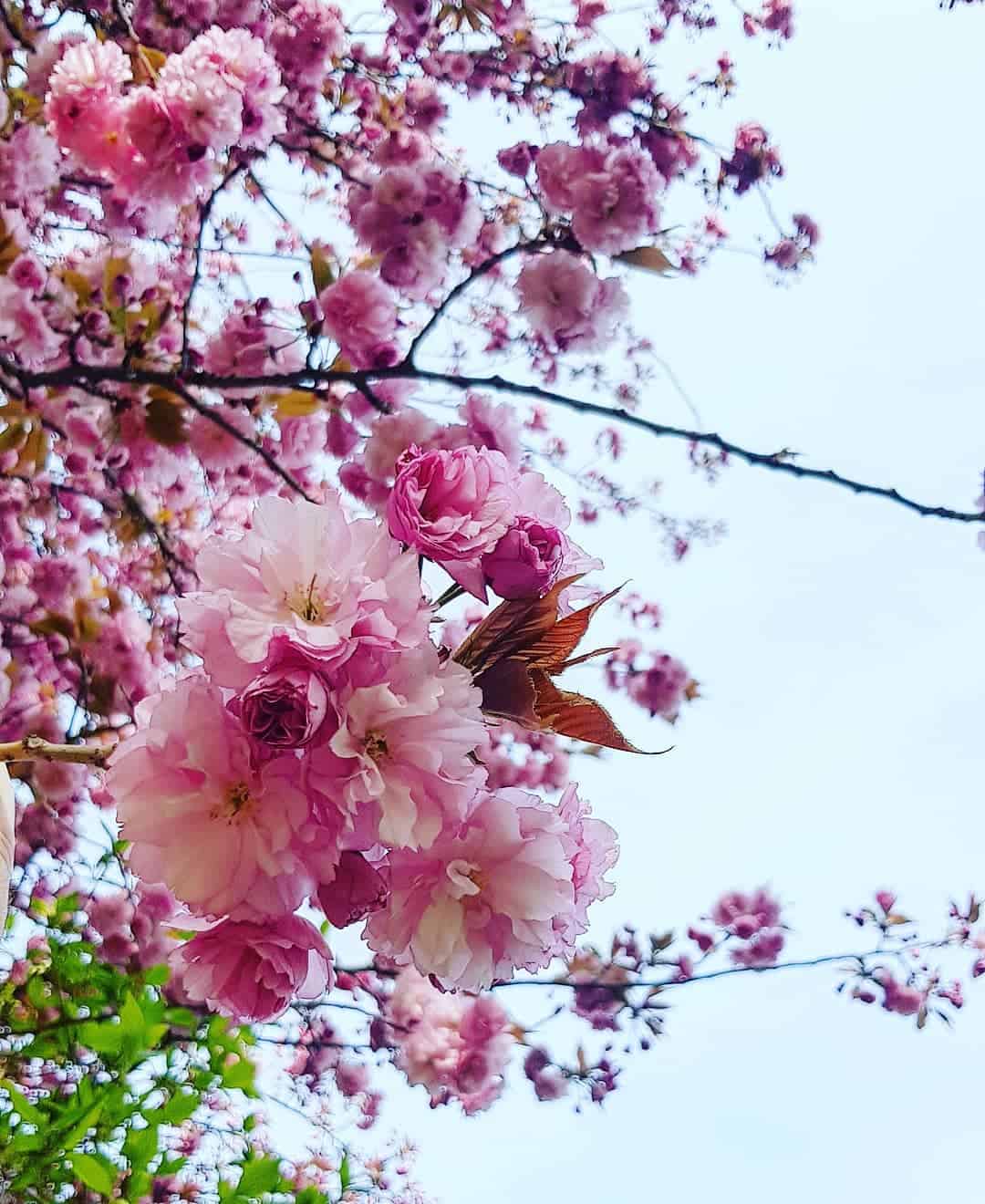 Romania is a relatively large country. However, it is easy to cover a lot of ground in a week or two. Some alternative sample Romania itineraries are provided below.
7 Day Transylvania Itinerary
This 7 day Transylvania itinerary is a nice way to explore Romania's highlights if you are short on time. Embark on a "whistle stop" tour of Bucharest before continuing on to the towns of Siniaia, Brasov, Sighișoara, et al.
1 day in Bucharest

1 day in Siniaia

2 days in Brasov, Bran and Rasnov

2 days in Sighișoara

Depart Bucharest/Cluj
Ultimate Romania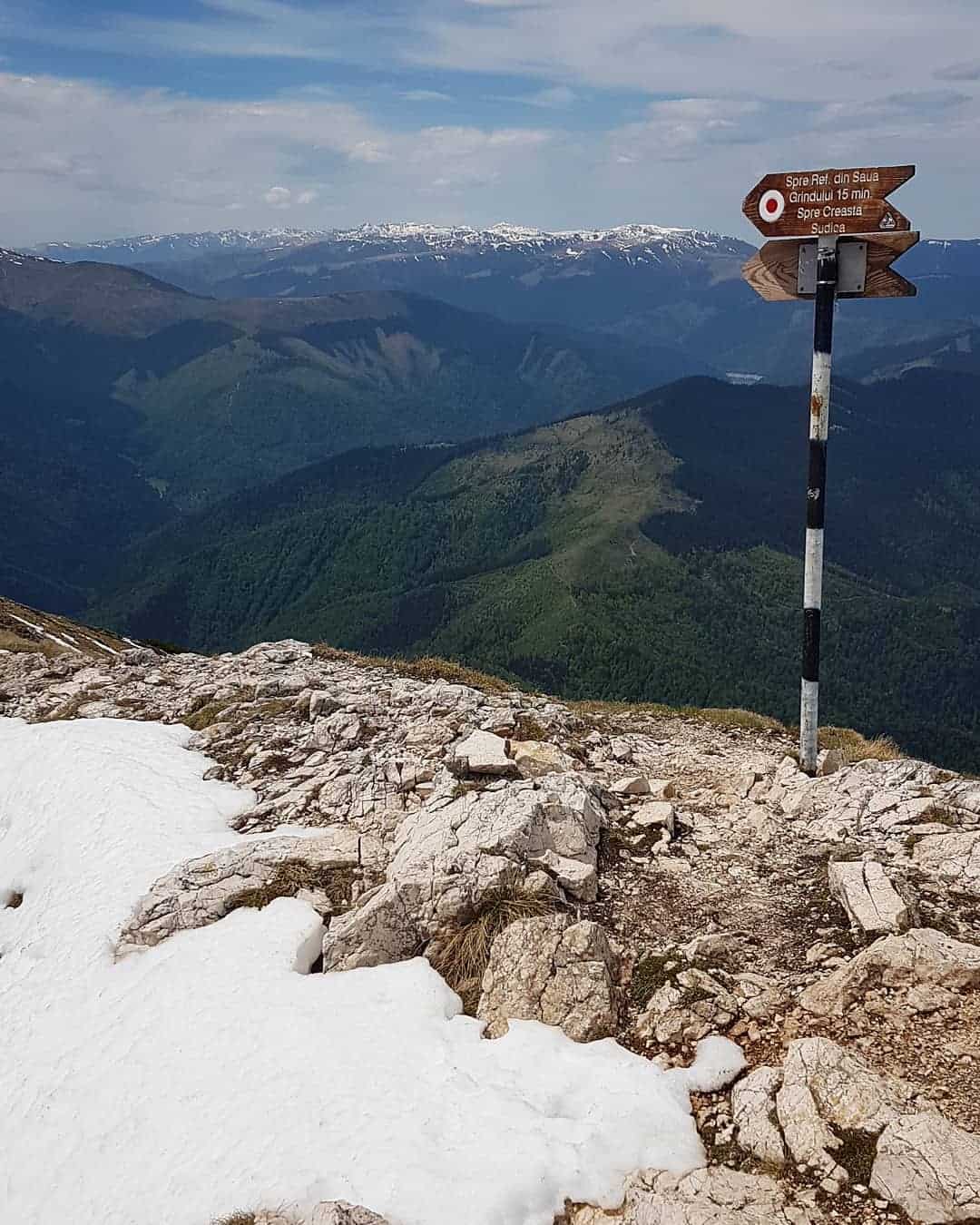 If you have between 14 and 21 days to spend in Romania, you may want to consider this all-encompassing Romania itinerary which allows you to reach all corners of this beautiful country.
2-3 days in Bucharest


2 days in Prahova and the nearby wineries


1 day in the Danube Delta


1 day in Sinaia


3 days in Brasov and Râșnov


3 days in Sibiu and surroundings


2 days in Sighișoara


2-3 days in Cluj Napoca


2-3 days in Iaşi'


2 days in Bucovina and surroundings
Getting Around Romania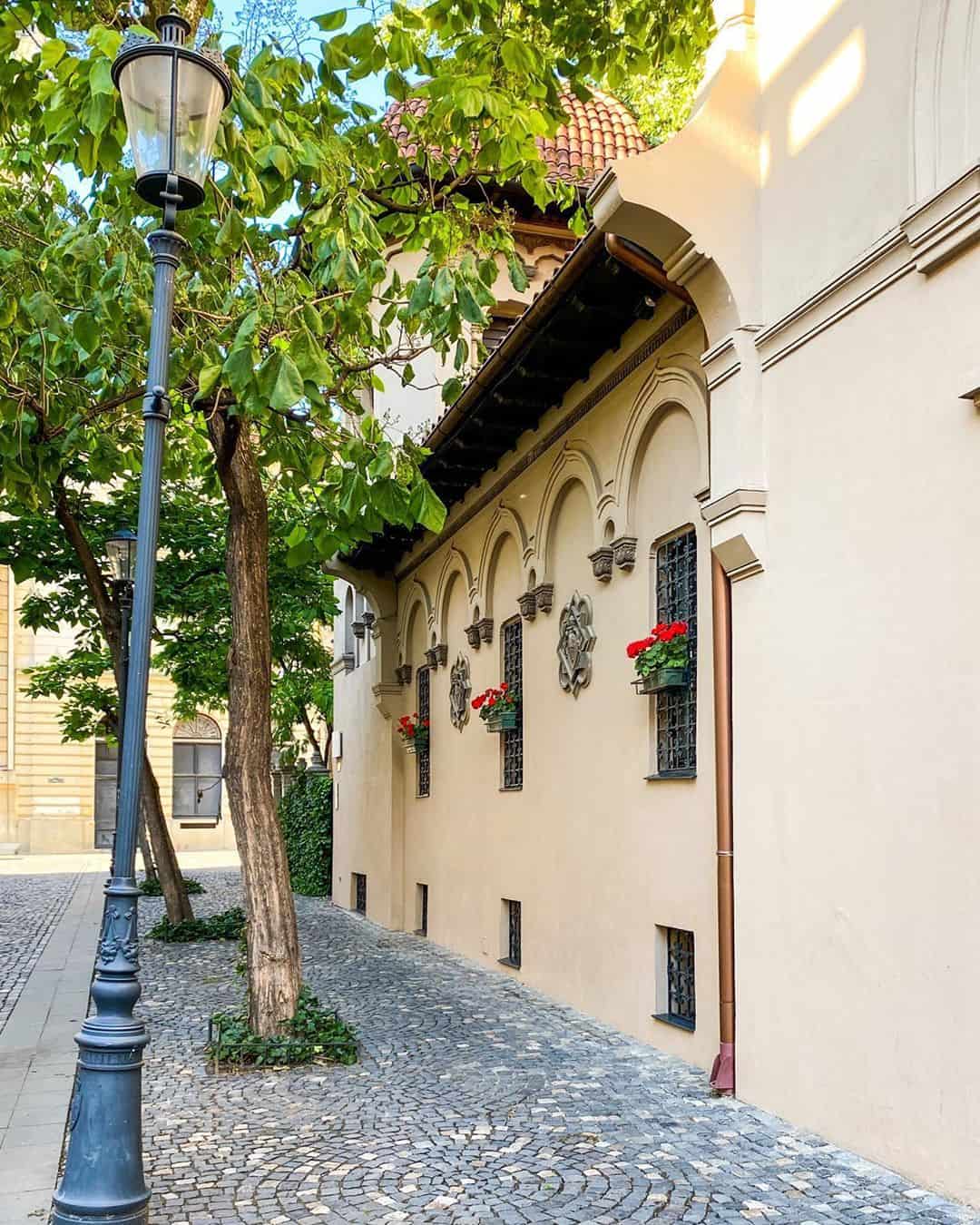 Romania has an excellent, comprehensive public transport network. It is easy to get from A to B on your Romania itinerary whether you decide to rent a car or get around by bus/rail.
Renting a Car in Romania
Renting a car in Romania is not as daunting as it may sound. This gives you a little more freedom and flexibility than if you rely on public transport. Many international rental companies operate in Romania. Avis, Sixt, Europcar, and Flex all offer rentals here.
You should expect to pay between $10 and $19 a day to rent a car in Romania. The exact precise depends on the season and the specific model of the car.
Driving in Romania during your Romania itinerary is no different to renting a car in most other European countries. The scenery is beautiful, and the roads are very well-built.
Travel Romania by Train
Trains in Romania are clean and comfortable. Services run regularly between large towns, cities and tourist hubs. This entire Romania itinerary can be completed by train.
CFR (Căile Ferate Române) are the Romanian domestic rail company. You can check their prices and schedules here.
You can generally purchase tickets from the train station ticket office on your intended day of travel. Tickets are also available online.
Travel Romania by Bus
Several bus companies operate in Romania. They run between large towns and cities. You can also find frequent services to the nearby countries of Hungary, Bulgaria, and Serbia.
Flixbus is an excellent long-distance operator. However, it is predominantly smaller, independent operators that run between small towns and villages.
Most Romanian bus operators are clean, safe, and well-organised. You can check routes, scheduling, and ticketing information on the Autogari Romania website here.
Parting Words
Do you have any additional questions about planning a Romania itinerary? I spent a month travelling through this beautiful country and would be happy to answer any questions that you may have. Please don't hesitate to reach out to me via the comments below. Safe travels! Melissa xo
---