Overwhelming and chaotic, yet equally altogether vibrant and beautiful in its buzzing atmosphere, exploring Morocco's "jewel of the south" is a perfect way to enjoy a cultural weekend break or perhaps a short stop as part of a wider Morocco itinerary. This Marrakesh itinerary showcases the highlights of the culturally rich Moroccan city with a limited amount of time.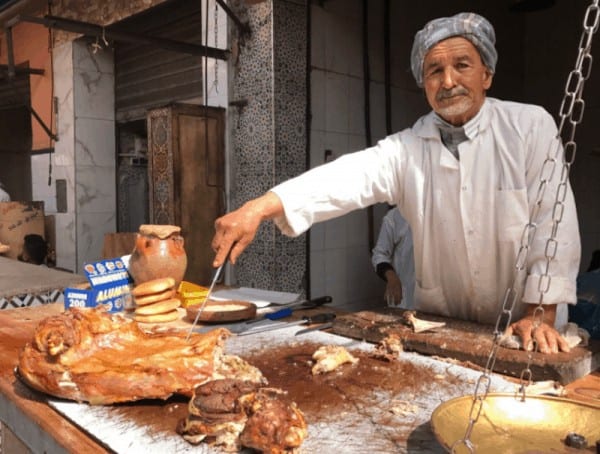 Marrakech Itinerary Day One:
Introduction to Moroccan Culture
10 am Enjoy a Hearty Moroccan Breakfast
Start the first morning of your Marrakech itinerary by enjoying an authentic Moroccan breakfast underneath the cabanas of one of the rooftop restaurants that surround the Djemma. Although the locations are central, the prices here are typically a good value.
Embrace your inner culture vulture and opt for a serving of baghrir (Moroccan semolina pancakes) with a dollop of Ambu (Moroccan sweet dip made from almonds, argan oil, and honey) and of course, a generous-sized cup of coffee to fuel you up for the day ahead.
Fine Mama (89 Pass. Prince Moulay Rachid) close to Koutoubia Mosque serves up some excellent coffees and breakfasts. It is one of the best restaurants in Marrakech.
11 am Get Lost Among the Labyrinth Souks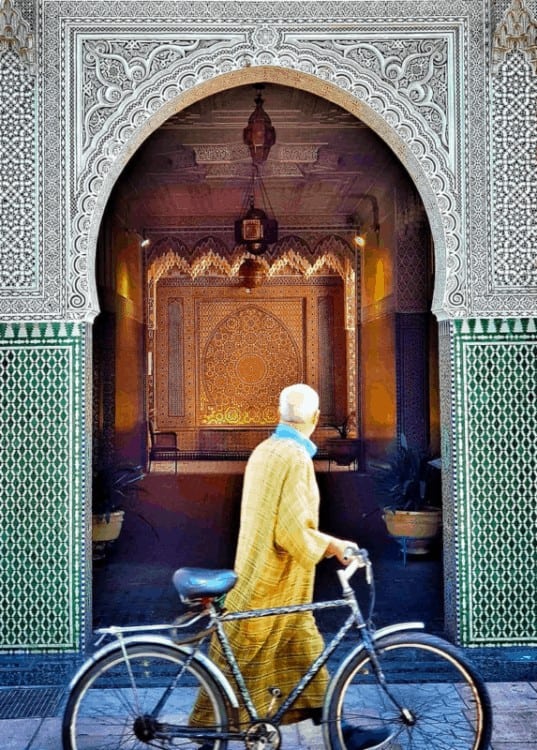 Once you're sufficiently stuffed, head down towards the souks. Rue Semmarine is the main street and it connects all of the various souks.
Each of which specialise in different products – from sections specialising in olives, to those focusing on metalware and ceramics, vibrantly coloured fabrics, and everything in between.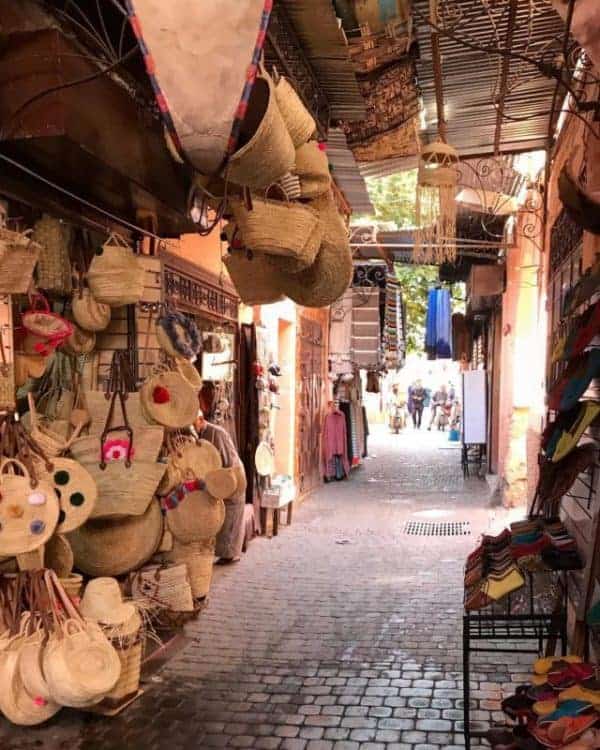 If you wish to gain an understanding of the history and stories behind each of the specific markets, you will find it easy to locate a guide to help you navigate your way through. It's better to hire a guide from your hotel or accommodation rather than finding one within the market places since there are numerous tricksters operating in the souks who are not licensed guides at all!
Enjoy this time at a leisurely pace. Let yourself get lost among the smell of spices, within the narrow alleyways, and through the haze of sheesha.
When it comes to lunchtime, head over to Mechoui Alley and sample this melt-in-the-mouth local lamb delicacy.
Marrakech's Serpentine souks can feel something like a labyrinth so if you find yourself lost or confused, ask a local to point you back towards the Djemma or follow the rooftop of the Koutoubia Mosque in the distance.
3 pm Enjoy the Fragrant Majorelle Gardens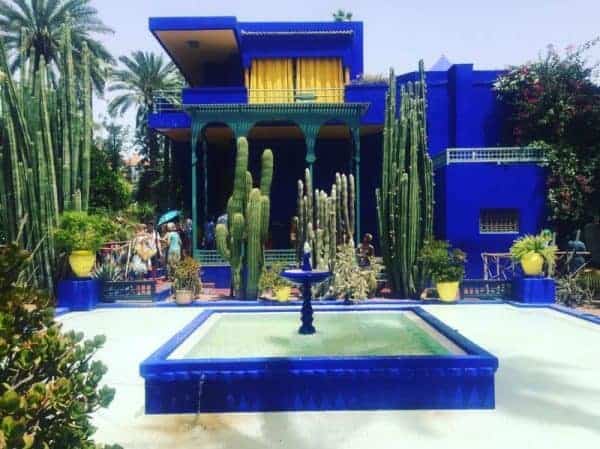 After lunch, head across to the Majorelle garden. This picture-perfect spot was erected in the 1920s in honour of fashion designer Yves Saint Laurent. Here, every turn provides a fabulous photo opportunity.
The walls are painted in a sky blue like that which is so adored at Chefchaouen and as you make your way through the garden, you traverse across intricately decorated mosaic walkways, over stunning tiled bridges covering petite blue lagoons filled with koi.
Art aficionados will love the Museum of Islamic Art which is located within these gardens. There is also an enchanting little cafe where you can enjoy a refreshing hot cup of Arabic mint tea.
When the sun goes down, head back to the Djemma. The square comes to life at night when mystical fortune tellers, snake charmers, and musicians take to the streets.
Better still is the ambiance of the food market at this time where you can experiment with a range of different delicacies. Moroccan food is way more than just tagines and you will quickly realise that here.
The area is a little touristy but it's all part of the experience of being in Marrakech, and for sure it is one not to be missed.
Marrakech Itinerary Day Two: Life as a Morrocan Local
10 am: Admire Islamic Architecture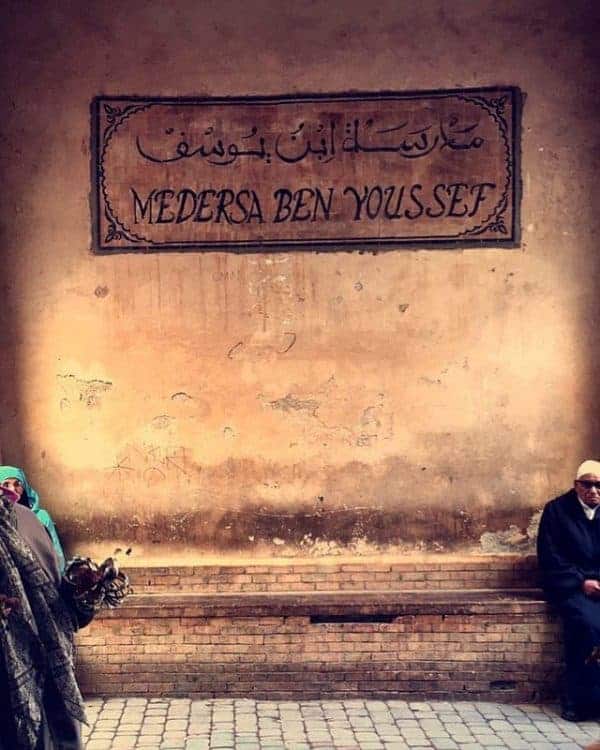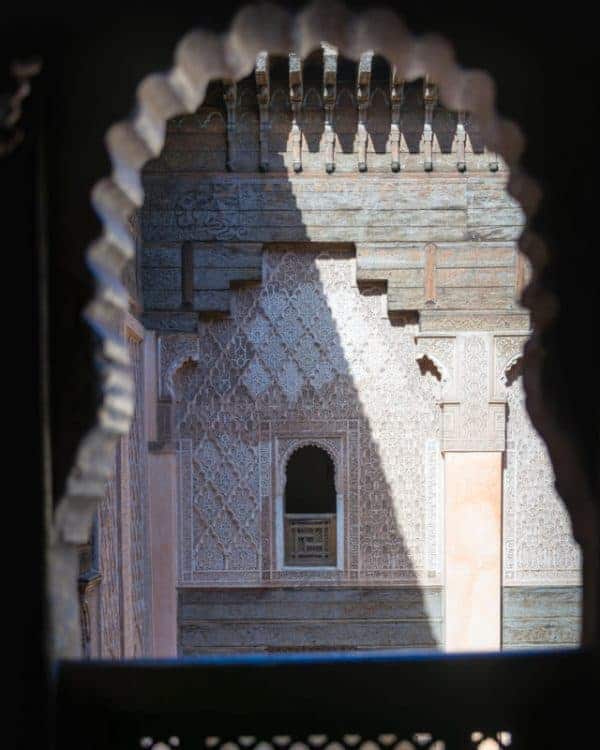 The second day of your Marrakech itinerary is your chance to really immerse yourself in Moroccan history and culture. Take it easy this morning and enjoy your breakfast with a strong cup of coffee in the courtyard of your riad then head across to the Ben Youssef Madrasa.
The colourful and intricately painted madrasa is an old Islamic college and the largest of its kind in all of Morocco – it's exotic walls and courtyards are certainly the perfect spot for your Instagram pictures!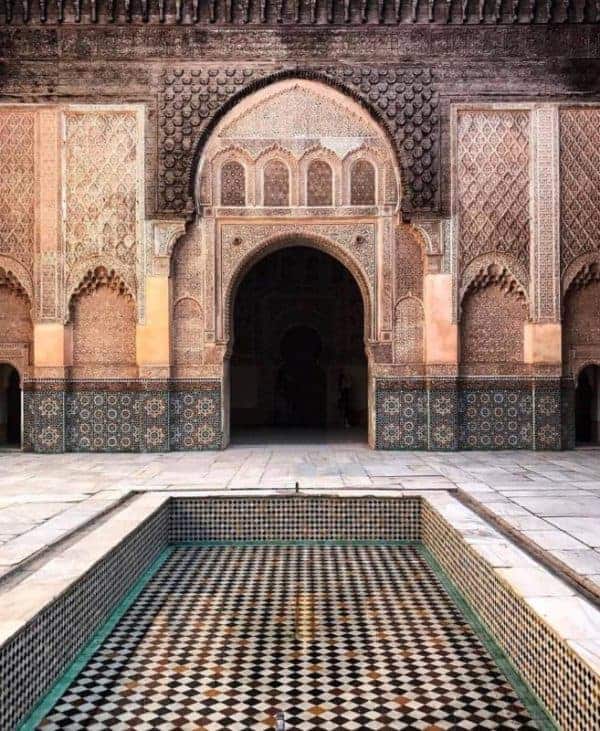 Marrakech Itinerary
11 am: Travel Like Royalty at the Bahia Palace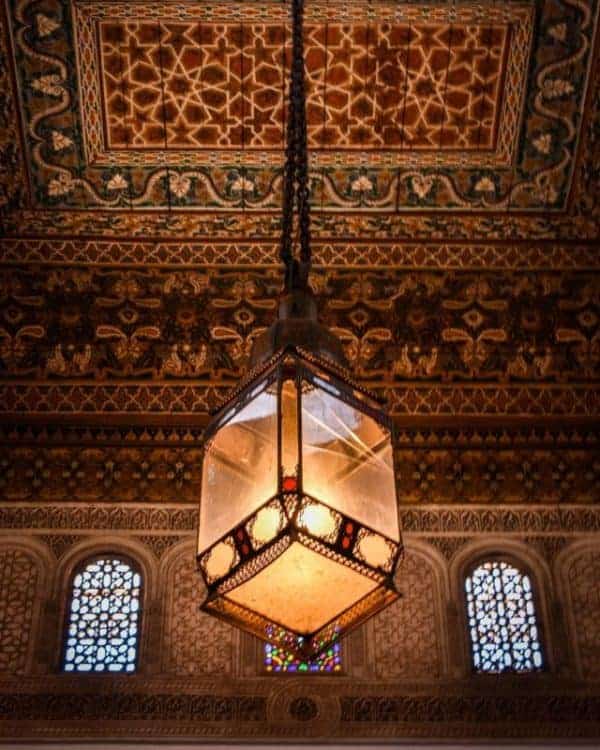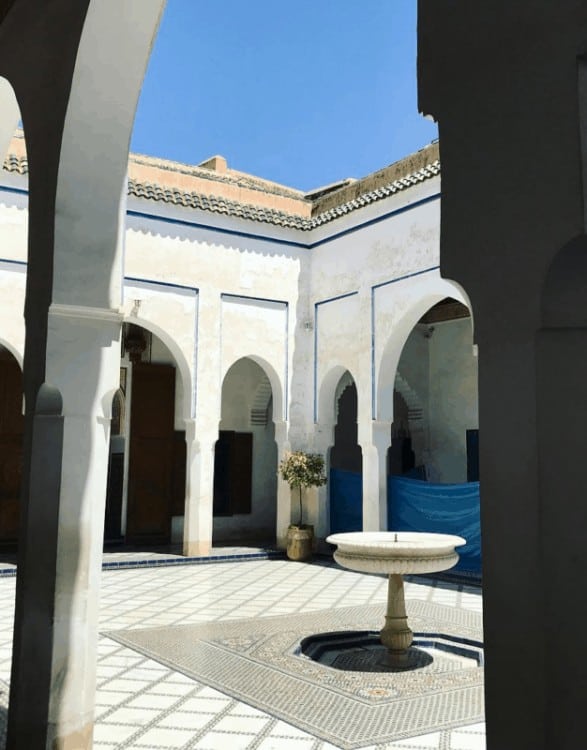 From here, make your way onwards to the Bahia Palace (in Arabic meaning palace of the beautiful and the brilliant). The elegantly decorated home was originally built for Si Moussa – a former Grand Vizier of the Sultan that climbed the ranks from initially being a slave.
It is now a museum open to the public and features over 150 rooms elaborately designed in traditional Moroccan style, with numerous gardens filled with orange groves and fountains.
1 pm Enjoy Lunch at a Popular Local Hangout
For lunch, head across to Cafe Clock – a relatively new branch of a popular eatery that initially opened up in Fes. The cafe is a popular haunt among locals and travellers alike and a great place to sample dishes that provide a contemporary twist on traditional classics.
Any last-minute souvenirs can be picked up at a good price (through haggling of course) within the souks. Who wouldn't love a colourful pair of Moroccan babouche slippers? The high-end art concept store located at 33 Rue Majorelle is also worth a visit for unique, "one-of-a-kind" finds.
2 pm Take a Load Off Your Marrakech Itinerary at a Moroccan Hammam
If you are looking for a little rest and relaxation after two days of jam-packed cultural exploration, consider visiting a Moroccan hammam. Essentially the same as a Turkish bath, there are several of these dotted throughout Marrakech, with a location to suit every budget.
Indulge in a traditional body scrub before enjoying a relaxing soak in the various pools and sweating it out in the sauna.
If you have a little more time available, consider taking a short trip to the stunning Ouzoud Falls located within the high Atlas mountains which are accessible within a day's journey from Marrakech and serve a welcome break from the hustle and bustle of the hectic city life
Where to Stay in Marrakech
Consider selecting accommodation that is close to the Djemma el Fna square so that your stay is enjoyed in the very heart of the action. Opting for a traditional Moroccan riad in Marrakech will have you feeling like Laurence of Arabia.
Riads are the Moroccan answer to a guesthouse or bed and breakfast. Typically featuring ornately decorated rooms that showcase the very best of Moroccan furnishings and decoration, the guestrooms usually centre around a courtyard or garden.
Final thoughts on this Marrakech itinerary
Have any questions about this Marrakech itinerary or about Morocco travel in general? Feel free to reach out or drop me a comment below!
---